This "its brown its down" stuff is bull****
12-07-2009, 05:35 PM
This "its brown its down" stuff is bull****
---
Some of you might remember of me venting about this a month or two ago, but its getting worse.
We have land right next to a couple tree huggers who dont have a clue as to what they are doing with the land. The main guy who know was was going on died awhile back and left the land for these two nutcases. We have had a few conflicts with them between their grass burnings and trying to get a new fence up between our land. We want to get a bull dozer and clear out this fence line that holds a bunch of shrub trees and a few big trees. but the tree huggers dont want us in their with a bull dozer because it might mess up the prarie grass...Holy ****, it'll grow back. Plus they already have a mowed path along the fence line so its not going to hurt anything...
Anyway...., to the main part of this thread.
Opening day of shotgun season... went to breakfast at 6:00. Got to our spots at around 7:30. Already deer running in every which way with gun shots going off ALL the time. We drove around tree huggers and their was 8 pick up loads of guys in orange and then south of tree huggers their was about another 5-6 pickup loads of guys. I swear, its like freaking World War 3 out there. Slugs flying everywhere! Its dangerous. Thats why we dont walk on tree huggers land at all. A deer isn't worth getting shot over. You may ask what are all these guys shooting at? Well the answer is... anything that is moving and has a white tail. My grandpa and my uncle watched a group of about 3-4 people sitting on top of a hill waiting and there was a group of about 8-9 deer that had 2 small bucks. Like 4 or 5 points that you have to take a second look to even notice it has horns. But all of those deer huttled kinda, or were really close to eachother and these guys on the hill (all 4 of then) shot into that circle of deer. I dont know why in the hell you would shoot into a group of deer and not knowing what your shooting at and possible (more than likely) going to have a bad shot on one. Those guys didn't care.
And the most horrifying news of all...
Some guys from wisconsin shot my buck that I have dreamed about for the past 2 month.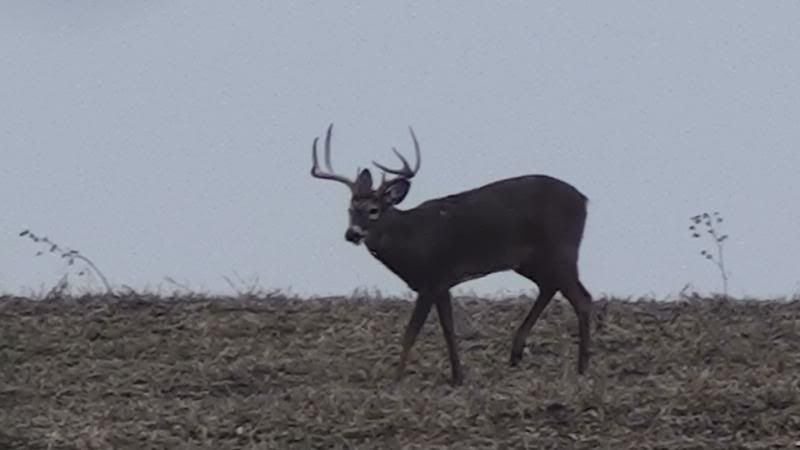 Sorry guys I just had to get it out.
I ended my shotgun season with nothing at all. I did get a poke at a coyote though. Stupid thing jumped over my bullet. No lie. Once I got done pulling the trigger her jumped. Right under him.
Our group got 6 bucks. 4 of them were nice ones. The other two were nice to but another year would be nice.
My dad also shot his biggest buck ever. 7 pointer...
that scored 128.
---
Last edited by Pope94/IA; 12-07-2009 at

05:38 PM

.
12-07-2009, 05:40 PM
Fork Horn
Join Date: Oct 2009
Posts: 191
---
im rite with you there buddy, I hunt this farm where I live that holds absolute giants. I only bowhunt here though because once rifle season comes these guys come and dont give a cr** and shoot at anything that moves and ruin any chance of getting a giant deer
12-07-2009, 05:44 PM
---
Yeah its not fun finding out that one of the deer you have been watching for a long time has been shot.
Also, I forgot to say that today while I was at school my dad and the group found a buck that had his head cut off and was just laying there. It was a pretty nice buck. I dont know why the people didn't take the rack. They must have only been meat hunters.
12-07-2009, 05:48 PM
---
haha... I didn't mean it that way. I know its Iowa... but do you really think people need to be shooting at anything that moves? Thats a easy way of shooting someone.
3-4 years ago their was only a group or two that went through tree huggers. Now there are a crap load of people. Thats why we dont go in there any more. It doesn't feel safe at all. Even if it is Iowa and their are big bucks on the land. The people are scaring all the deer out of their anyway. You can tell the gun shots are slowing down from saturday to today.
12-07-2009, 05:55 PM
Fork Horn
Join Date: Oct 2009
Posts: 191
---
if your a meat hunter shoot a doe youll get meat and youll make an attempt at getting the buck to doe ratio where it needs to be. Here in new york every hunter would have to take 5 does a season to even get it close to where it needs to be
12-07-2009, 05:59 PM
---
12-07-2009, 06:50 PM
---
If I remember right you filled your buck tag early with a little one and could have shot your buck when you took the pics of him hunting does. Sounds like your own fault for not getting him. As for the tree huggers its your land on your side of the fence, do what you want with it. It's gun season what do you expect man. WCL