-
Bowhunting
(
https://www.huntingnet.com/forum/bowhunting-18/
)
| | |
| --- | --- |
| OklaBowhunter | 11-29-2009 04:32 PM |
---
Got a doe the hard way this evening

2 Attachment(s)
Hard rain and blowing wind. Not many bowhunters out there in those elements during gun season with bow in hand and for good reasons. Heck anyone can shoot one on a clear nice day! :happy0001: But it paid off. Slick Tricks made for quick harvests as always. Love that Elite Z28.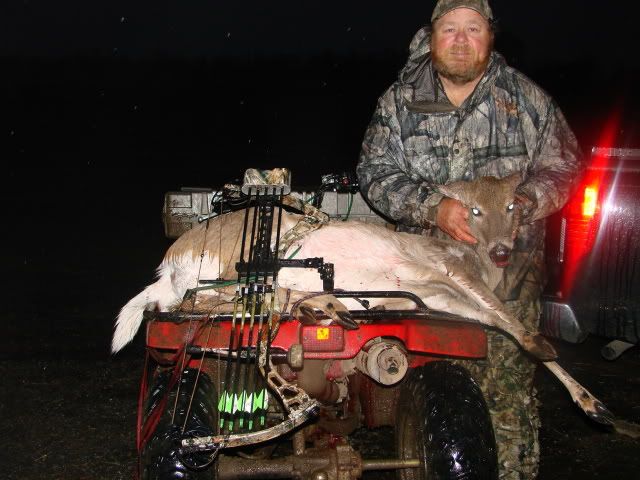 | | |
| --- | --- |
| kyhunter93 | 11-29-2009 07:36 PM |
---
Nice Doe. I'm hitting it hard this week, it's supposed to rain/snow Wednesday with some decent wind.. Should be interesting
| | |
| --- | --- |
| DaveH | 11-30-2009 06:52 AM |
---
Hey congrats to you! I too went out this past Saturday which was the opener of the gun season in MD. I carry only a bow for deer hunting and took a very nice doe as well. I got a nice 8 point during the early MZL season a month ago. I'm sure you'll agree it's much more satisfying to take a deer with a bow knowing you did it "the hard way" when others around you are shooting deer a hundred yards away with guns. Good going!
All times are GMT -8. The time now is

05:31 AM

.

Copyright © 2021 MH Sub I, LLC dba Internet Brands. All rights reserved. Use of this site indicates your consent to the Terms of Use.