Shot a deer last night+Story(MORE PICS)
10-28-2009, 08:39 AM
Shot a deer last night+Story(MORE PICS)
---
Alright, so I start my hunt last night after I got off work at 4:30, I usually can get to any of my stands by 5:00 and have about 2hrs of hunting light. This was the case last night and I was going to sit a stand that I had not hunted yet this year, in fact ever; we put it up this summer. It is on a field edge in a woods that works as a crossing between two corn fields. The stand then overlooks a strip of CRP land and what is now a cut bean field.
I'm in stand and ready to go at 5:00 I had bumped some deer on the way in, it was inevitable so I sat hoping for some pre-rut action. I told myself I was not going to pass on anything that I would be happy with at the end of the season. The time goes by and I have rattled and grunted trying to get the attention of the local bachelors. Its around 6:00 when I did a pretty aggressive rattling sequence with some buck grunts, I look out into the field to see a buck heading my direction on a bee-line, I didn't have to do anything else he was wasting no time closing the gap, so I stood up slowly waiting for the opportunity, he slowed and trotted into about 15 yards turns and walks quartering away into the woods...it was like the he was saying please shoot me, please. I mean it was textbook, hunting 101. Does that mean I didn't do everything in my power to screw it up; NO! I draw and release I knew I hit the deer by how he reacted but did not see the arrow pass through but I knew I had a dead deer!
I made the required phone calls, my brother and pastor, my hunting posse; and asked for back up on the track job, seeing as how I've come to their rescue numerous times, they were happy to oblige despite the pissing rain. Which was another awesome addition to the equation, it started raining, luckily it was not a down pour but enough that my trail was being washed away. I did away with the usual 30 min wait before climbing down for this reason. It turned out I didn't have a trail to go off of. I found a little blood on the entry point to the woods he took and that was it!! I mean there was nothing, we scoured the woods for 3 hours and came up empty. We backed out till daylight hoping the sun would shed some light on clues I missed in daylight.
(THIS MORNING)
After making the calls into work claiming a gastro/food bug had me bed ridden at least for the morning I got dressed and left was out looking by 8:00, I had very little hope but I owed it to the deer to try, so I started over from where I shot him to the first sign of blood. I found nothing new so I started just a blunt search of the area, I knew of some bedding areas across the way and there was a woods that had not been searched yet. I started walking through the corn along the edge, the only thing I was going on was some fresh deer tracks, there was no blood though so they could have come from any one of the deer that roam that area, which there are a lot. As I approached the end of the corn and the woods, I looked down underneath a bridge crossing the creek to see a deer's body in the middle of the creek. I contained my excitement till I knew it was him, cuz it could have simply been a car-hit deer that got dumped, but in the middle of the creek, I think not. Sure enough......it was my deer! dead as could be siting 9' down in the creek bottom. His body was still soft, rigor had not set in so he must have died sometime in the night. I checked for the entrance wound and found it back and up, he jumped a bit when I shot so it through my mark off a bit and I gut shot him. Found the broken arrow and broken broad-head inside the guts when I was field dressing him.
So, I tagged my deer, checked him in and plan on skinning and butchering tonight, maybe tomorrow.
Here is the only pic I snapped in the field as I needed to get him dressed and hung and get my "sick" butt to work. I am going to take more pics after work before I skin him.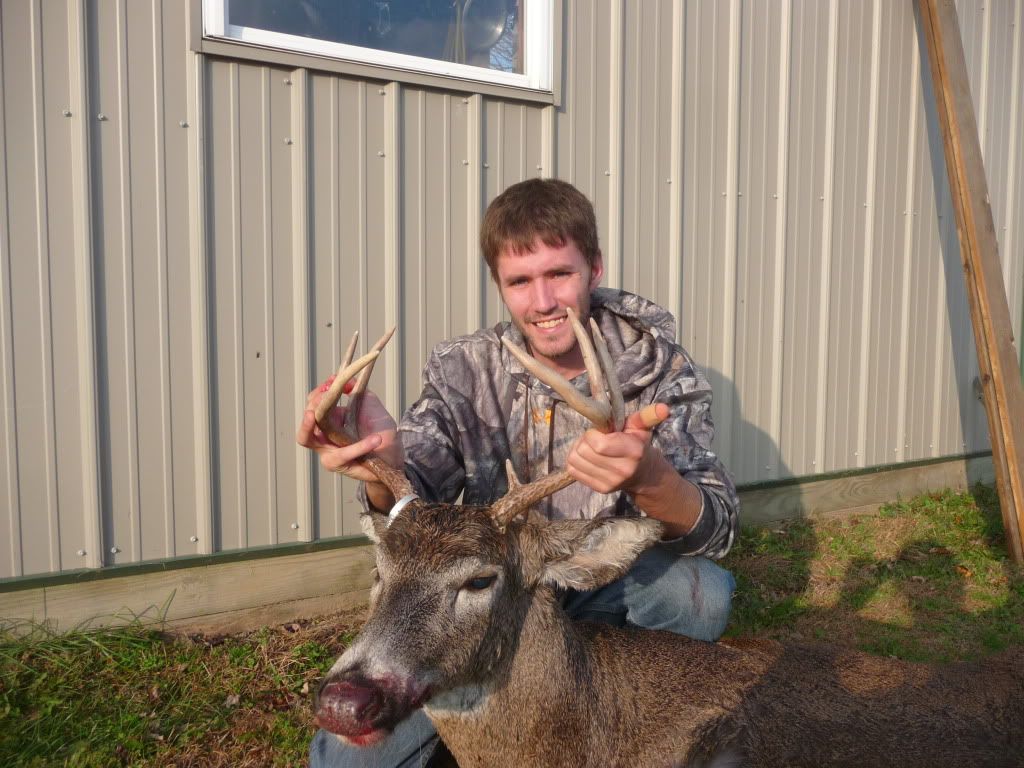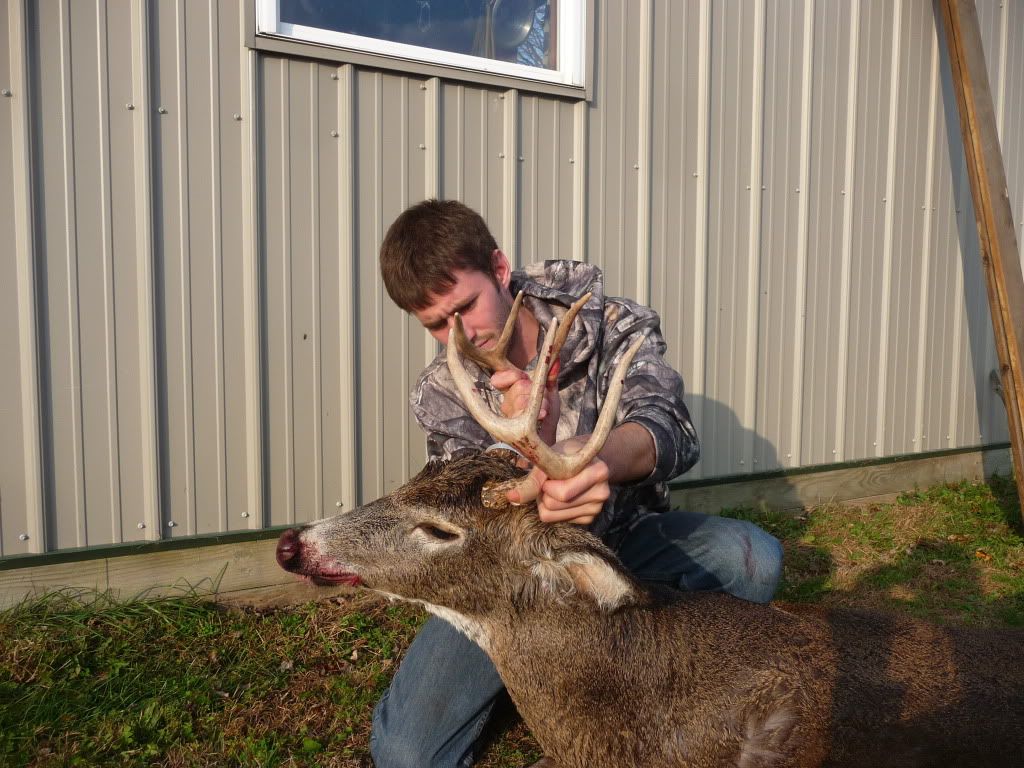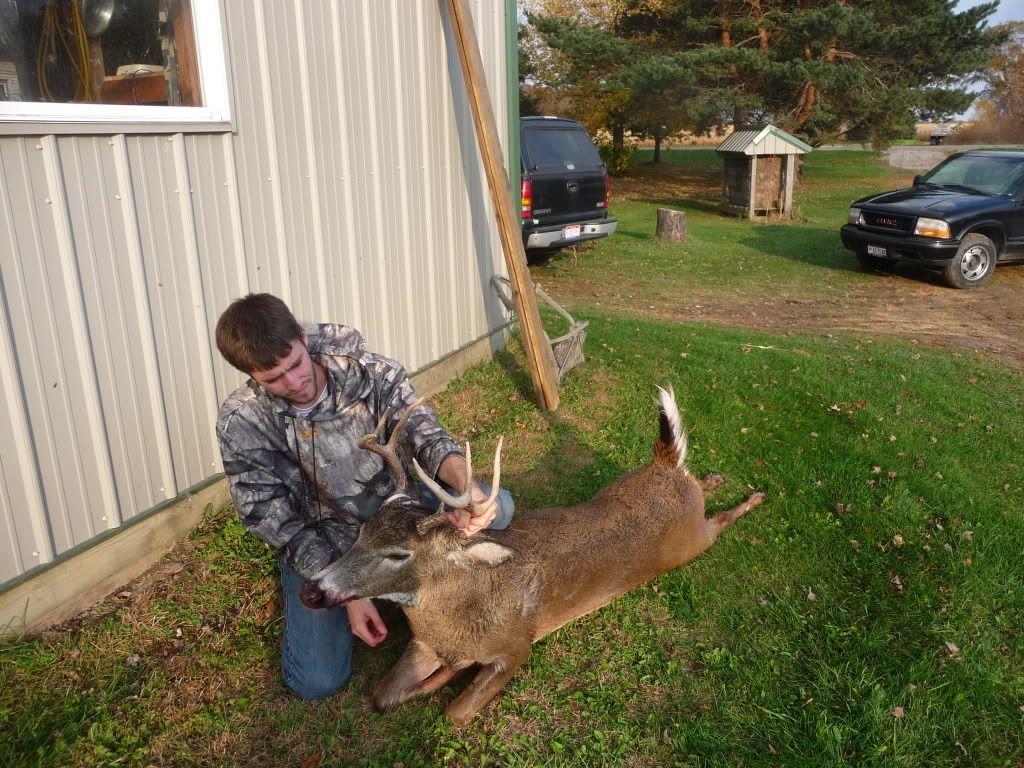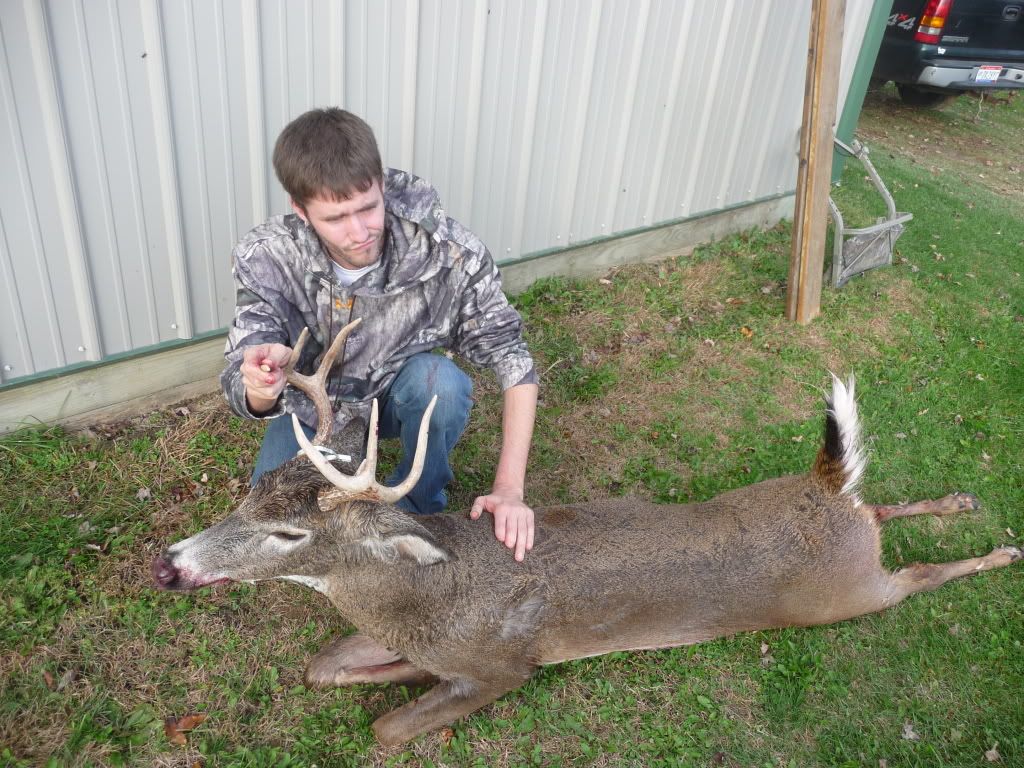 ---
Last edited by daveyrock; 10-29-2009 at

04:15 AM

.