most memorable hunt
09-16-2009, 06:53 AM
---
Without a doubt, the first day I ever took my son into the woods with me. Opening day 2 seasons ago, just as he was starting to get figgity, this hog of a nanny came in at 17 yards infront of our groundblind. He watched the whole thing unfold from time she stepped out right up to the recovery. This was a day I will never forget.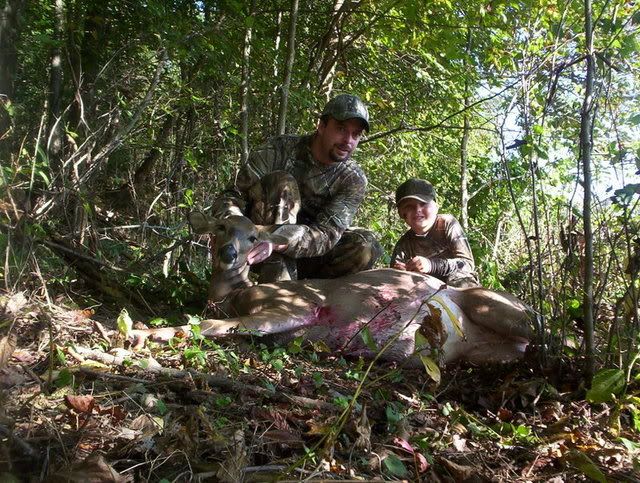 09-16-2009, 08:21 AM
---
2 seasons ago, it was my second season. It was opening day of rifle season. It was a completely new property, I had never even walked on it before. I was late getting the stand.

At 10:15 I had pulled my phone out, to call and tell my dad to come pick me up....Then I hear some crunching in the leaves. I just figured it was a squirrel (still looking at my phone) then I hear a snort....There stood the biggest deer I had ever seen.

Shot once, completely missed. (Buck fever haha) He took off running, I jerk up accidentaly kicking over my doe bleat can, and that made him stop right in front of my stand. I shot again he expired 30 yards away.

God, I will never forget that day.
09-16-2009, 09:47 AM
---
Lots of hunts come to mind.... but I think that christmas eve of 2003 was the one I'll hold tightest.

Dad and I were duck hunting... I was home from college.... we were in our marsh and shot a few teal early.... I shot a pretty 12 year old banded mallard around 8am.... then it got cloudy and we could feel the temp dropping... and the tide was coming in... I killed my first wigeon later that morning... Dad shot a merganser while I was working 8 mallards... never even saw them he says.. I still give him a hard time about it..... at about 1pm, after shooting some assorted puddle ducks..... the snow started falling... and a group of over 100 pintails dumped into our spread.... they didn't want to light... but they circled and worked us 8 or 9 times... we were just awestruck at the noises they made and never even fired shot. I couldn't figure out why they wouldn't commit... thats when I saw the incoming tide had freed the anchor and our boat had drifted up the creek. Took me two hours to get it back.... but I got her.... that was a lesson learned... but it was a very fun hunt with my Dad.
09-16-2009, 10:35 AM
Typical Buck
Join Date: Sep 2008
Location: Indianapolis, IN
Posts: 800
---
Wow, you're puttin' the tough questions out there now. But here it is and it wont be replaced until my son takes his first deer.
Back in my first year hunting at the age of 13, I had already had an eventful deer season, shooting arrows from my trusty Browning bow at some 10pts at 30yds away, it wasn't until opening day of Indiana gun that I had my 20 ga single shot in hand and set up in a good tree. I remember that morning very well because I would count each shot that rang out from the properties around me, I heard over 100 shots before movement finally caught my eye up on the ridge to my left. A little 5pt buck stood there feeding unaware that I was even in the woods with him. He was 53 yds away and I put the bead of my 20 ga right on the vitals and squeezed the trigger. He took off towards the open field and cut towards the west near the gate at the top of the property I was on and lost sight of him. I gathered my composure and got down and went to look for blood. Nothing. Upon inspection, I had hit a small tree, about 5 inches in diameter, I never saw it. I went and got my dad and we started to backtrack from what I saw before/during/and after the shot. We headed towards the gate and decided to comb the hillsides on the property. We went down to the end and came back. Still nothing. I was getting real discouraged. Finally on our way back to the main road leading to the top of the property were the gate is, my dad stops and asks me what I shot. I told him a 5pt buck, he put his hand on my shoulder and lead me around to the front of him and pointed. There laid my buck!!! The slug ricocheted off the tree and I ended up gut shooting the buck on accident. My dad said that I almost choked him to death hugging him so hard after he tried to shake my hand to congratulate me on my first deer kill. 18 years later, I'm still at it and still proud to have my dad by my side hunting with me.
09-16-2009, 03:48 PM
---
Well mine is with my Dad. I started bowhunting at the age of 18. My dad only ever gun hunted. I bowhunted with success for a few years and my dad became interested. He started going to 3D shoots with me and was pretty good. The next year I bought dad a treestand and a new bow. He was going to start hunting that year with me. Dad's work kept him out of the woods in the preseason. So I scouted and found spots for dad and I. The first day came and I took dad to the tree I picked for him. I went up the ridge about 100 yards from him. We were in good spots because the deer either went to him or me if they came in any direction. At least we would see deer. The morning started slowly, no deer until 8am. I seen deer coming to me. There were four bucks in a group and they were all coming to me. There was a real good six point in the group that I planned on taking a shot at. He came within range and I made the shot, right under him! The bucks scattered right towards my dad. I could see the bucks but not dad. All of the sudden there was a crack and the one buck went down in his steps. I couldn't get out of the tree fast enough. When I got to dad, he was shaking like leaf! He said that it was like the first day he ever hunted all over again. He only got a spike with 11 inch spikes but it was a real trophy to us! Dad's first day bowhunting, first day hunting out of a treestand and the first day of archery season. I will never forget it! I am now 33 years old and dad and I still hunt together all the time.
09-16-2009, 04:35 PM
---
ha aight guys im startin to see an awesome trend here! alot of these memories were made with fathers...i didnt have a father very long before he died but my best memory was with my grandad i'll go into detail tomorrow...
Posting Rules
You may not post new threads
You may not post replies
You may not post attachments
You may not edit your posts
---
HTML code is Off
---