-
Bowhunting
(
https://www.huntingnet.com/forum/bowhunting-18/
)
- -
Predator Camo?
(
https://www.huntingnet.com/forum/bowhunting/281504-predator-camo.html
)
| | |
| --- | --- |
| Jgrund07/OH | 01-06-2009 08:01 AM |
---
Predator Camo?

I was just wondering if anyone uses the clothes from the predator web cite and if so, what is ityou wear and do you like it?
| | |
| --- | --- |
| MeanV2 | 01-06-2009 08:41 AM |
---
RE: Predator Camo?

I have in the past, but if I need Predator clothes now I go to Gray Wolf Woolens or Day One Camo.

You might spend a few more $ but it's worth it in the long haul.

Dan

| | |
| --- | --- |
| muzzyman88 | 01-06-2009 10:00 AM |
---
RE: Predator Camo?

I have a few pieces from Predator directly. They're OK, but nothing to write home about IMO. Like MeanV, I too get my stuff from Grey Wolf. I beg anyone to find a higher quality piece of clothing anywhere. And the Wolf Skin fabric is the best I've seen a while.
| | |
| --- | --- |
| TEmbry | 01-06-2009 10:59 AM |
---
RE: Predator Camo?

---
ORIGINAL: muzzyman88

I beg anyone to find a higher quality piece of clothing anywhere.
---
That is a double edged sword too though. I beg anyone to find a higher PRICED piece of clothing anywhere.
Sure they are the best, but they are by far the most expensive as well. You get what you pay for in clothing, it is just up to the individual to decide whether the high cost is worth it.
If you want the best of the best, and are willing to pay alot for it, go with GWW or Day One.
IF all you want is decent camo that'll keep you hidden and last atleast a few seasons, you can easily get by with the regular Predator Gear. I have some of the cotton stuff offered, and it is what it is...basic cotton clothing with an excellent pattern. I will say though, the camo has great color retention, washed mine alot this year with zero fading. If you plan on using a dryer and layering under, definitely buy a size larger than what you where, the stuff shrinks, quite a bit. I also have their fleece jacket and like how warm it is...great put together jacket. Wish the sleeves were longer and the cuffs weren't so tight..but all in all, a good buy.
Its just like any other hunting equipment, you can get by easily with the lower end stuff, or fork out an arm and a leg to get the stuff suited for kings that is no doubt better...kind of depends on what youre expectations are and what you are willing to spend.
| | |
| --- | --- |
| Double Creek | 01-06-2009 11:03 AM |
---
RE: Predator Camo?

Predator's polyester stuff is pretty good. After a season of wearing wolfskin, I don't think I could go back to cotton. The wolfskin is just plain comfortable.

You damn right it costs a lot of money, but so does everything in this sport. I've got a dayone set coming and I'm interested in comparing it to the Gray Wolf.

| | |
| --- | --- |
| MeanV2 | 01-06-2009 11:21 AM |
---
RE: Predator Camo?

I have 2 outfits out of Wolfskin by Gray Wolf Woolens. One has been through several years of hunting. The second set has been through 4 seasons. They both are in Awesome shape, with absolutely No fading.

It is True!! You will forget the price long before you forget the lack of Quality on cheaper clothes.

I wear my Predator 90% of the time, and if mine blew apart tomorrow I'd order another set at whatever price I have to pay. I pay retail for very few of the items I use hunting, but I gladly pay retail for Gray Wolf Woolens clothes.

Dan

| | |
| --- | --- |
| Ben / PA | 01-06-2009 12:51 PM |
---
RE: Predator Camo?

I started my collection this year, I will add to it next year. I should have bought heavier wt stuff in Fall Grey. Next year I will do just that as well as duplicate my order from this year in Spring Green. I got the BDU pants, a bowhunter jacket, a hat, and a longsleeve tee. I bought them off the website as I am a little light in the pocket from treestands and french toast.
| | |
| --- | --- |
| Bailsuk | 01-06-2009 05:41 PM |
---
RE: Predator Camo?

I use the Predator Deception from the Predator website and think it is great stuff , it worked well for me . IMO its the best camo pattern on the market .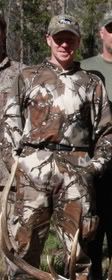 | | |
| --- | --- |
| JeffB | 01-06-2009 05:53 PM |
---
RE: Predator Camo?

I used Predator for several years after using typical "boutique" camo, and I'm convinced it's as good as it gets.

Spring green top/fall brown bottoms in early season is hard to beat, and full Fall Brown later in the season RAWKS, so I was very sad to see that they dropped the Fall Brown (And kept Evolution????!!!) - I'll probably go with ASAT this year because the FB is no longer available.

FWIW- I felt Predator's brushed twill clothing was far better in construction than similar priced gear you'd get from Walls/Mossy Oak, etc, however my Predator stuff was older, and the quality may have suffered in recent years(?).
All times are GMT -8. The time now is

01:53 AM

.

Copyright © 2018 MH Sub I, LLC dba Internet Brands. All rights reserved. Use of this site indicates your consent to the Terms of Use.