Let the BowTech sing and a Pennsylvania 6 point hits the ground!!!
01-05-2009, 07:46 PM
Let the BowTech sing and a Pennsylvania 6 point hits the ground!!!
---
Okay guys, well the whole story starts this morning with the arrival of my new compact flash cards for my Reconyx. I headed over to pull my camera and noticed that I got another 57 photos over the past two days. I checked the camera and noticed that there were two small bucks (a half rack 2 point and a wide 3 point) that passed by my camera yesterday afternoon at 4:56 p.m. I have a stand roughly 35 yards from my camera and was thinking about actually trying to sit in stand this afternoon. I kept scrolling through the photos and found that a small 6 point had passed by the camera at 7:13 a.m. this morning. This is the only legal buck that I had on camera and I figured that I would give it a try this evening as it is the last day that I would be able to hunt since season ends on Saturday.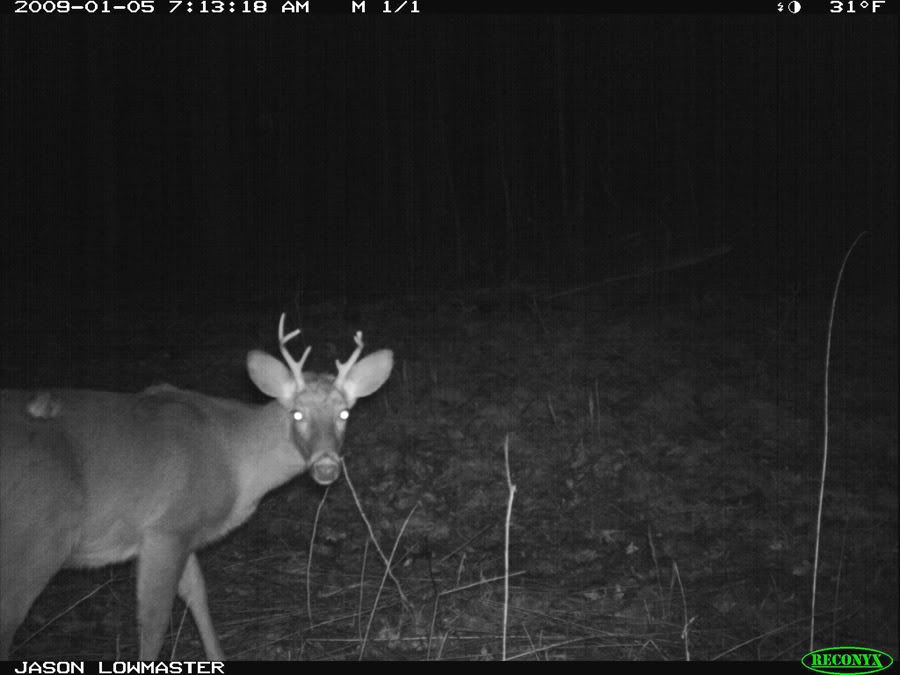 This evening I was running a little late and had to hurry to get my gear ready and head for stand. I was in such a hurry that I forgot to take a flash light, pen, knife, drag rope, ect. I threw my camo on, grabbed my release and bow and that was it.
I got set up in my stand at around 3:40 p.m. and realized that I didn't dress warm enough as the temps were dropping pretty quickly as there is a storm moving in tonight. I decided to stick it out even though I really didn't anticipate much. At around 4:20 p.m. I heard some loud crunching behind me and figured that it was the squirrel that had been barking at me just a few minutes before. I slowly turn and see a two point half rack walking down a shooting lane around 25 yards from me. When he got broadside to me he looked straight at me and I figured that I was busted. With all the leaves gone, I know that I had to have stuck out pretty bad. I stayed still and he just walked on by. A few minutes laters I hear more crunching and I see two more deer headed my way. I notice one is a small spike that I had seen nearly everytime I sat in stand and the other was another half rack that was just a main beam. He looked as though he may have been an 8 point but he got beat up pretty bad
As I am watching them in amazement that I am actually seeing deer in late archery I catch movement and see my buck coming down the trail. I noticed that it was the buck that I had on camera from this morning so I turned in my stand and got ready for the shot. I couldn't stand up as any movement would have sent him on his way. When he passed behind a tree at 25 yards I drew my bow back sitting down and as he started out from behind the tree I gave him a little grunt. I must have been a little excited because I grunted too early and he stopped while still behind the tree. After about two minutes he took two more steps and I stopped him. I settled the pin right behind the shoulder and slowly squeezed the trigger just to hear the sound of my arrow smack off a branch. Luck was on my side as the arrow hit him squarely on a quartering away shot around mid-body. I watched him tear off and after a few seconds I heard silence. I came home and gave him an hour.
When I went back to where I shot him I could find any blood or my arrow. I searched for nearly 20 minutes without finding anything. At that point I noticed that the "small branch" on one of the small trees was actually my arrow covered in blood. He went around 15 yards without a single drop of blood. I started getting worried but carried on. After around 60 yards of almost non-exsistant blood he opened up and it was pouring out of him. I found him about 15 yards past that point piled up in a blow down.
I couldn't be more happy with this buck. It is my first late season deer and it is really cool to have a photo of him from this morning, not too mention I am out of venison and those backstraps are gonna be mighty tasty. I am going to do my own euro mount on him.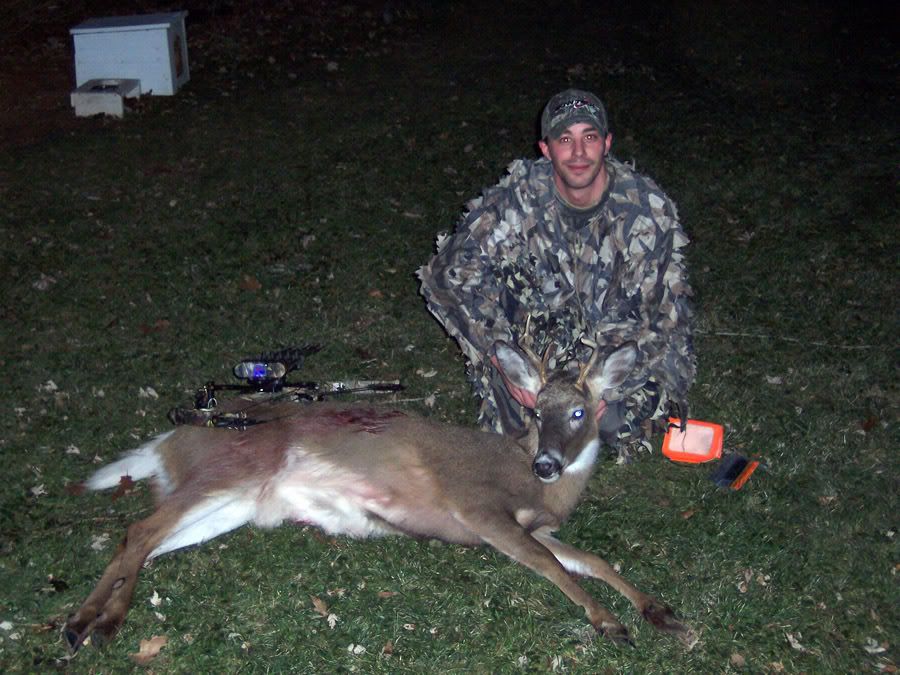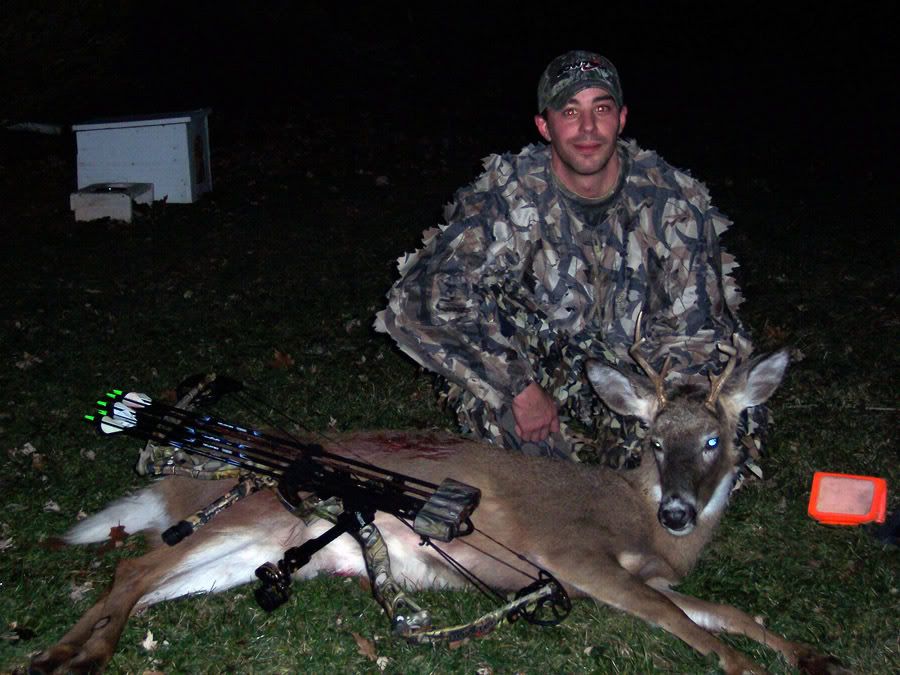 So there is the story of my 2008 season buck. I was so un-prepared for this that I didn't even have a pin to put the tag on his ear, I actually had to stick the tag on my liscence holder and use that to put the tag on his ear!
01-05-2009, 08:36 PM
RE: Let the BowTech sing and a Pennsylvania 6 point hits the ground!!!
---
Thanks guys, I really appreciate it. I passed up bigger bucks in archery season, missed a bruiser in rifle season, and yet I couldn't be happier with this guy. I definetly put in my time on stand and it paid off in a big way! Thanks again guys!