Before and after pics of my 8 pt
11-18-2008, 12:08 AM
Before and after pics of my 8 pt
---
Well its back to work, another rut vacation is over already!!
I got the before and a couple more after pics of my buck I thought you might like to see along with the full story.
He was the forth buck I saw that morning (Nov. 7th)all came thru alonelooking for does. I had a solid 150 plus 10pt. come down into my bottom and got down wind of me. He didn't get that big by being stupid so back up the hill he went. Well I thought that was the icing on the cake of a long hot week of uneventful bowhunting. Forty five minutes later I caught this guy cutting across my bottom field about 90 yards away.
He was not coming my way so out came the primos buck roar. After a couple of gruntsall he would do is stop look my wayand then keep on walking away from me. I thought well if your not going to come my way I am atleast going to get a picture of you big boy! Out came the camera and I snapped this pic of him.
The camera went back in the bag and the grunt call went back to my mouth.I grunted again and he stopped and worked a couple of scrapes, looked my way again then turned and headed straight away from me. Two more grunts and he did a 180 and came right at me.At 40 yards he stopeed and was looking for the buck he thought he heard grunting. After a minute or two he turned and headed back away from me. One more grunt was all it took and he started my way again.
I shot him at 27 yards and hit him just a little high (spine shot) and he dropped. I thought theshot looked to low for a spine and I am 22 feet up soI'm thinking shoulder. Not wanting him to get up I put another arrow in him and it was over!!
Heres a pic from my stand right after it was all over.
Funny part is I was texting my buddy from PA all morning complaining about how bad the rut had been and the lack of deer activity. Complaining about getting winded by the big 10 and the next text I send him is the BBD text!!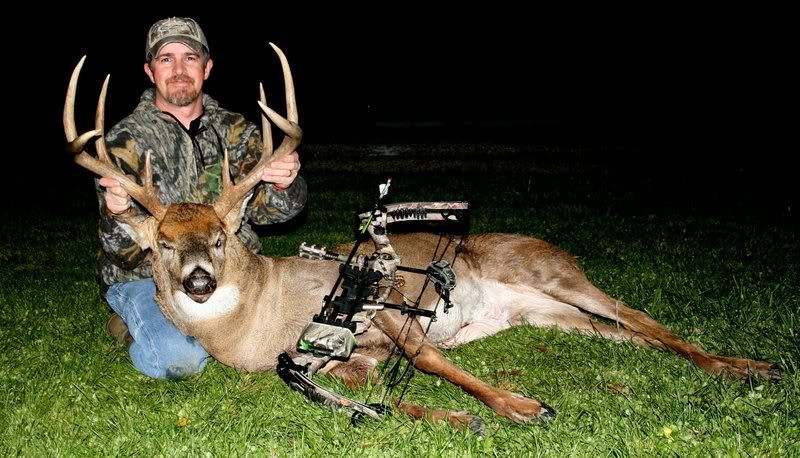 I thought he walked by a trailcam of mine so I checked it on the way out to get the 4 wheeler and I didn't have a pic of my buck but I had 2 of the 10 pt that had winded me earlier in the morning. He was at the scrape at 1:40 the day before when a cold front with rain had just moved in.