Double dose of does!
10-04-2008, 03:32 PM
Double dose of does!
---
You gotta love it when the landowner calls you around 10 a.m. letting you know he's going to be shelling corn on a different farm than you've ever hunted before... It's sort of like a two-for-one deal; not only could Iexpect great hunting over the freshly picked corn, but I got to learn about a new piece of property for future use. Speaking of two for one...
I sat up about 3 p.m. at the corner of the standing corn where one long fencerow ran east and west all the way to a very large block of timber about 600 yards away. Another fencerow came in 20 yards to my right (east of me, coming in from the north), so I was just west of the intersection of the two fencerows that in effect made a very large "T", with the large timber to my west. I finished pulling my bow up just as I heard the combine coming around for the first pass.
Around 5:30, I watched two does lead a couple fawns out of the timber at what seemed 1/4 of a mile away and make their way to the opposite corner of the corn fieldthe landownerwas harvesting. Before they disappeared though, they gave some long stares back at the direction where my fencerow dumped into the woods, which I couldn't see because of both a rise in the terrain and the trees in the fencerow blocking my view behind me to my left.
Around 6 or so, I spotted two more does in the extreme distance emerge from the timber, and both stared for a long time at the intersection of the fencerow and woods; I knew there had to be something down that way commanding their attention, and I was hoping it was deer moving my way. As I continued staring at the doe through my binos, I heard an almost-inaudible twig-snap below me to my left about 6 yards away. Without lowering the Nikons, I cast my eyes down to see a large doe walking the edge of the fencerow headed to the corn on my right.
I remained motionless until she turned to lick her back, giving me the opportunity to lift my bow off its hook. I came to full draw as she started walking again, but she turned
just
as I was ready to voice-bleat her to a stop and started walking dead away from me in the standing beans. I let her walk 10 feet or so to see if she would begin angling toward the corn now on her right, but it appeared she was going to keep going straight. I bleated at her hoping to cause her to turn to investigate the noise, but all she did was turn her head. After a few seconds, she continued walking straight away again, so I bleated once again -- this time much louder. It worked, as she turned JUST enough this time as she stopped, and I buried my pin amidst the last few ribs on her right sideand watched her mule-kick as it blew out between her front shoulder and neck on the left side. She made a mad dash for all of 60 yards before tipping over, leaving my nock glowing 18 yards in front of my stand among the beans she had just stood in.
I raised my binos to look at the doe against the timber I'd been watching, and she was still staring at the fencerow far off to my left; she had been oblivious to what had just transpired due to that rise in the terrain I'd mentioned. Thinking something else may be on its way, I slowly reached to knock another arrow...
Glancing behind me on the opposite side of the fencerow, I spotted another doe quarting in towards my position 70 yards away; I sent Matt / PA a hurried text message letting him know I was just about to kill another one as a follow-up to the
BDD: Big Doe Down
message he'd received only minutes earlier. I only had a couple holes to shoot through back behind me, and though I would have preferred to have let her walk another 10 yards to get fully broadside, was forced to bleat her to a stop while she was in my lane with her slightly quartering towards me; again, I watched the red nock trace its way on an ever-so-slight arc until it intersected the doe's lower front quarter and kicked out through the other side. She bolted back down the fencerow behind me along with several other deer I hadn't yet seen.
I headed into the thick beans to prop the lighted nock on top of the first doe, leaving it to glow above the level of the thigh-deep beans knowing it would be pitch black when I returned with my game cart. Then, I headed back through the fencerow to look at the sign left at the other shot scene. Not liking what I found on the arrow and the near-complete lack of blood on the ground, I backed away to work on the other deer feeling confident that the temps would be low enough overnight so precious meat wouldn't spoil. My father and I returned this morning and found her in short order; she had only made it 65 yards before collapsing. I had told Scott (buckeye) last night that the shot placement may have been low and a touch forward, but as it turned out it was pretty darn goodgiven the angle she was at; any further back from an entry standpoint and it would have exited further than I like.
This morning's recovery, with my dad taking the pic:
Entry hole on first doe sharply quartering away: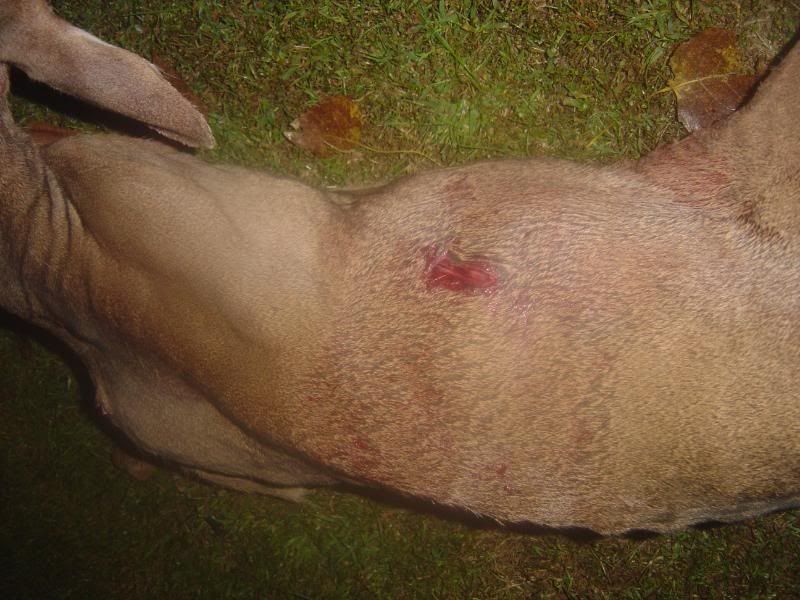 Exit hole on first doe:
Entry hole on second doe quartering to me:
Exit hole on second doe: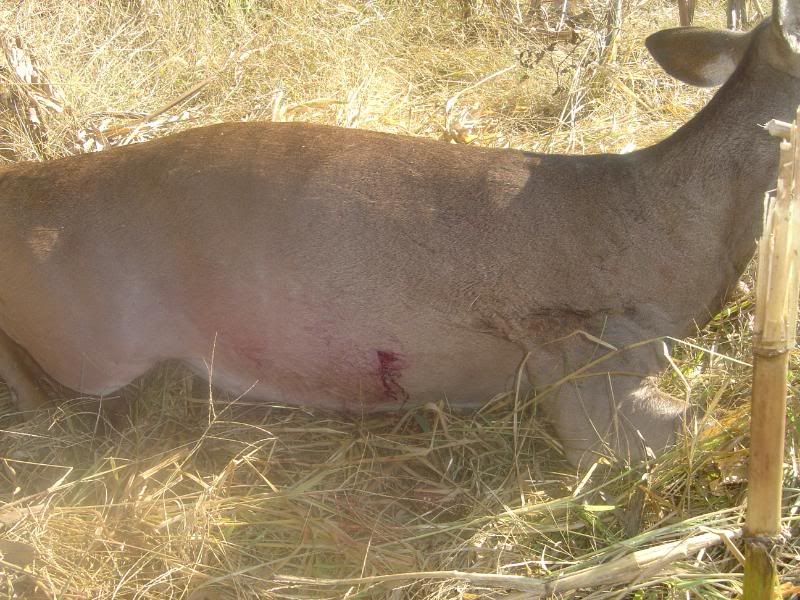 The results
: