The Official 08/09 "Game Bag"
11-09-2008, 07:37 PM
RE: The Official 08/09 "Game Bag"
---
First buck with a bow
Taken 11-02-08 in MO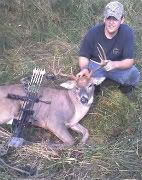 Here is the story if anyone is interested
http://www.huntingnet.com/forum/tm.aspx?m=3142876&mpage=1&key=?
11-10-2008, 10:55 AM
RE: The Official 08/09 "Game Bag"
---
I Just returned from Nebraska late Saturday night. We saw all kinds of weather- arrived Sunday, 11/2 to 79 degree temps which lasted though Tuesday. Didn't see alot of bucks the first two days, but the bucks we saw were HUGE. A buddy of mine & I saw both 150 & 160 class bucks on Tuesday morning. He saw them first heading my way, then I saw them 40 minutes later.
When he saw them- they were 50 yards away down a steep slope with no clear shooting lanes. When I saw them, they were 70 yards away crossing an open field. I couldn't get them to stop for a doe bleat or buck grunt- they just kept crossing the field 'til they reached the woodline (now 90 yards away) and looked back before disappearing as they headed up the scrub Oaked ridge.
At that point, I knew I was in the right general area & knew the bucks I wanted to hunt, I just needed to get closer. So I told my guide I wanted to use one of the blinds that was back at camp & we set it up & brushed it in on Tuesday after lunch and there I sat- waiting for the next 2.5 days. On Wednesday, I saw lots of deer- whiteails, mulies, does, bucks........ but neither of the two "big boys" I was waiting for- so I passed on them all. Wednesday was cloudy, a "little" windy (only 17 mph) and the rain came in just as I came out of the blind Wednesday night.
Then it got fun. Thursday morning arrived and we were greeted with rain (which turned to snow flurries) and 40 mph winds. I didn't see squat while it was raining, but surprisingly enough, once it turned to snow- the deer came out in 40 mph winds to feed. The young bucks were definitely chasing & the does wanted NOTHING to do with them. The big boys weren't coming in to horns, grunts, or doe bleats........ I guess that's why they were able to get that BIG!!
I saw lots of deer on Thursday and I had an OK time. My 3 buddies were
still
in tree stands and they came in at lunch and were
frozen
(so was one of their bows) and when they came in from the afternoon sit they were mentally shattered. The weather was simply BRUTAL.
Friday arrived & it was our last day to hunt. Unfortunately, the wind/rain didn't let up. Mind you- just 2 hours north of us in Rapid City, SD....... they got 48 inches of snow on Thursday! So we still felt lucky that we only received a dusting and the backlash winds. The wind on Friday was 25-30mph. I was tucked away in my blind waiting for the big boys- safe from the wind/rain and relatively comfortable. In the afternoon, this eight came in and offered me a 29 yard broadside shot with a ~20mph left to right crosswind. He wasn't the biggest buck I saw all week, but he was the biggest in bow range who offered a good shot. So I took him. He went about 65 yards up the ridgeline (anyone who says hit deer don't run uphill are wrong) and piled up.
I was hunting with a pretty picky bunch. None of the other three guys tagged out on bucks, two of them took does on Friday afternoon.
One guy took a 40 yard shot on the 150, but his arrow hit a branch he couldn't see and sent the arrow over the buck's back. This guy passed on multiple bucks in the 120-130 range on at least 4 occasions.
Another guy, took a shot at a 140 class buck from 34 yards with 10 minutes of shooting light left. The buck jumped the string and he wound up hitting the buck in the neck. They let the buck sit overnight and took up the bloodtrail the next morning. 600 yards and 5.5 hours later, they found themselves at the edge of the river (~100 yards wide) and determined that the buck couldn'thave been fatally hit to make it that far. They also couldn't cross the river to attempt to pick up the bloodtrail on the other side. My buddy was still sick to his stomach about it last night on the flight home.
The forth hunter in our group, a friend from Colorado who was
easily
the best shot of all 4 of us (he
drove tacks
at 50 yards) was
extremely
picky. He passed on a 140 on Monday morning, then passed on the same deer Tuesday afternoon. After that, he saw a 160 class deer at 70 yards on Wednesday- but couldn't bring himself to drop the string on him. This guy was an EXTREMELY ethical hunter who I can only hope I have the same discipline as one day. He was truely out there for a trophy hunt and his bar was set
very
high.
We'll be returning next year- only next time, we'll be going out the second week in November. The country was fantastic, the people great & the whitetail very impressive.
'Dawg
11-11-2008, 09:23 AM
Fork Horn
Join Date: Sep 2008
Location: MD
Posts: 281
RE: The Official 08/09 "Game Bag"
---
Took this guy lat Friday. It's only a five pointer, but that's the most points a bucks had that I've taken. I 've shot a 4 pointer that was bigger though. He's a 4 with a good 1 1/2 -2 " sticker off the right base.
http://www.huntingnet.com/forum/tm.aspx?m=3160271