[Deleted]
02-17-2008, 11:18 AM
RE: What kind of truck/suv do you have for bowhunting ?
---
ORIGINAL: M.Hensler/PA
ORIGINAL: Mike from Texas

For you guys that have the Tacos, how well do they tow?
Pretty decently, granted there are some issues I wish Toyota would fix. The springs are the big issue. It's a 3-leaf pack that sags quite easily, and if done so on a regular basis, will send the springs into an accelerated wear (become S-shaped). Toyota issued a TSB for the rear springs which replaces the rear pack with a 4-leaf pack, and so far seems to be getting good results. The downside it's hit or miss with dealerships getting them to honor the TSB. Plus your truck must be in the 36,000/3yr warranty period for the TSB to be applied. I have the tow package which comes with the class 3 hitch/7pin connector, transmission cooler, and 130a alternator and a 6500lb tow rating. I wouldn't suggest towing loads like that regularly , but it will handle them. If you tow regularly, you shouldn't be driving an gas engine, let alone a midsize imho, but they do tow medium sized loads well.
Yeah, I'm not talking about heavy loads on a regular basis. Most of the time it would just be a Polaris Ranger on a 6x10 trailer and maybe a ton of feed occasionally. So for the most aprt 3000# would be the most I would tow or carry. I've been looking hard at the Tundra with the 5.7L but there are a few small quirks that I'm not sure about. I know the Tacos are well proven long term vehicles and that's what I'm looking for.
I love my Super Dutys, but it's getting hard to justify the cost of the truck and the additional cost of diesel fuel [:@] (don't even get me started on that one) especially when I don't tow that much.
02-17-2008, 11:36 AM
Nontypical Buck
Join Date: Nov 2005
Location: Mn.
Posts: 3,399
RE: What kind of truck/suv do you have for bowhunting ?
---
I have a 6x14 trailer(steel)trailer that I haul my Ranger with and soon as I hook up to my Tacoma I could watch the gas gauge move....with that being said the Tacoma is one nice mid-size trk.....
I towed a Larson Senza 186 and got 12-13 mpg and then a Lowe 165s and got 15 mpg,a 20ft pontoon will get me 14mpg,and my Ranger Bass boat gets me down to around 13mpg,not good in my book,my average empty was 17 mpg...But terrain has a lot to do with mpg also.....
Basically I bought the wrongPickup for what I do..........

02-17-2008, 03:00 PM
Dominant Buck
Join Date: Feb 2003
Location: Blossvale, New York
Posts: 21,199
RE: What kind of truck/suv do you have for bowhunting ?
---
2005 Dodge Dakota Quad Cab4 x 4,V8with the towing package and a cap on the back so I can lock up stands and things. I also sleep in the back during turkey season camp outs.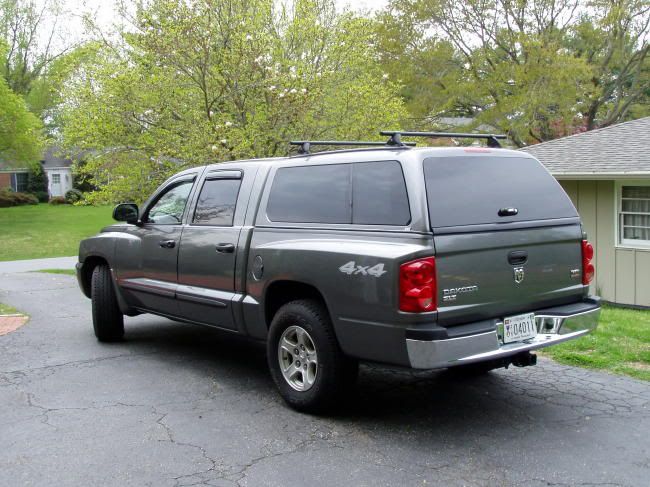 02-17-2008, 04:02 PM
RE: What kind of truck/suv do you have for bowhunting ?
---
94 GMC Jimmy SLT fully loaded...4.3 vortec, 4wd, leather etc...
only rolled it once
notice the front drivers side
havent had it stuck and i have taken it some nasty places and climbed some lonnnnnng snowy dirt roads...one time grouse hunting i was foolish enough to drive to the BOTTOM of a PA hill...thing is probably a mile long...2 portions of it is REALLY steep and you gotta be a driver to get out when its just dirt...rain is REAL tough...dumby me knew it was snowing and alot was on the way...i drove down in anyways....i made it out no problem and cut my own path the whole way...i was impressed...
its seen better days...4wd isnt working..body is rusting out(due to the roll over) and my lines are going bad...sucks gas like a drunk drinks beer...mechanic said i really need something before fall because my lines aughta be gone...hoping/wanting a yota tacoma...not brand new...probably spend around 5k or so...then put another couple into exhaust, maybe wheels, tires, suspension etc...or buy one in the 8-10k range and leave it alone till i graduate college(probably the better choice...) just gotta see how summer work goes..
02-17-2008, 04:56 PM
Fork Horn
Join Date: Oct 2005
Location:
Posts: 255
RE: What kind of truck/suv do you have for bowhunting ?
---
1994 Nissan XE Hardbody 4 cyl. 4x4. Awesome truck with 125k miles...Never needs anything except new oil twice a year. These things are bulletproof and are perfect for 1 or 2 guys during hunting season. I even broke down and treated myself to a new Maaco paintjob last year! 125k is nothing for this little truck...hope to drive it for many more years.

Incidentally, this is not my everyday ride