Airowgun
01-29-2008, 07:27 AM
Fork Horn
Join Date: Aug 2005
Location:
Posts: 434
Airowgun
---
01-29-2008, 09:20 AM
RE: Airowgun
---
I don't have onebut have shot them quite a bit. The paint ball gun is way too much fun. 300 fps, too. The pellet gun is pretty accurate. I think in the 600fps range (faster I think actually). You do have to dedicate a bow to them. They're also very well made, and the new vented cylinder guard looks............tactical.
01-29-2008, 08:01 PM
RE: Airowgun
---
I had the guy who made them, or packaged them, or invented them or something come in to the store one night and discuss it with me. Apparently we recieved three of the original models. He had mentioned that they were prone to falling apart and had been requested to be shipped back to be replaced.

My manager apparently never shipped them back.

01-29-2008, 10:23 PM
RE: Airowgun
---
I would like to play with one of these.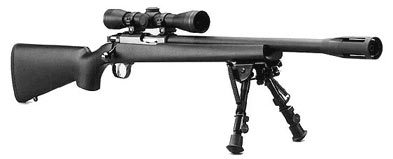 http://www.swivelmachine.com/html/rimfire.htm
Posting Rules
You may not post new threads
You may not post replies
You may not post attachments
You may not edit your posts
---
HTML code is Off
---