Let me see!!!
01-13-2008, 06:13 AM
RE: Let me see!!!
---
First time I have tried sending pics. Don"t know if they will come through or not. I sure am jealous of some of the deer you guys have posted. These are my best bow kills,(40 yrs. of bowhunting; with just about that many kills!) Vermont is not known for being a Whitetail Mecca. As you can see, I haven"t posted much, but I have been visiting and enjoying this Forum for quite some time.
01-13-2008, 06:40 AM
Fork Horn
Join Date: Nov 2005
Location: Warren, Pa
Posts: 299
RE: Let me see!!!
---
Here is mine, not as impressive as alot of the others here but none the less my best. Although it was taken with a gun. Only taken two deer with bow as I havent been hunting bow hunting as long as gun hunting.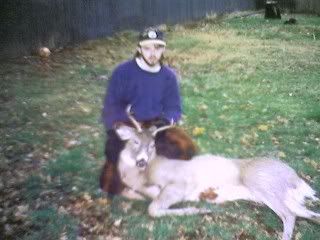 12-31-2008, 03:41 PM
Fork Horn
Join Date: Feb 2003
Location: St. Paul Mn USA
Posts: 102
RE: Let me see!!!
---
ORIGINAL: Schultzy
ORIGINAL: MN_BOWHUNTER
My best to date, taken November 16th 2007. Gross scores 160"
More Minnesota bucks! I like to see it! Congrats on a dandy buck! Another 5 days and your drying period is up if your going to put him in the Pope And Young books. Looks like he'll net about 150 or so, awesome buck thats for sure!
Thanks Schultzy!!
He nets 151 7/8". I'm on the fence about actually entering him in the book. I actually have another buck I shot in 2005 that grosses 144 and nets 136 5/8" (if I remember correctly). I didn't enter that buck either. Just not my thing. Both are mounted and on the wall in my downstairs family room.
Glen