can deer see orange?
11-14-2006, 10:32 PM
RE: can deer see orange?
---
ORIGINAL: bhensley

As others have stated, the deer cannot see the color orange as shown in your pic but be sure to check your local laws. In Missouri, we cannot wear the camo/break-up orange. Although I think I may get some to use during bow season next year when I am able to hunt larger areas and more of a chance of run-in's with other hunters. Does anyone know the law about this in Kansas? I am planning to move back up there in February.
Brandon
yah i checked my law, its ok here, i dont get why the orange brake up would be illegal in some states, that makes no sense.
i dont know about kansas though
11-15-2006, 07:59 AM
Typical Buck
Join Date: Oct 2006
Location: Western New York
Posts: 639
RE: can deer see orange?
---
I wear a blaze orange vest when moving to and from my stands. Once in my stand 20-25 ft up I take off my vest and just wear my beanie. I just do this cause I don't like to let people know where I hunt. We have had trouble with a family around here that thinks they can save every living creature during hunting season. We've had them arrested for trespassing but they wear that like a badge of honor. Once the neighbor shot a beauty as they were coming toward his stand pushed the buck right to him. He said the look on their faces as he thanked them was priceless

11-15-2006, 10:31 AM
RE: can deer see orange?
---
Here's a good guideline for what they can and cannot see: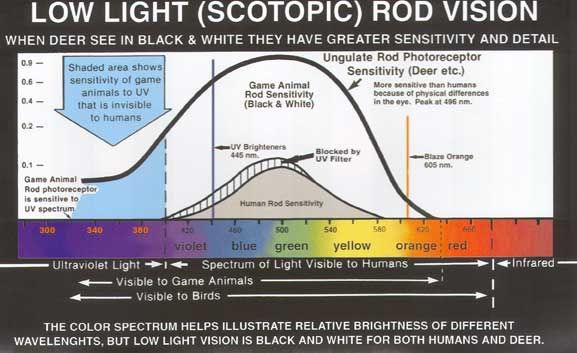 Yes , they can see orange , especially the
flourescent
orange required by most states . Use of UV killer will leave the orange visible to humans and legal , but will knock off the glow that the deer would see .
11-15-2006, 12:33 PM
RE: can deer see orange?
---
I've been dressed in solid orange and one time had a deer walk up to within 5 yards trying to figure out what I was. I didn't have a doe permit that time, I didn't move and she ended up calmly walking away.
That's the trick. Your camo dosen't even need to blend in that well if youkeep your butt still, and don't stink too bad.
Anyway, Kevin put up a nice chart on the black and white rods, and I found another one before I saw his. This one shows the difference in how color is detected due to different numbers of different types of color receptors. It's all about wavelength and having the right tool to see it.
Here is the technical explanation that accompanied the chart above.
These graphs illustrate the difference between the Daylight (color) vision of the Human and the Whitetail deer. Each trace reveals the profile of sensitivity of a single class of receptor. Notice that the deer has only blue peaking and green peaking receptors while the human has a third receptor that is normally referred to as "red" because it gives us the ability to see red light. This third cone makes us far more sensitive to the longer wavelengths (such as blaze orange at 605 nanometers). Notice also that the sensitivities of our blue receptor and the short side of our green receptor are less than that of the deer. This is the result of our Ultraviolet (UV) Filter that is absent in the deer. It makes us unable to see UV and far less sensitive to all wavelengths below 500 nanometers. The color bars illustrate the full range of color and brightness that each would see if deer and human both observed the spectrum in equal brightness.
This is the text for Kevin's chart.
Scotopic or rod vision is the black/white/gray capability in low light conditions at the peak hunting hours when these animals are most active. While deer are clearly superior in low light at all wavelengths, the advantage is greatest at wavelengths where the deer's sensitivity continues after human vision has ceased (Blocked by the UV Filter). This graph illustrates the extended capability of game animals and birds to see beyond our visible range. Note that at 400 nanometers (where human vision is fully blocked by our UV filter) the game animals have greater sensitivity than humans have for Blaze Orange. For ease of illustration, a logarithmic scale is used to compress the huge advantage in rod sensitivity of the deer.
According to this, not only can they see blue, but they see it better than we can and anything that reflects UV will glow brightlyto them,like Blaze orange does to us. So, don't use UV brighteners in the laundry, and check out your new camo in person before you buy. Don't get anything that glows under blacklight.
11-15-2006, 02:31 PM
RE: can deer see orange?
---
I've seen responses in deer that makes me believe the deer see blaze orange. On the other hand, I've had deer walk right up to me during rifle season when I'm covered in blaze orange and hunting on the ground. They don't seem to notice it until they're within ten yards. At that point they'd probably notice me if I were wearing camo.
If you wash/spray UV killer on your blaze orange it becomes less visible to humans at a distance too. Especially in low light conditions. I know, I've tried it.
You're still legal, but it takes away some of the 'safety' of the blaze orange.
11-15-2006, 04:47 PM
Join Date: Nov 2006
Location:
Posts: 56
RE: can deer see orange?
---
I agree with higgins!
That is just stupid to say that orange scares more deer away, they cant see it so how are they supposed to get scared?
If you are thinking about wearing the hunter orange with brake up, it might not be legal in some states, so make sure it is in yours!

11-15-2006, 05:07 PM
RE: can deer see orange?
---
no it doesnt bother them, but solid BO is required in ky rather than BO Camo...it can save you from being shot, butit can be over done. my orange vest is just as visible as your BO jacket.
11-16-2006, 06:38 AM
Join Date: Sep 2006
Location:
Posts: 20
RE: can deer see orange?
---
well the only thing i can say on this subject is that i hunted in upstate new york for about 2 or 3 years with full bo and never saw any deer switched to camo and have been shooting deer ever since so if you ask my opinion yes they can see bo