-
Bowhunting
(
https://www.huntingnet.com/forum/bowhunting-18/
)
| | |
| --- | --- |
| Buck Magnet | 11-11-2006 09:44 PM |
---
What a sad, sad sight.......pics!

Hey guys,
This evening I decided to take the 4-wheeler for a little cruise around my property just to see if I could see any deer. As I crossed a creek and was making a hard turn I had to slam on the brakes as a buck was laying right on the trail, I slid and stopped just a few feet from him. I was amazed that he was just laying there so I shut the quad off and just watched when I noticed that his back rightleg was broken badly but it was a low break, right about the hoof (I am guessing he was hit by a car). I started the quad back up and he tried to stand up but fell down. I came home and grabbed the camera and went back. I drove right up to him again and snapped a couple pics of him and as I was leaving I watched him, he finally made it to his feet and he stumbled about 20 yards and bedded down in some golden rods that border a field. I was thinking about "putting him out of his misery", but I think that I am gonna let him go and check on him later, he doesn't look too banged up beside his one back leg and I am hoping that he can recover from it.
The sad part is that I have been watching this buck all summer and fall. He is a 1-1/2 year old 4 point that had a pretty wide rack. I have a bunch of game camera pics of him throughout the summer and fall, and I saw him pretty much every time I sat in stand this year. It was almost a given, if I was in the area he would come visit. I had him bed down beside me several times and he really helped to pass the time in stand. I am hoping he makes it, its a sad sight to see such a beautiful animal in such a sad state, especially one that has some history with you.
Here are a couple pics of him this summer and fall....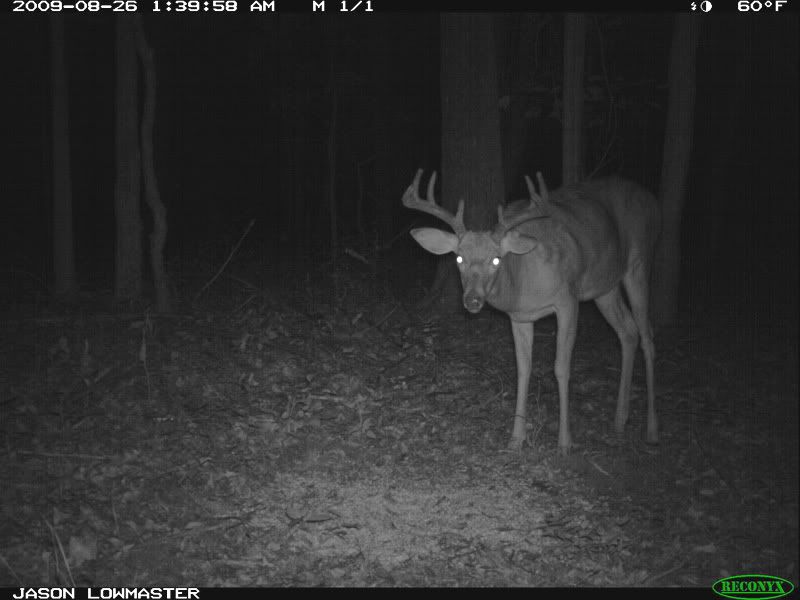 And here he is tonight, as you can see, his one antler was knocked off......
| | |
| --- | --- |
| BowHuntingFool | 11-11-2006 09:51 PM |
---
RE: What a sad, sad sight.......pics!

That sucks, I hope he makes it too! I found a dead buck yesterday that had his rack stuck in a low lying branch while bedded down!
| | |
| --- | --- |
| buckhunter14 | 11-11-2006 10:37 PM |
---
RE: What a sad, sad sight.......pics!

what do you think happened?
| | |
| --- | --- |
| Buck Magnet | 11-11-2006 10:59 PM |
---
RE: What a sad, sad sight.......pics!

I'm pretty sure he was hit by a car, possibly got his butt handed to him by a bigger buck. I had originally thought that he was hit by a car simply because of his leg, but then I got to thinking about the broken antler and if it was broke by a car I would imagine his head would have been hit and he wouldn't still be alive. I don't know for sure what happened to him but I do know that it stinks, this buck is/was one of those deer that you just loved to watch, he was always doing something to make you laugh or something that was just fun to watch. I watched him this season walk past my stand with a fun ear of corn in his mouth and the nearest corn-field was about 250 yards away, I actually laughed out loud when I saw him doing that, I wonder if he was trying to make a stock pile for the winter somewhere :D He was always making and checking the scrapes in the area and he always had a little button buck with him everywhere he went.I'm gonna give it another hour or so and go check on him one last time tonight, we have had some coyotes in the area earlier this year and that is my biggest fear, that one will find him and take advantage.
| | |
| --- | --- |
| bowhuntingfanatic | 11-11-2006 11:56 PM |
---
RE: What a sad, sad sight.......pics!

it looks like he has/had some potiental to. he would be nice as a 3 1/2 or 4 1/2 year old. i can see him now a nice wide 10 pointer. hopefully he makes it.
| | |
| --- | --- |
| carpsniper | 11-12-2006 12:04 AM |
---
RE: What a sad, sad sight.......pics!

From that pic, itlooks like his right front leg is broke too. (notice the way the hoof is turned out)

A broke front and back leg is bad news for deer.

:(

| | |
| --- | --- |
| bowhuntingfanatic | 11-12-2006 12:12 AM |
---
RE: What a sad, sad sight.......pics!

it reminds me of a doe i seen it late january one season that was missing her front leg. i think it most of been shot of by a gun hunter. i did not see the deer the next fall, i thought she must have died from the harsh winter. but the following fall i had her under my stand with two fawns, it was a great thingto see that she had manged to stay alive and then to have 2 fawans. a seen her a few more times through out the year. then the following year she was harvested by a gun hunter. she was a very big doe. the hunter that shot her said she weight 200lbs field dressed. a very big doe if you ask me.
| | |
| --- | --- |
| ikillsdeer | 11-12-2006 01:13 AM |
---
RE: What a sad, sad sight.......pics!

i think you shoulda gave him a quick death and ate him.when the coyotes find him he will suffer a horrible death. besides , and im just guessing here, but even if he survives he will always be a cripple and never a large dominant buck

| | |
| --- | --- |
| Rickmur | 11-12-2006 05:32 AM |
---
RE: What a sad, sad sight.......pics!

Jason, if he is there in the morning or has only moved a short distance do the right thing and put him down before the yotes get him.
| | |
| --- | --- |
| Buck Huntin Girl | 11-12-2006 07:25 AM |
---
RE: What a sad, sad sight.......pics!

I agree, I would put him down as well, and if you don't want to use a tag for it, call the game warden out, they will do it for you and most likely let you keep the meat.

I think we owe it to nature to do our part in a situation like this. After all of the great memories you havemade with this deer, wouldn't it be great to at least have something besides *this* horrid memory to remember him by? At least you would never have to wonder and guess what became of him and whether he was faring well... A deer with a broken leg or two is going to live a miserable life often times succombing to starvation if you get a bad winter storm. If he's in that much pain, I'm sure it would suite him better than going through MORE pain by being eaten alive by a hungry yote or dealing with days of hunger only to end in a miserable, prolonged death by starvation.



All times are GMT -8. The time now is

04:33 AM

.

Copyright © 2018 MH Sub I, LLC dba Internet Brands. All rights reserved. Use of this site indicates your consent to the Terms of Use.