Scored on a 10 pointer.
11-07-2005, 07:49 AM
Boone & Crockett
Join Date: Nov 2003
Location:
Posts: 11,471
Scored on a 10 pointer.
---
Well the season really took a turn for the better Friday morning. The main piece of land I hunt on has been really messed up with the corn not being cut anywhere on the surrounding property and what used to be tall swail lots on our property is now cut down and some of it plowed for the spring. The deer just haven't been hanging there. So......... I ventured a week ago to a remote little chunk of land on the other side of the road. I had a pretty good idea of what the deal is over there, so I took a day to do some more scouting. Found a great little funnel with tons of sign around and hung a stand. Sat in it for the 1st time 4 days later and it payed off!!
The stand sits on top of a big ridge. In front of me it overlooks a hay field. Behind me goes down a steep hill with a creek about 35 yards behind me. All around that is golden rod and thickets. Nice little run with a good scrape line behind me and a few comig up the ridge out to the field.
I climbed up Friday morning (a wee bit later than I usually do[:-]) I got my pack off and hung on a limb, knocked an arrow and hung my bow, and stapped my safety harness to the tree (yes Matt PA you convinced me to start using my vest
). I just plopped my butt in my seat and put my head against the tree. I looked to my left and out of the corner entering the field I saw a rack!! He took 2 steps out to the field and stood there looking around for a minute. He looked right at me at one point and I thought it was over. But it wasnt'
he started to cruise along the edge of the field and got to my shooting lane and stopped broadside. I drew back and let it go at 30 yards. I heard him crash back through the creek and was farily sure I heard a pile up crash just after. I got down an hour later and didn't find my arrow but had good lung blood all over the place. I walked out and came back3 hours later to find him about 80 yards away from my stand just on the other side of the creek.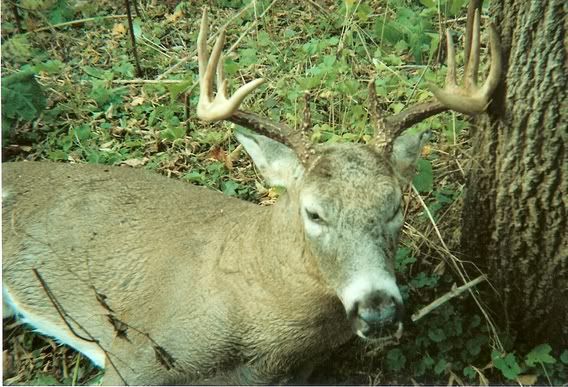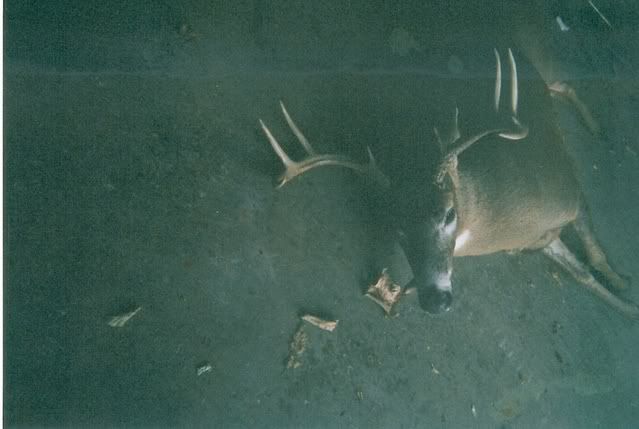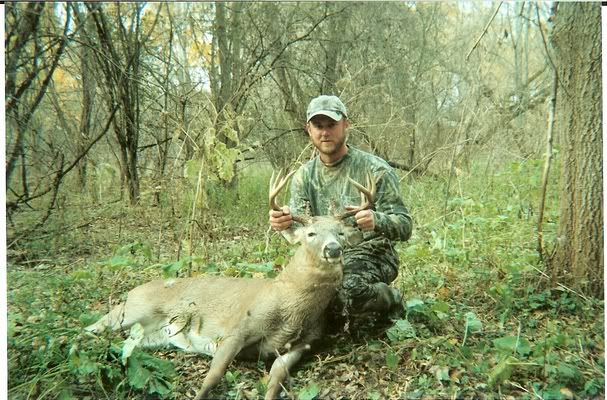 11-07-2005, 08:37 AM
RE: Scored on a 10 pointer.
---
Congrats man! You better revel in the glory now, because the Fighting Irish are going down in the Fiesta Bowl.We RPenn State!

Awesome buck and good story. Straight to the taxidermist with that one.