Homemade Lighted Nock review (w/ pictures)
10-18-2006, 11:10 PM
Homemade Lighted Nock review (w/ pictures)
---
First off, I would like to thank Lunker hunter for his video and detailed instructions.
I have had directions for making these homemade lighted nocks for quite some time, but only after I saw his video did I spring into action to make them.
Unfortunately, I had already bought a 3-pack of Lumenoks. But either way, the Lumenoks gave me the opportunity to run a little test after making my own lighted nock.
I choose to create an all "green" lighted nock. I used a Green Thill light (twist kind, which I do not recommend, use the press on kind as described in the Lunker hunter's video) and a Flo. Green Gold Tip 22 nock. I think they turned out pretty nice.
Not only does this nock seem to be pretty stout, I enjoyed making it. There is something about working on or buildingyour own equipment which makes you feel good.
Follow the directions in this video to create your own lighted nock.
http://www.huntingnet.com/forum/tm.aspx?m=1741690
If you follow the steps correctly, you should have no problem creating well crafted nocks such as this one:
Just the nock, light is on: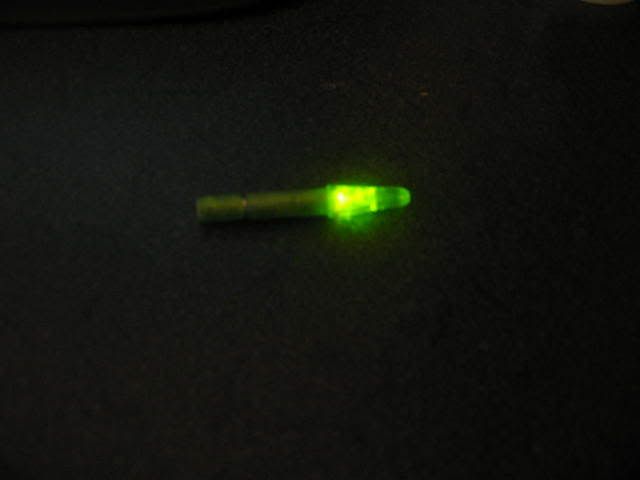 In the arrow, light on:
In the arrow, light off:
From the shot angle:
So far, so good right? Now how about a little challenge?
I luckily had a Lumenok on hand. While I understand "Red" vs. "Green" might create a potential "Apple" vs. "Orange" effect, I still feel it was valuable to show how the two compare.
I shot these two arrows at approximately 15 yards in my basement.
I took the picture from directly behind the arrows at 5 feet.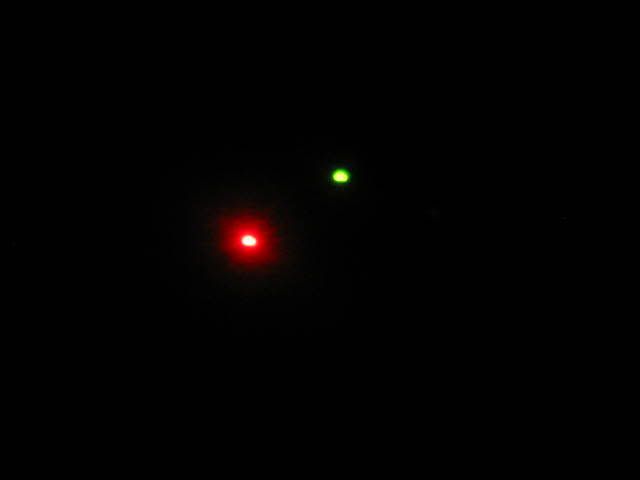 For something that cost me less than $3.50 and 5 minutes of my time, I am happy to say I am pleased with the results.
While the Lumenok appears to be a touch brighter, you have no difficulty, in pure darkness, spotting the homemade "Green" nock on the upper right.
I was also able to buy two push on type redThill lights as well, all for under $12. Remember, when you are buying the Thill lights, make sure you buy the push on type. Not the twist on kind. Unforunately, I didn't read the packaging before I bought the green one. I was just excited Thill made a green light, something different!
Now that nock light is stuck on. Ohh well, I can now test the true battery life and compare it to what Thill advertises it at.
Hopefully the directions crafted by Lunker hunter, along with my test results may steer you "handymen" to customize your own lighted nock, rather than buying them.
Hope things are well this season, Happy Hunting and God Bless!
Bols
10-19-2006, 07:29 AM
RE: Homemade Lighted Nock review (w/ pictures)
---
Nice...thanks for the little comparison test between the two. I saw the video and I would have to say that it inspired me to go and try to make my own as well. Do you know how much weight it adds to the back of the arrow? Did you notice any problems with your tuning being off with the added weight??
10-19-2006, 08:56 AM
RE: Homemade Lighted Nock review (w/ pictures)
---
I make mine very similar to that except I go to the craft store and buy 1/4" wooden dowel cut it down to about 3/8" long pieces and insert them inside the arrow shaft. The dowel weighs maybe 1 grain and I do not have to use any glue or anything. That way if I have a Thill light go bad which they wil easily do, all I have to do is remove the nock and replace it. Also I don't have to use 2 nocks to make 1.
10-19-2006, 10:01 AM
RE: Homemade Lighted Nock review (w/ pictures)
---
I need to clarify something,i didnt make the video i found it and shared it with everyone
i just wanted to share something i found with my fellow hunters.
10-19-2006, 12:51 PM
RE: Homemade Lighted Nock review (w/ pictures)
---
Good post, buddy... You may inspire me to tinker with some of these after the season.
10-19-2006, 06:07 PM
RE: Homemade Lighted Nock review (w/ pictures)
---
r33h
, I don't know how much they weigh since I am still in the process of getting some more tools for my archery shop downstairs. One of those tools is a digital scale. I know the Lumenoks weigh over 20 grains. I am assuming it is safe to say, depending on the nock you use to build your lighted nock you are looking in the same range, 20-25 grain.
I also went downstairs and shot them again today just to make sure the arrow flight wasn't affected too much. At 15 yards I don't see much change. Does this mean down range I might see some problems? Who knows? I am going to shoot them before I use them on live deer. If they aren't going to work with the current setup without changing stuff, ohh well, I will get them ready for next year.
Mike from Texas
, I like the idea of the dowel rods but I just use old nocks I have either chipped or broken. The internals are usually still good on these nocks unless you Robinhood them. Then they become an obliterated mess. Otherwise, you can finally put them too good use. I don'ttrust even a nick in my nocks (future Bowhunting Dr. Seuss poem), call me paranoid, but a$.30nock is a minimal price topay to remain safe. So I am glad I have another use for busted ones.
Lunker hunter
, thanks for the clarification. And thanks for posting the link anyways!!
Greg
, just trying to keep pace with your expert reviews.
All kidding aside, hopefully it will save some guys from buying Lumenoks. Lumenoks and store bought lighted nocksare nice, but the price is just a little extreme for something you can make at a fraction of the cost.
10-19-2006, 06:17 PM
RE: Homemade Lighted Nock review (w/ pictures)
---
No problem im glad you guys are enjoying it,i didnt want to take credit for something i didnt do.keep us posted on how they work,also at cabelas they have different colors.Im sure if you ask your local dealer he can get them.
[/align]The replacement light battery is a one piece unit designed for use in the Nite-Brite bobber.
Colors:
Red, Green, Yellow. [/align]
10-19-2006, 08:33 PM
RE: Homemade Lighted Nock review (w/ pictures)
---
Very cool Bols, nice job.

I shoot ACC's..I'm out of luck when it comes to lighted nocks...

10-20-2006, 01:38 PM
Typical Buck
Join Date: Oct 2006
Location: Western New York
Posts: 639
RE: Homemade Lighted Nock review (w/ pictures)
---
I shot my homemade nocks with broadheads with absolutely no arrow flight problems out to 30 yds same as regular nock. Lets get real is 20 grains really gonna make a difference to most of us guys maybe the ones shooting 1" groups at 30 yds and those are few and far between. In summary I dont notice different flight with homemade nock or regular nock.
10-20-2006, 01:51 PM
RE: Homemade Lighted Nock review (w/ pictures)
---
Thats good to hear matt068,maybe someone should make a small video clip of them in action(just a thought)