What's Your Favorite Hunting Knife?
02-10-2012, 08:08 AM
Nontypical Buck
Join Date: Feb 2003
Location: Michigan
Posts: 3,476
---
I have an old Browning (***anese made but very good steel) that is a folding knife with 3 blades. One plain clip point that locks, then a very good medium tooth saw blade (does not lock) and an excellent gutting blade with a dull knob near the point on the blade side to avoid spearing entrails, gut bag etc . This gutter also does not lock.

But to be honest I always carry a field dressing small pack that contains 2 other knives as well.
11-23-2012, 07:05 PM
---
[quote=jrbsr;3630255]Whats your favorite hunting knife?

Brand? Schrade

Style? Uncle Henry

Type? LB-7 Bear Paw

Fixed blade, or Folding? Folding

Lock blade, or non locking blade? Lockblade

Bought this knife over 30 years ago. Made right here in Upstate NY,until they moved to Chi-com land.It has gutted and skinned several truckloads of deer.I guide deer hunters in Pa.and most of them don't even carry a knife.(Gutting is the guides job)This knfe will outlast me and will go to my grandson when I can no longer "cut it" myself.A couple of strokes on a ceramic V,and it will shave hair.
11-23-2012, 08:38 PM
---
One my dad made 37 years ago while i watched. Industrial hacksaw blade for stock and elk antler for handle slabs. I modified tip profile eventually on about 5"blade. Leather for sheath from scraps from projects his mother worked.(i never met her).
Its butchered hogs,deer,small game and been to Canada anytime i have.
Lots of knives but this one hunts.
Not a big fan of stainless but swiss army knife does yeomans work.
08-25-2016, 07:03 AM
Fork Horn
Join Date: Feb 2014
Location: Illinois
Posts: 282
---
I usually have 2 knives on me, when hunting. One is my EDC knife that's always with me - a Buck model 285. Its nothing fancy - just a good sturdy folder that's tough enough to handle some abuse and inexpensive enough that I don't feel bad about using the hell out of it.

The other is a fixed blade that stays in my hunting pack. Right now, its an OldTimer Sharpfinger. I really like the blade design for field dressing deer. It's just an el-cheapo Chinese-made version. I wish it was an older USA-made model, but those are getting hard to come by.
09-24-2016, 02:26 PM
Spike
Join Date: Sep 2016
Posts: 19
---
There are many great knife manufacturers that produce many models. Like most things hunting, choice of knife is personal. What's right for one might be all wrong for another.
Buck makes great knives. I own more than a few.
When I hunt, I carry only one knife, this one: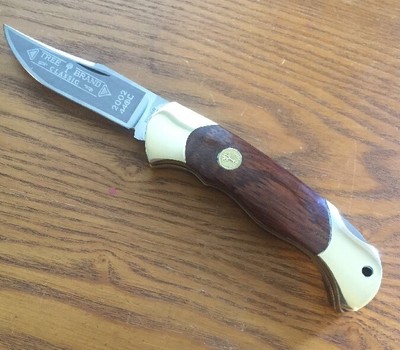 I've had it for at least 25 years.
Many times I've taken only this knife on Rocky Mountain trips. However, I've picked up one of these for heavy cutting as when boning elk:
I might take it to the Rockies this October. But since I'll be hunting only mule deer, I'll probably take only my Boker Tree Brand Classic 2002.
As long as the steel is from Solingen, Germany, I'm good.
BTW, I've bought three Solingen Boker knives. I've always managed to find them at prices far below MSR prices.
Oh yeah, I do have a Havalon Baracuda bone saw. Baracuda knife blades supposedly work well for skinning. But so far, my Solingen Boker Tree Brand Classic 2002 has performed flawlessly whether it's gutting or skinning.
If you're considering a Boker knife, it might behoove you to assure that it's manufactured in Solingen, Germany. Boker does have a line of knives that's manufactured in South America. I have no idea what steel is used on these knives.