-
Black Powder
(
https://www.huntingnet.com/forum/black-powder-23/
)
| | |
| --- | --- |
| arcticap | 09-30-2020 12:09 AM |
---
American Pioneer Powder is Back in Business & Available

| | |
| --- | --- |
| lemoyne | 09-30-2020 06:16 PM |
---
Do You think they will survive ?
---
Thank you thank you thank you. I used Pioneer Gold 2f in my muzzy shotguns with great success. Had literally a blast during turkey season. I ran a pound thru 3 shotguns. Only to not find any in stock anywhere.
I also used that powder in my 54 sharps but have since changed to Swiss 1.5f



| | |
| --- | --- |
| arcticap | 09-30-2020 09:04 PM |
---
---
Originally Posted by lemoyne (Post 4381648)
Do You think they will survive ?
---
Yes, I hope so.
They built up a following when the Sportmans Warehouse stores sold a warehouse full of Black MZ at a clearance price over a long period of time.
That amount of good will is sure to come back and help them rebuild their business.
And there's also cowboy and BPCR shooters who use it and like it.
The demand should be their as long as folks know about it being available again.
| | |
| --- | --- |
| Gm54-120 | 10-07-2020 08:57 AM |
---
More clumping kitty litter. What they built up was a following of people that liked to shoot $10 a bottle powder. They got what they paid for but somehow i doubt those same people will be willing to pay $25+ for the same kitty litter. You can buy Olde Enysford for about the same price or Swiss for a couple dollars more at Grafs so why buy garbage powder that has never proven itself in any NMLRA inline shooting event? Swiss has won more events than just about anything and will give you better speed than anything APP has ever sold. OE will produce more speed and has done well in some BPCR events for pretty much the same price.
| | |
| --- | --- |
| arcticap | 10-07-2020 01:04 PM |
---
36 Attachment(s)
Those clumps weren't even typical for Black MZ.
They're like parmesan cheese clumps that crumble in your hand.
Below are the rest of the photos from frontiergander's thread on THR where he posted more photos.--->>>
https://www.thehighroad.org/index.ph...#post-10906916
And he also posted a photo of a target fired with the same powder.
3 shots at 100 yards with 80 grains formed a nice group, with the top shot in the bullseye being with his normal load of 80 grains of Pyrodex.P.
That just shows that even the kitty litter granulation of Black MZ shoots very well.
Folks should know that APP 3F weighs .22% less than an equal volume of Goex 3F.
That means more shots per pound and less carbon and creosote residue than most black powders.
Every powder has its advantages and disadvantages.
There's plenty of posts on the internet attesting to how much people like Black MZ & APP.
Just today, riflee posted "
If the Cartridge Goex is still selling I will be getting some. To tell the truth though the Alliant Black MZ I tested was just as consistent shooting. The only black powder sub I ever liked" --->>> see post #5 https://americanlongrifles.org/forum...?topic=62281.0

About a month ago the Jedediah Starr Trading Co. was selling left over Black MZ for $25.99 per lb., and now it's all sold out.
| | |
| --- | --- |
| sabotloader | 10-07-2020 03:50 PM |
---
Well I have used the APP powder - many years ago. It clot and clumps very easily and it is under powder.
This a picture of a new bottle open for use. Notice the large clump in the picture and there were more in the bottle.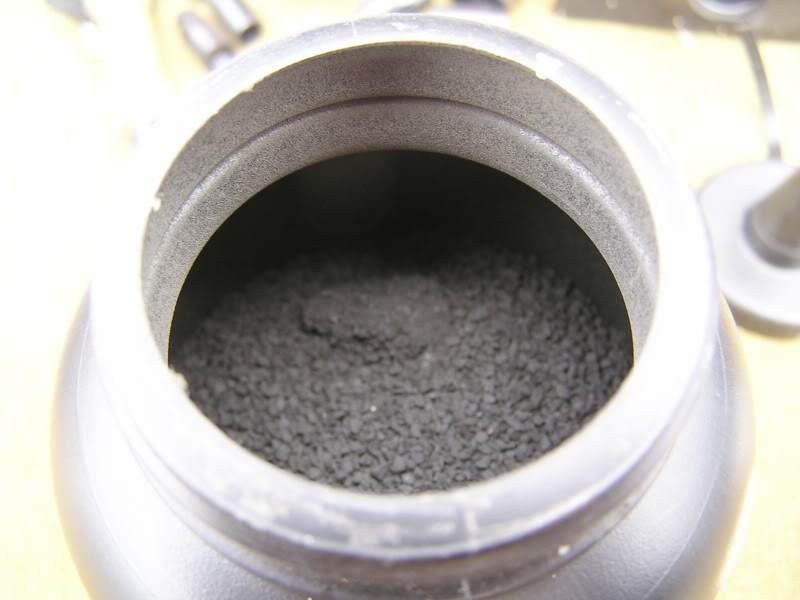 Another new bottle showing a large clump at the top of the powder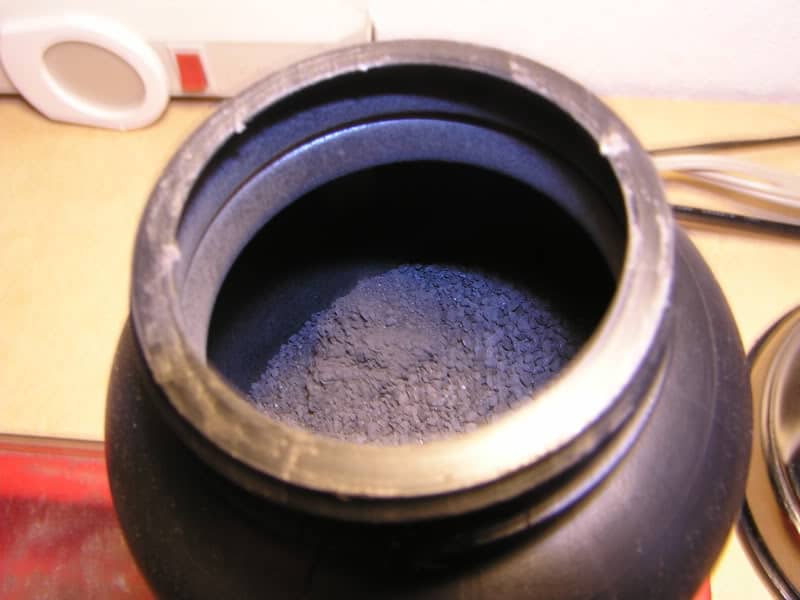 The next bottle I opened came with a moisture absorbent pack in the powder - I think that is a good indication APP knew it was a moisture sucking powder.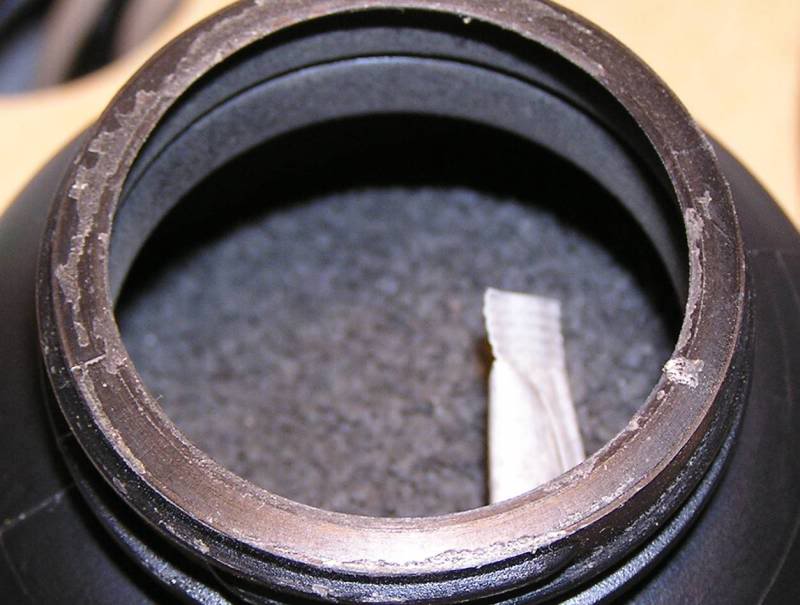 At $10 - $12 a bottle is kind of was OK for these clumps to appear and you didn't feel real bad crushing the clumps. Still the powder did not meter out to a volume measure very well. But at $25 a bottle - there are such better powders available.
| | |
| --- | --- |
| hunters_life | 10-07-2020 11:41 PM |
---
Think I'll stick with what has always worked the best for me. Swiss. No powder on the market can beat or even match it's consistency. Or at least no powder I have ever tried and I have tried a lot of them.
| | |
| --- | --- |
| Gm54-120 | 10-08-2020 07:50 AM |
---
BlackMZ was over 80gr by weight for 100gr by volume. So was Shockeys. Who knows what their latest attempt weighs. Triple7 weighs even less and makes better velocity but is not as easy to ignite. Other than a plinking powder when its cheap i just dont see any reason to try the latest flavor. I dont own a side lock or cap and ball revolver. Triple7 ignites just fine in a modern inline with percussion caps and cost about the same. The crud ring is not nearly as bad with #11 caps.
Since you referenced FG, here is a quote from him.
---
You are right. The Black MZ is not consistent at all in granulation and that's why you will see quite a bit of variance in velocity spread over the chronograph.
---
| | |
| --- | --- |
| arcticap | 10-08-2020 10:33 AM |
---
Many cowboy shooters at the CAS City forum liked the Black MZ enough to buy cases of it. --->>>
https://www.cascity.com/forumhall/in...?topic=62087.0
And Curtrich's page titled "Black Powder and Substitutes for Dummies" which is about cartridge shooting stated:
"Every time I've done a Ransom Rest accuracy test, one of APP' powders has always won." --->>> https://www.curtrich.com/bpsubsdummies.html

I don't know if Black MZ was made to Alliant spec.'s like the Pinnacle powder was made slightly different for Goex, but APP 3F doesn't look as much like kitty litter and these powders can have
a lot of different uses.
A person may like using a certain powder in one gun and a different powder in another.
One of the reasons for inconsistent velocities could be because it's a compression sensitive powder.
It produces higher velocity with heavier compression, and without enough compression then it will appear to be a weak powder.
It's just something to be aware of when describing its characteristics.
| | |
| --- | --- |
| Gm54-120 | 10-08-2020 09:40 PM |
---
I love it when you quote a page to make a point and leave out the tidbits like.
---
Hodgdon 777
This powder was designed for hunters trying to get more volume. It is really hot, 15% hotter than Goex 2F, for example.
It has all of the advantages of APP above.
---
And when you scroll down to the fps comparison
APP 2FG 34gr
580fps High
508fps Low
ES 72 but their math says 82
SD 30
Triple7 2FG 34gr
898fps High
829fps Low
ES 69
SD 27
So its MUCH slower and worse ES/SD then Triple7 yet Triple7 has all the advantages of the APP...according to the link YOU quoted. :cool:
| | |
| --- | --- |
| arcticap | 10-10-2020 03:00 PM |
---
I didn't leave out anything since I provided the link to the page where you read it.
And I provided a reference link to the rest of Gander's photos which you didn't post a link to where you found them.
There's plenty of other velocity data about APP.
Check put some velocity and accuracy results that Curtrich did using a Ransom rest and Oehler chronograph.
For some reason, some of the loads with the lowest ES had the worst accuracy compared to the higher ES loads that had the best accuracy,
Perhaps heat, fouling or the APP pressure curve is involved. --->>>
http://www.curtrich.com/0714APPPremiumGradeTest.html
---
I will say lg outdoors product delivery is alot to be desired.
JW
All times are GMT -8. The time now is

01:44 AM

.

Copyright © 2021 MH Sub I, LLC dba Internet Brands. All rights reserved. Use of this site indicates your consent to the Terms of Use.