Praise the 300 XTP
06-23-2017, 11:01 AM
Nontypical Buck
Join Date: Aug 2008
Location: Rapid City, South Dakota
Posts: 3,732
Same bullet, different conditions
---
Wednesday morning the bullet was shot some more. The rifle was the same as the OP, as was the load, and the location, and the shooter. There were some changes. The scope was replaced with a fixed 4 power scope. It was very much warmer than it was in the OP; it was
hot
. Still, the three shots were made without waiting, and done as quickly as the rifle could be reloaded. The first shot was from a dirty breech plug, and barrel. Shame on me, but because the barrel is already pitted, i don't seem to care much about keeping it clean. This time the range ended up being 201 yard.
What's not to like about the bullet??
_____
07-29-2017, 11:27 AM
Nontypical Buck
Join Date: Aug 2008
Location: Rapid City, South Dakota
Posts: 3,732
300 xtp -- different rifle
---
Yesterday morning i made it out in the hills, and did some shooting. Two rifles came with. An Omega Dream Season with a 2-7 power scope mounted. An AR with a 1.5-5 power scope. It was a nice 56° up there at 4600'. At first there was a breeze, but after awhile the breeze quit; that is when i took advantage and shot three 300 XTP at the bottom target. Load was 72 (weighed) grain Blackhorn, black crush rib sabot, Federal 209A primer. The shots were from a fouled barrel. The rifle isn't sighted in for this bullet, but is just another rifle that shoots the 300 xtp bullet well.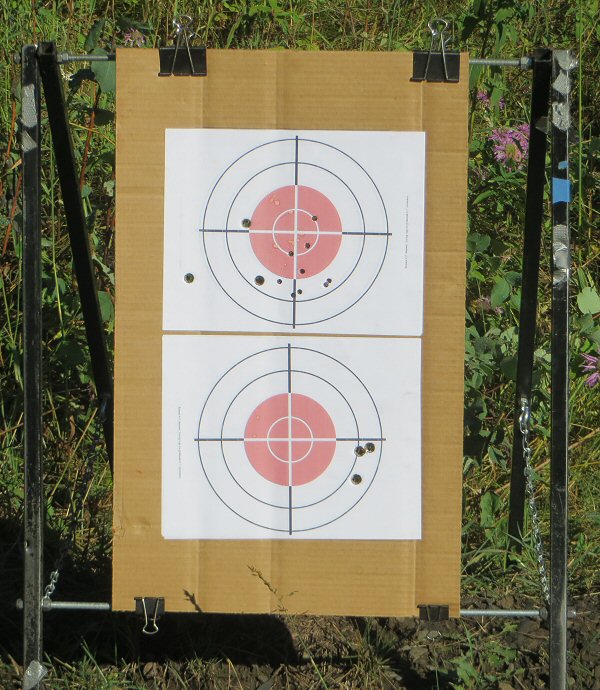 The distance to the target i forgot to measure, but it has to be 200 yard or slightly more. The holes in the top target were made whilst there was a slight breeze. The .22 holes were made just having a little fun emptying 9 cartridges from a 10 round magazine as fast as i could aim, and pull the trigger.
The 300 xtp sure is accurate, and deadly.
________
07-29-2017, 07:17 PM
Giant Nontypical
Join Date: Nov 2005
Posts: 6,578
---
I have used them they work well with medium loads for me but the 250 Bloodline is my first choice. Speaking of Gold Dots they call them Deep Curl now I just got some the local sport shop owner is a friend and he called and ask if I still wanted some he had 3 boxes so now I have 3 boxes.
07-29-2017, 07:35 PM
---
The XTP is probably the most popular ML bullet on the market more for price than Terminal Performance!


Terminal Performance is far more important to me especially at my age not to mention the fairness to the animal.
07-30-2017, 05:10 AM
Nontypical Buck
Join Date: Aug 2008
Location: Rapid City, South Dakota
Posts: 3,732
---
Every deer i ever hit with an xtp was hurt severely. Every deer i ever hit with the xtp ended in our freezer. The xtp is accurate. The xtp happens to be priced fair. In tests, the
300 xtp
penetrated through 4 jugs, the
300 Deep Curl
penetrated through 3 jugs. Yes it is '
fair
' for old people, to kill deer with the xtp. Youngsters too can be '
fair
', and use the 300xtp to stock their freezer.
Every deer i ever killed with the xtp was hurt severely.
___
07-30-2017, 07:33 AM
Giant Nontypical
Join Date: Nov 2005
Posts: 6,578
---
Ron, since you have done a lot of testing would you give use your opinion on how many jugs it takes to be the equivalent of a pass through on an average adult buck on a good broadside hit behind the shoulder?
I realize not everybody is wanting pass troughs but some of us like to have a good blood trail.
07-30-2017, 08:26 AM
Nontypical Buck
Join Date: Aug 2008
Location: Rapid City, South Dakota
Posts: 3,732
---
Lee,
It seems to me your guess is better than mine........
Umm..............You asked...........With the carpet, and plywood first, my wag is if a bullet passes through two jugs after the carpet/plywood, it will pass through a deer behind the shoulders. What do you think?
____
07-30-2017, 10:27 AM
Typical Buck
Join Date: Apr 2017
Posts: 798
---
My opinion on that is probably the same as ronlaughlin's, behind the shoulder, 2 jugs after plywood and carpet. On the shoulder or scapula as in a high shoulder hit I'd give it another jug for full pass through scapula to scapula. On the heavy bones and joint points would be anyones guess really. That would be dependent upon angle of entry and so many other variables. Like lemoyn, I'm greedy and want pass through performance. 2 holes is always better than one. I've personally never had a bullet failure from the XTP's with either the 250gr or the 300gr. But I've never pushed them as hard as some of you guys do with inlines. I'm not in the old people club yet but at 50 I'm surely not in the young peoples class either.