A couple new bullets I'm casting
10-26-2015, 07:51 AM
Nontypical Buck
Join Date: Dec 2006
Location: Minnesota
Posts: 2,037
A couple new bullets I'm casting
---
I got a couple new molds. One is for my 54's which I've been wanting and the other is a different design I'm going to try in my 50's.
The 54 I'm going to name Fatty Patty. She is .540 in diameter and .975 in length. She weighs 551 grains in pure lead.
The other one is Thor Pedo. He is .504 in diameter and is 1.002 in length. 478 grains in pure lead.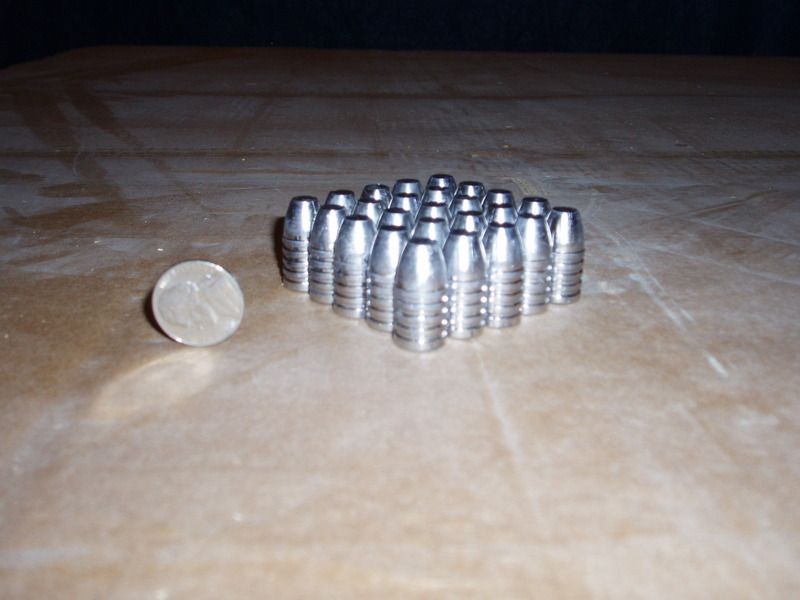 I don't know if I'll get the testing done to hunt with these this year but I'm going to see how they look on paper the first chance I get.
---
Last edited by flounder33; 01-24-2016 at

08:58 AM

.
12-05-2015, 06:16 PM
Fork Horn
Join Date: Oct 2010
Location: Allenton Wis.
Posts: 186
---
I cast a .500 with pure lead for my Encore. It won't shoot at all. I decided I still want to cast so I started in my 45-70 . Still won't shoot . SO, I swaged the 45-70 down to ..452 and paper patched them. Still won't shoot. SO, I took the swaged .452 and put them in a black sabot and tried them in my muzzleloader. I get 4" @ 100 yds with a 4x shotgun scope. Good enough for Wisconsin deer for sure. How does the pure lead bullets work on deer? Never tried it.
12-06-2015, 09:38 AM
Nontypical Buck
Join Date: Feb 2003
Posts: 3,086
---
Art, you need do dress Patty.

ihookem1, QLA is that unrifled section of the bore at the muzzle which is supposed to stand for quick load accurizer per TC. It more correctly stands for quick loss of accuracy. Often off center, that section of barrel can do NOTHING to enhance accuracy - it can only detract - and does so especially if using conicals. Sometimes removing that section and re-crowning works miracles for accuracy.

The other thing to look out for with a TC is a washboard surface in the bore. If a bullet (or tightly patched jag) seems to feel loose in spots while tight in others - you have a poorly done bore that will absolutely not shoot conicals well.

CVA also uses a similar section of barrel at the muzzle, but theirs is not nearly as long and (so far) has been done accurately. CVAs (those with Bergara barrels) have so far done extremely well for me with both conical and sabot loads.