Second XP Arrives
03-10-2015, 02:36 PM
---
Originally Posted by
bronko22000
Sabot by the way those cut outs look on the bullet they may not expand very much if at all but the design should cause havoc by a hydraulic push of the body fluids. Probably much like the way a hollow point does after expansion of the petals. So with adequate velocity you would get deep penetration and a good wound channel. Seems to be a good elk, bear bullet but IMO a bit too much for deer except at longer ranges.
You are totally correct the bullet does not expand. Their is a chance it might deform a little bit, but that would be it.
The bullet is designed to do as you suggest + have great penetration.
The effective range is totally dependent on velocity. To get the true hydraulic action the bullet need to be traveling at least 600 fps but even then if it were traveling slower you still will get very deep penetration.
I would not hesitate using it on deer. I am old the last thing I want is the animal to travel after being shot.
03-10-2015, 02:40 PM
---
Originally Posted by
1874sharpsshooter
I have 3 more gongs set up for 3,4,and 500 yards . Now if only the 230 gr bullets would come out . I even put a monarch 4x16 mildot scope with burris ring inserts of +10 in the front and -10 in the back on the 1:20 Disc .
i took a lot of flack for a mildot on a muzzleloader
so it better be worth it .
Have patience - it is in the plans. These are the bullets Lehigh plans on building...
XP
.400 185gr
.400 200gr
.452 250gr
.452 275gr
CF
.400 185gr
.400 230gr
.452 250gr
.452 275gr
03-10-2015, 02:58 PM
---
Dave, I use the PBR system sighting in. Most often for the rifles and bullets that I shoot that means @ 100 yards the will be approximately 3" high. I most often run a ballistic sheet after I have collected the velocity of for that bullet and that powder load.
This is an example of the ballistic sheets that I run...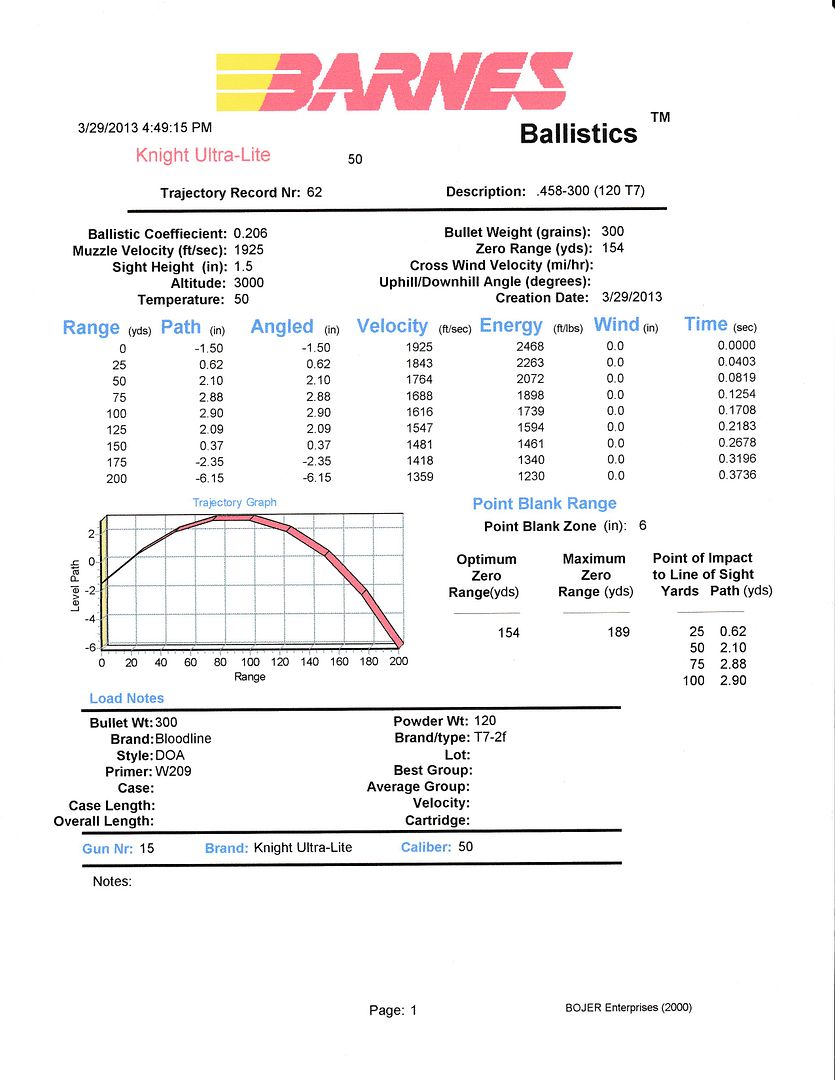 You can see with this load and this bullet it should hit at 2.9" high at a 100 yards. I sight it in that way then check the sheet by shooting the 154 yard target to verify '0' range. If the bullet is near zero at the range then the sheet is very close. Also most of my scopes have a ballistic reticule in them so at 200 yards I shoot using the reticule to verify impact at 200 yards. 200+ is my self imposed max range that I will attempt a harvest shot.
Also on the chart there are other marker ranges you can shoot to verify. The other day shooting the clay birds at 150 - I held the Xhairs on the bottom of the bird - knowing the rifle was sighted in with 120 grains of T7 with a 300 grain Bloodline. It was a educated guess on where to hold... It worked out very well for me. Even though the rifle was sighted in for a different bullet and sabot.
Looking at that bullet I wish someone would do ballistic gel out of a muzzleloader at say 100 yards and see what it does. I just have a feeling that that twisting Phillips head design is going to do a lot of damage.
Carlos has shot gel but I do not know at what range... I do not have access to the jell but I am going to build a medium contained in a plastic jug - the jug serving as a organ wall and pop it with one of the bullets just to see what it does do as it passes through.
And from what I have read you are correct the 'X' nose does make a twisting cut through the medium one of the people that shot jell said he could feel the cut on the inside of the jell.
Hopefully by next week I will have some pictures to share.
03-10-2015, 03:15 PM
---
Originally Posted by
WV Hunter
Nice job SL. That is one wicked looking bullet for sure!

The design is definitely interesting, and I am also curious to see how they perform in the real world. But I also wonder, which design will prove to be more effective on a marginal shot.... bloodline or xp? I guess time and field reports will tell.
OK once again I am old... I know the how the CF bullet works and I have seen the results of that bullet. I personally find it hard to believe and bullet can beat them. But I also remember saying that the Lehigh could not be as good as a Nosler Partition... but I was wrong there. So at this point ya - I am going to try one on a deer this year - I just need to check. That is IF the medium test works well enough.
What kind of medium you gonna try and use Mike?
I do not have access to true ballistic jell. In the past I have used water saturated Palouse clay in a card board box just to see the dynamic effect. I never really felt shooting through a water jug was really like shooting through hide-bone & organs - although it is impressive.
I think I am going to make a concouktion (sp) (trying to simulate the density of blood and organs) in the garage and contain it in a plastic gallon milk jug to simulate an organ membrane (a really tough one). I am thinking I will shoot the bullet through two 2x6" planks then a space into the jug lengthwise and out through two more 2x6's.
I would like to see this very effect... look at these tubes of coagulated blood that came from a recent deer harvest.
03-10-2015, 05:49 PM
Spike
Join Date: Jan 2012
Location: upstate NY
Posts: 46
---
I was under the impression the muzzleloader bullets would be made of brass and the pistol made of copper. The link to Lehigh indicates this is a copper bullet. What material does the supplied bullet appear to be made of? Maybe I just misunderstood.
03-10-2015, 08:01 PM
---
03-12-2015, 07:13 AM
---
I had never really thought about this until a member on another forum posted this thought:
That bullet with "Those flutes will be like a drill bit and blender when the bullet hits ."

I posted back:
Never thought of it that way but I think you 'nailed it'

Not being the best gun nut in the world - I wonder what the RPM of that bullet might be at 100 yards?

He answered back
muznut" source="/post/174571/thread" timestamp="1426165282"

Dunno how fast that bullet will be going at a 100yrds but your speed of 1950 at the muzzle with a 1:28 twist it will be spinning at 50142.9 RPM's
At 50,000 + RPM's (at the muzzle) I can not even imagine the fluids the bullet could be spinning off and directing up and out of the flutes.
03-12-2015, 07:29 AM