Barnes Performance (Graphic)
12-09-2014, 05:35 AM
---
12-09-2014, 07:25 AM
---
Me either. I just cant bring myself to take that shot presentation no matter if its a trophy class deer or not. I hunt for meat and over 90% of my shots are "text book" double lung broadside shots.
Taking that kind of shot i want the most amount of tissue displacement as possible and two holes. Barnes quite often deliver this kind of displacement regardless of the shot angle.
High shoulder shots ruin a huge amount of meat too even with a 185gr copper bullet.
"Text book" shots do not unless you like to eat the heart.
---
Last edited by Gm54-120; 12-09-2014 at

07:29 AM

.
12-09-2014, 07:52 AM
Nontypical Buck
Join Date: Jul 2003
Posts: 2,922
---
That photo was a result of a 185 gr. XTP?
How much powder there?
I was hunting with a 185 /44 XTP last weekend, using 75 gr. of Schuetzen Black Powder in a CVA Stalker Carbine sidelock.
My results were a little different. I was only hitting a dead tree during lunchtimes...
12-09-2014, 10:25 AM
---
That photo was a result of a 185 gr. XTP?
How much powder there?
I was hunting with a 185 /44 XTP last weekend, using 75 gr. of Schuetzen Black Powder in a CVA Stalker Carbine sidelock.
My results were a little different. I was only hitting a dead tree during lunchtimes...
Nope a Barnes 40-155gr TAC XP with a 30gr lead insert in the hollow point. IIRC 110 or 120gr BH209 in a CVA Accura V1. Distance was over 100 yards at impact
12-10-2014, 01:49 PM
Typical Buck
Join Date: Aug 2011
Location: Ohio
Posts: 861
---
First, I didn't lose any meat as I don't pick around the little bit of meat found on a smaller deers neck. Second, I have never lost anymore meat than any other bullet I have used by taking shots into the vitals. I don't mind tracking but if I have a neck shot open at a range I am confident I will take it every time. I find this topic of meat loss in regards to this barnes bullet that I used very interesting. It is a copper bullet that holds together and has textbook mushrooming, not sure what else you want. But yet I see mention of a XTP or Parker bullets which are well known of exploding and coming apart. Weird. In fact here is a picture (entry/exit) of a deer I shot last year with a Hornady 300 grain xtp (.430).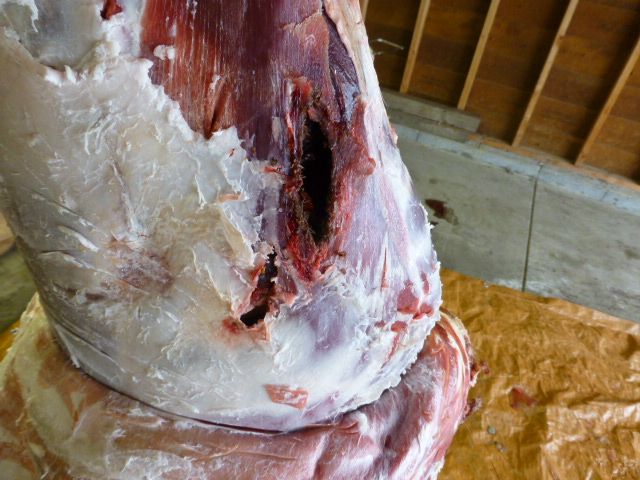 12-11-2014, 07:16 AM
---
No offense taken here to the guys who said "TX heartshots" aren't for them! I realize it's a personal choice and many don't. I honestly only became comfortable with it after years of experience (and yes experimentation) with Barnes in both smokepoles and centerfires. I'm in west TN where we've had nearly 2 decades now of "3 does per day, everyday of the season from bow in Sept thru gun which runs into Jan. So I and many of my hunting buddies have had ample "testing opportunities" to make sure what we're saying is factual. To date I've NEVER lost a deer I took a "TX heartshot" on! But I've NEVER taken a "questionable" TX heartshot. (SURE I've lost deer, especially as a youngster when I just "put the crosshairs on hide and let fly" but that's not the arguement here) If I'm not comfortable or something else isn't right in the equation, then the deer will live another day.

In my personal case the farthest centerfire shot I have on record with a TX heartshot and a Barnes is 306yds (lasered) on an average sized doe. I was shooting a 30cal 150grn Lazerhead (Barnes Tripleshock) with a muzzle velocity of just under 3800fps. (Via my Sako Lazzeroni Warbird) She was DRT when the bullet "cleaned her out". The bullet entered her "in the crack" and exited just above the brisket, centered between her front shoulders. She didn't have a clue what hit her and she fell so quick in the sage she was standing in, I didn't see her go down, she just "disappeared". But I found her piled up right there were she was standing at the shot. I've had several "full length" shots (some head on, some "rear on") with that gun and numerous other guns of mine (again ALL using Barnes) and the results have all been the same. But let me say that I would NOT recommend trying such shots with say a 243, 25-06, 260 etc, regardless which weight Barnes you had! The weight, speed and "umph" just aint there IMHO. The lightweight 150 works fine in my Lazzeroni because it's going double aught warp speed. I don't shoot the 150s in my 30-06s, I shoot the 180s in them because they don't have the speed either so I rely on momentum/S.D. IMHO if you don't have the speed then you need the weight. If you have neither, you have no shot!

Muzzleloader wise, the farthest TX heartshot I've done was on a 220# 130inch 8pt that was 187yds (again lasered). He was walking down a lane, following a doe. It was getting darker and he was getting farther and farther away. I was in a shooting house, I knew my guns trajectory, I have supreme confidence in the 300 Xpander and my Savages ability to deliver that bullet anywhere I want it inside of 250yds so with a steady rest on the window sill, I set the crosshairs 4" above the bucks tail & I squeezed the trigger. The bullet entered about 1" below his rectum (and stopped in front of the lungs, just above the brisket). At the shot he staggered back and tripped over himself 5-7yds flat of his back to his left and into some tall sage grass/NWG. He then regained his footing and ran 30yds into the woods (downhill) where he piled up in a heap.

Again, I ONLY take these shots when these are the only ones presented, I KNOW the distance and I know my rigs abilities at those given ranges. I have all the confidence in the world in my rigs and the loads I've chosen for them after years of successful results. I agree with many, it's not simply a matter of "sticking a bullet up their butt" because in most cases you've then lost a deer and more importantly you've made life MISERABLE for that animal! If you can't kill them in seconds then give them another day!!!
---
Last edited by HatchieLuvr; 12-11-2014 at

07:23 AM

.