Knight vs Knight?
01-25-2013, 05:46 AM
Nontypical Buck
Join Date: Dec 2006
Location: Minnesota
Posts: 2,037
---
Thanks, Droptine. I actually have two with the 20 inch barrels. One of them is the Light Knight it came new with a blued barrel and a composite stock and the other one I am pretty sure is the Back Country Carbine I got that one new too with a SS barrel and a laminate stock.
I find myself wondering what made the 22 inch model and economy model. With the laminated stock and the Lothar Walther barrel it seems to be of the same quality standards as the 24 inch models.
Thanks for your information,
Art
edit:
It seems like I remember seeing a T-5 Knight one time and if I remember right I think it was foreign made and an experiment that was short lived
Here is a link to the T-5:
http://auction.repocast.com/details.cfm?ID=408258
---
Last edited by flounder33; 01-25-2013 at

08:21 AM

.
01-01-2016, 06:00 AM
Spike
Join Date: Jan 2016
Posts: 1
Mk85 hunter
---
Originally Posted by
Grouse45
The BK92 and the Mk85 have square receivers and are only 24 inches long. Both the BK92 and the MK85 have only 120grn max powder charge. The Bighorn has a round receiver and a 26 barrel allowing for 150grn capabilities. The Bighorn is also considered a magnum muzzleloader.
That is inaccurate, I have an MK85 I have an 8" pattern at 200yrds open sights with the only load I fire is 150grain powder Barnes Spitfire T-EZ 250G with musket cap. Every shot is 150grains as I was instructed was maximum powder capacity.
---
Last edited by APEX_PREDATOR_UT; 01-01-2016 at

06:06 AM

.
01-01-2016, 06:05 AM
---
01-01-2016, 06:54 AM
Nontypical Buck
Join Date: Mar 2009
Location: Saxonburg Pa
Posts: 3,906
---
I'm far from wrong. The Knight MK85 is only rated for 120grns by volume of powder. I suggest you do your home work before you say I'm wrong next time!!!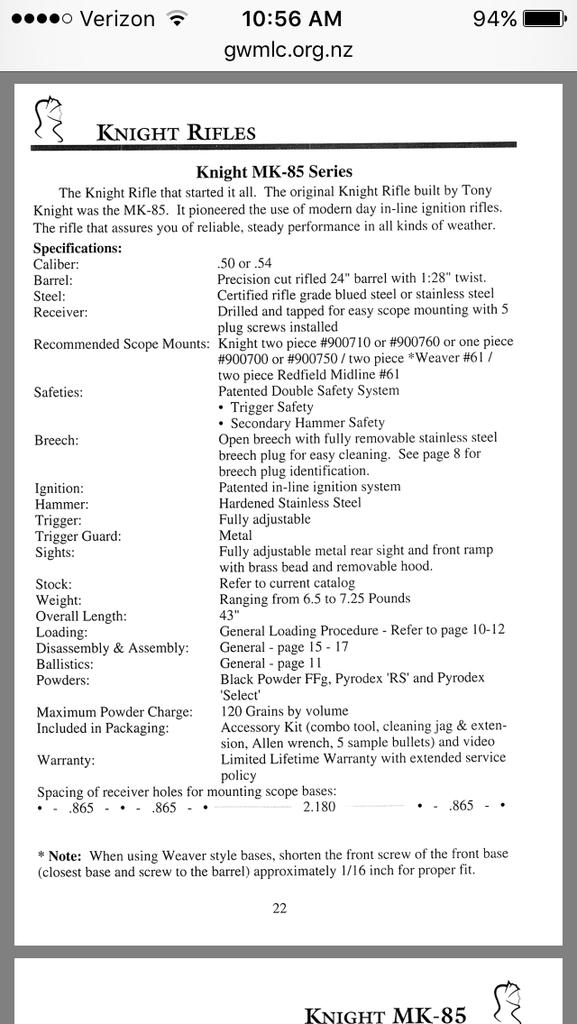 ---
Last edited by Grouse45; 01-01-2016 at

06:59 AM

.
01-01-2016, 07:01 AM
---
01-01-2016, 07:42 AM
Nontypical Buck
Join Date: Dec 2006
Location: Minnesota
Posts: 2,037
---
One time I asked Sam at Knight why the Bighorn was rated as a "Magnum" and the mk 85 was not. I had both and my Bighorn had a 22 inch barrel and was still rated for a maximum of 150 grains. The answer I got from him was that they rated the Bighorn as a "Magnum" because at that time "Magnum" was the craze. He told me you could shoot that 150 grain load in my mk 85 if I wanted to but it would be a waste of powder and accuracy would suffer. He didn't really think that 150 grains would be smart to shoot in the Bighorn either for the same reasons. I never shot that much myself, I don't think I have ever gone over 110 grains in my mk 85s.
Grouse was right, the mk 85 is officially rated for a maximum of 120 grains.