Experience with Bushnell DOA200 scope reticle
11-20-2012, 05:39 PM
Spike
Join Date: Oct 2012
Posts: 21
Experience with Bushnell DOA200 scope reticle
---
After an earlier post about drop compensating reticles, I decided to get a couple scopes and try them out with my Whites. I bought 2 scopes from Cabelas that have ballistic drop compensating reticles. One was a Bushnell Trophy with DOA200 reticle and the other was a Cabelas Powderhorn 3-10X40 with EXT reticle. I haven't played with the Cabelas scope yet.

I set up the Bushnell on the my White Thunderbolt .451 and plan to use it exclusively during in PA's regular whitetail season. I spent some time at the range figuring out the reticle. So far, I am pleased with the results.

The details:
White Thunderbolt .451 with M98 action (#11), 24" barrel
RWS primers
70gr of 777 2F
460gr No Excuses bullet
Bushnell Trophy XLT 3-9x40 with DOA200 reticle
Leupold QRW medium rings
Warne bases

The Bushnell scope comes with Butler Creek flip up caps. I really like them until they break. I should have taken them off. I busted the rear one during my first range session.

All shooting to figure out the reticle was done at 9x magnification. The DOA200 reticle is marketing for slug guns. Zeroed at 100yard, the first line should be 150yrds and the 2nd should be 200. Below that, the vertical lines gets thicker and the top of that post could be used too. There is also a line above the cross-hairs that is supposed to be 50 yards. I've not paid much attention to that line.

In my first session, I got close to zero at 100yards and moved out to 192 yards to see what that was like. I was shooting 460gr and 385gr no excuses. The 385s were a 4-5" group at 192 while the 460gr were less than 2". So the 385gr get put away for now. The 460gr were landing about 19.5" low. That was 1/3 the distance between the 2nd line and post. I shot a group using the 2nd line to aim and those were 5" low.

In my 2nd session, I came with some more target stands so I could shoot several distances without running out and moving them. Without a spotting scope, I still got my exercise.

I zeroed the scope at 100 yards and then moved on to 125 and 150. Those were on either side of the 1st aiming line. I then tried 140, 160, and 175. 140 and 175 were pretty close to to the 1st and 2nd aiming lines. I did not shoot multiple groups at each range so my drop numbers are probably good to +/- an inch.

100, 0"
125, -3.5"
140, -7.0", 1st aiming line at 9x
150, -8.5"
160, -9.5"
175, -15", 2nd aiming line at 9x

I would like to get another range session in before season starts but I feel good about the results.
11-20-2012, 07:10 PM
---
So this was sighting in at 100 yards, and then shooting the different distances but using the main sight in line?

Excellent information since I have the same caliber White Rifle. And a BDC scope I have not used yet.
11-20-2012, 07:37 PM
Spike
Join Date: Oct 2012
Posts: 21
---
Yes, 100 yard zero. Then shot longer distances with the cross-hairs on the aim point. Then I looked at how far below the aim point the group was. For my load, the BDC lines corresponded to 140yd and 175yd.

Like I said, there is some error in my drop numbers since I had one 3-shot group at each distance. I recorded 1.5" drop between 140 and 150 but 1" between 150 and 160. With more shooting, those number would be more accurate. A chronograph would be handy but it is always on the nice but not necessary list.
11-20-2012, 08:10 PM
---
Since most my shooting is very close range, I was thinking of sighting in the main cross hair at 50 yards dead center. Then seeing where the next line would put me at say, 100 yards. From past shooting its about four inches low at 100 yards. So maybe the next line on that BDC would work just fine. You really have me wanting to shoot again.. thanks.
11-29-2012, 06:18 PM
Spike
Join Date: Oct 2012
Posts: 21
---
One thing to keep in mind is the BDC are meant to be used at the highest magnification. Not that they can't be used at less than full magnification but be aware that the vertical distance between the BDC lines and the cross-hair varies with the magnification and horizontal distance. A 50 yard zero may not be that convenient.
11-29-2012, 06:53 PM
Spike
Join Date: Oct 2012
Posts: 21
---
I got out last weekend and worked at it some more. The 100 yard zero was pretty close at 3X and 9X magnification. I'm amazed at how my groups can shrink when I turn the magnification down. My 3 shot group at 100 yards at 3X power was 0.75". Wish I could do that more than once.
I then shot my two BDC lines at 140yds and 175yds and they were right on. I moved the target out to 195yds and the group was 4-5" lower than the 2nd BDC line. When I get a chance to shoot it farther, I'll try to figure out the distance that corresponds to the vertical post.
To finish the shooting, I pulled targets into 50 and 75 yards and turned the magnification down to 3X. Both distances were 2-3" high.
I made up a little card showing that information and the DOA200 reticle. I printed out and taped to the stock of my Thunderbolt so I'll remember all this next year.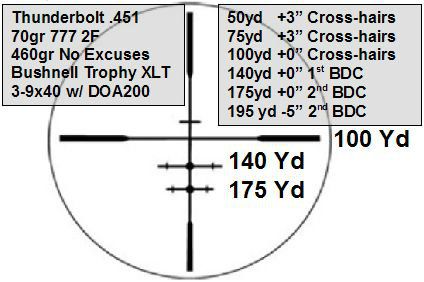 I was out Monday for the PA opener in a buck only WMU. There were plenty of doe feeding a couple fields away that were in range for the BDC lines. Saturday I can take a doe but I will set up closer to that field so I probably will not need the BDC lines unless they only come out in the far corner of that field.
Posting Rules
You may not post new threads
You may not post replies
You may not post attachments
You may not edit your posts
---
HTML code is Off
---