Knight vision
02-09-2010, 03:45 PM
Knight vision
---
I was at a pawn shop today that is a big dealer in firearms. They were selling knight Visions for $185 plus tax. These had black synthetic stocks with stainless barrels. This sounds like a very good deal to me. Was wondering what y'all thought about the price and the gun? I have never shot one before and know very little about it. Something that hit me after I left was since its hammerless, how does it ****? All I need is another ml, but the price seem to good to pass up and its a really nice looking ml. Any thoughts about the Vision would be greatly appreciated.
02-09-2010, 04:00 PM
Banned
Join Date: Dec 2008
Location: Boncarbo,Colorado
Posts: 9,186
---
when you break it open, you slam it shut and it auto ****s internally. Basic complaint with these rifles, especially from those who bought them from the sportsmans guide, they wont set primers off. i think they were the same price as yours.
02-09-2010, 04:59 PM
---
gregrn43
I really did not think that it would be a decent rifle, but Tom sent me his to change the LOP on it. While I had it here I was able to shoot it also.
My first impression when I got it was, man this thing is a real gun. I felt strong and well built and it did not hurt a bit that it had a Green Mountain barrel on it.
The hinge on it for the break open action is massive and the one I had was well fitted. When it was closed it was hard to even tell that it was a break open... all the seems fit tight.
As FG said when you break it open a rod pushes the hammer back to the kocked position. The best part about it unlike all the exposed hammers - it has a safety - you do not have to pull back on the hammer before the shot - I really prefer the safety.
The Black/Stainless model is not a one of the Sportsmans Guide model these were assembled and checked by Knight before they were into the sale everything mode because they knew they were on the verge of closing.
The one that I had had a really good trigger. And if you get the newer breech plug -it is also really clean shooting T7 or BH. So if you purchase the gun make sure to get a hold of Gordy at Knight and get the new BP.
This is the Breech area after several shots....
Did not shoot to bad either...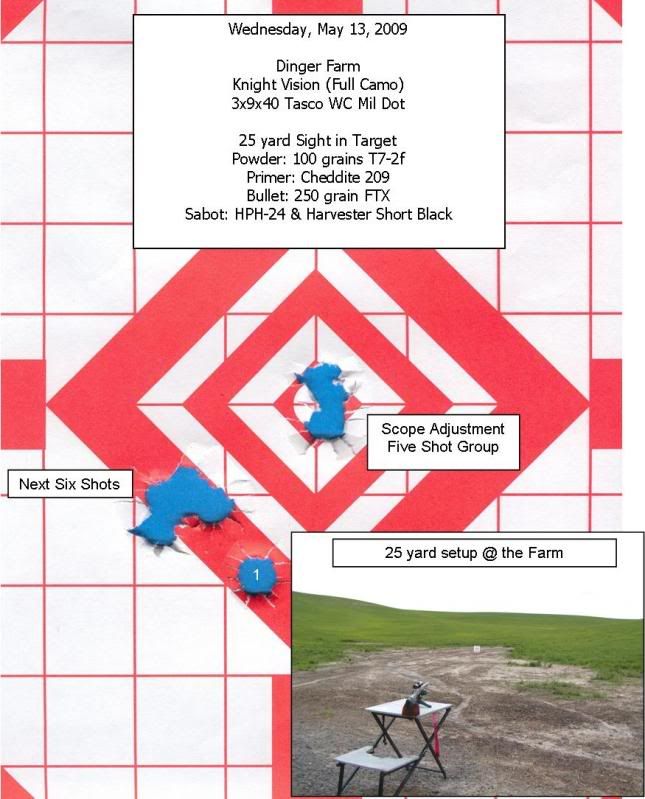 02-09-2010, 09:17 PM
Nontypical Buck
Join Date: Dec 2009
Location: Yucca Valley,Ca
Posts: 2,496
---
If i was looking for a quality new M/L on a "budget", i would purchase a knight wolverine.purchased a new youth model for the wife and they are extremely well built rifles.thier is nothing fancy about this rifle just a quality trigger,GM 22" barrel,solid one piece stock and a very functional recoil pad.the full size version can be had for $150.00 and $16.00 shipping new in box at olde english outfitters.they also are very accurate rifles..just a thought...
02-11-2010, 07:54 AM
---
gregrn43
Make sure to take notice of the rings that
rafsob
is using because of the long LOP and the position of the scope on the barrel - you normally can not get the scope back far enough with out the extension. I believe you could do it with out the extension ring if you used an Omega scope with its 5" relief...
02-12-2010, 04:40 AM
---
I bought one from Sportsman Guide last year & love it.
nice crisp trigger
easy cleaning rifle
shoots real nice groups
very little if any blow back
shoots Black Horn 209 without any misfires or hang fires