blown scope, lead sled to blame?
08-20-2008, 11:41 PM
Nontypical Buck
Join Date: Aug 2006
Location: Rivesville, WV
Posts: 3,192
RE: blown scope, lead sled to blame?
---
That Burris Signture scope is a good quality scope. I am pretty sure Burris will stand behind their warranty, but as you know sending it in will still be a pain in the a**.

A lot of people have blamed the lead sled, and as I posted earlier I do not like them myself. However I have seen a lot of good quality scopes have trouble on top of MZ's over the years. It is probably impossible to find out exactly what caused the failure, but as long as you get a new Burris then that should help. Do you have the one that has the "reticle lock" on it?? I think that would be a great feature on a MZ scope.

I have a Burris scope on one of my MZ's. However I have the one with the Ballistic Plex reticle. You should try that reticle it works great on a MZ. Tom.

08-20-2008, 11:48 PM
RE: blown scope, lead sled to blame?
---
tom- i have 99% burris products. two of which are the 3.5-10x40 illuminated ball plex that i have on my knight master hunter and my long range hunter. the ball plex is nice if you want to mess with it but i don't think that they are really worth it. to bad burris doesn't get any credit for that reticle idea and nikon steals all the hype when it's the new kid.

i have a 8-32 sig mil dot, 4-16 mil dot, 4-16 ball plex and maybe one or two more that i can't remember. in all honesty i'll never use them how they are intended. heck if a guy figures his max point blank range that ought to be good enough for all practical purposes.

08-21-2008, 12:11 AM
Fork Horn
Join Date: Jan 2008
Location: Noel, Missouri
Posts: 154
RE: blown scope, lead sled to blame?
---
ORIGINAL: Rifle Loony

Just curious...

What do you guys do when hunting with these big shoulder thumpers....carry your lead sled with you?
You sir are unbelievable, a legend in your own mind. I guess all of that recoil rattled your brain loose.
08-21-2008, 12:16 AM
Nontypical Buck
Join Date: Aug 2006
Location: Rivesville, WV
Posts: 3,192
RE: blown scope, lead sled to blame?
---
I have a Leupold 4.5X14 on my Knight LRH. It has the B&C reticle, which as you know is very close to the BP reticle. I have spent a lot of time working with the reticle, but it has worked out well. I set the power to 14X. The crosshair is dead on at 100 yards. Then the first crosshair downis on at 150. The second crosshair is dead on at 200 yards. And the third one down is a touch high at 225 yards.
It has taken a lot of powder and time to get this rifle shooting the way I want it. But this cross hair has worked out great for me. But it was not easy. However it takes a good accurate rifle and load before you canachieve results like this. I shoot the Barnes 250 grain TMZ bullet in front of 120 grains of loose 3F Triple 7. Whatever you do, please do not tell those guys on the reloading forum that I shoot those expensive Barnes bullets. Or I will never hear the end of it. Especially since I bash the expensive Barnes rifle bullets so much. However as soon as Ground Hog season is over I am going to try and work up a good load for a cast bullet. I have a few good 50 caliber molds. Tom.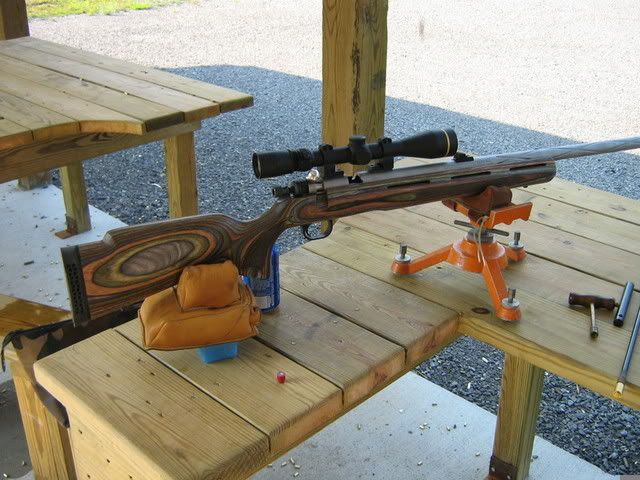 08-21-2008, 12:29 AM
RE: blown scope, lead sled to blame?
---
i have been shooting the 290gr tmz and 120gr bh209. w209 primers gave me hangfires. cci209m didn't. oh did i mention i use it in my lead sled?
08-21-2008, 06:42 AM
RE: blown scope, lead sled to blame?
---
After I finally managed to cut through all the BS excuses for this damage and a wisdom of an obvious troll, I am still amazed at how many people don't understand the differences between the air rifle, rimfire, centerfire, and shotgun/BP gun vibrations (Harmonics).
I ended up finding out the hard way by destroying two fine scopes, one Burris Fullfield and one Bushnell 3200 Elite by putting them on a TC Encore BP gun. My problem was not paying attention to the manufacture's recommendation of putting a BP/shotgun scope on a BP gun. Many folks don't think this is necessary and end up like me and finding out the hard way. Lucky for me the factories repaired the scopes and I ended up putting a BP scope on my gun. From thatday on, no more troubles
I am no mathmetician or expert onthis subject, butI do know how to research it and found out all theinfo on this subject. If you don't give a hoot and put that highdollar scope on a BP gun that should go on on a centerfire, be my guest.
08-21-2008, 07:29 AM
Join Date: May 2008
Location:
Posts: 499
RE: blown scope, lead sled to blame?
---
So then, can you tell us the so obvious to youdistictions between a BP scope and a regular scope?

Are they somehow "tougher" than a regular scope?

If that's the case then why don't they sell a scope expressly marked "ultra mag" or for the ".416 rigby only"...?

You get my point.........hopefully.

Not "trolling" as you so elequently choose to put it, just calling BS on what you said.

A "BP" or a "shotgun" scope is nothing more than a different reticle, and a selling point, to get you to buy something different that "they" tell you that you "need".

Have always put "regular" scopes on shotguns and ML'ers and never had one crap out.

Infact the only scope I EVER had to send in was mounted on a .270, but it was a Simmons from back in the days before I knew what Good Glass was.

08-21-2008, 10:14 AM
Join Date: May 2006
Location: Tri Cities, Washington
Posts: 1,616
RE: blown scope, lead sled to blame?
---
outdoorsmen
I don't think you mentioned how much weight you use in your LeadSled.
08-21-2008, 10:39 AM
Boone & Crockett
Join Date: Apr 2007
Location: River Ridge, LA (Suburb of New Orleans)
Posts: 10,917
RE: blown scope, lead sled to blame?
---
Hey Loony, I don't have any problems withyour taking a position on any issue- but man, do you have to be so abrasive when stating your opinion? Why not tone it down a bit?