My 2012 DIY Spring Bear hunt
03-25-2012, 06:52 AM
My 2012 DIY Spring Bear hunt
---
So I have done this this thread on other threads for a couple of years. I think it is high time to share with all of you guys and gals.
So the season begins shortly and the prep work has officially begun. Today the daytime highs reached +10. It was a beautiful day. My shed is almost empty of donuts and all that was left was a few of my square 3 gal pails. It is stink bait day!
I gathered 11 pails with lids. Went to the freezer and collected the ingredients. A bit of this and a bit of that. A little bit of freezer burned deer meat, some fish, chicken, pork and whatever else I had on hand. Actually some of it I could not even identify. A freezer burned pail of chocolate ice cream to top it off. Each pail got a bit of everything that I carefully cut up with an axe, a gal of water and some bread. After which I set it out in a nice spot where it will get sun throughout the day.
Stink baits...... check.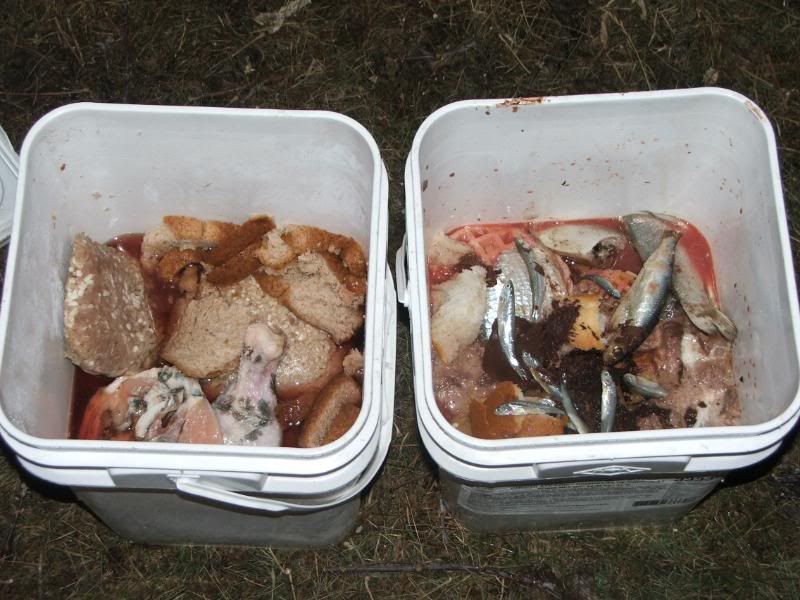 So far in the bait department I have donuts, 11 beavers, several boxes of bread, my stink pails and some other sweets. I am still gathering more bait.
My group and I are setting up 5 baits. Each bait site will have 2 barrels. I call our baiting method Shake and Roll, because we have one shaker barrel and one roll barrel at each site. Once I am allowed to bait I will take pics of our set ups.
I will continue this thread throughout the season. It will be a step by step guide to my baiting and hunting season.
Enjoy
03-25-2012, 06:56 PM
---
Just wondering what you mean by this? Downwind of the barrels?
No matter what you do.... a big bear will always circle the bait before it comes in. It doesn't matter where you put the stand. I set up with the trails in mind. Wind direction comes ito play but the big ones are smarter than most whitetail bucks.
I have been hunting bears for a few years now. I am no spring chicken when it comes to baiting. I also have a lot to learn, but I think I am light years ahead of most outfitters because I listen and change to what the season dictates. Here is a bear I had a chance at several times last year.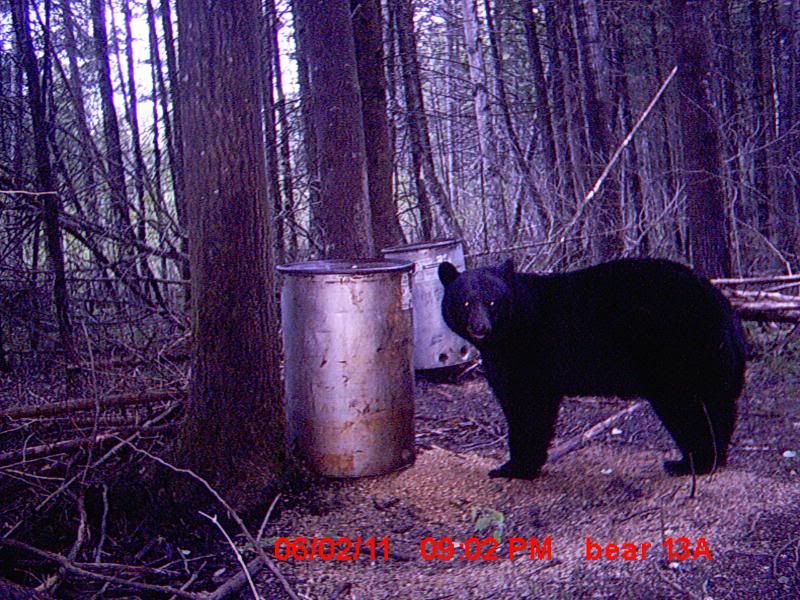 By the way this bear is looking south. Right towards the cam.... slightly off my stand direction. I had it slightly quartering away that night. I should have shot, but I was waiting for a better shot.
This thread is for everyone. For those that have yet to hunt bear but want to, for those that want to. For those that have thought about doing it themselves, for those that have thought about a guided hunte and those that have had a guided hunt. Bear hunting is a lot of work. For those that love it the work is worth it in the end. I didn't tag a bear last year but have had several good ones.... I wasn't looking for a good one. I was looking for THE exceptional one. The area I hunt carries some good genetics, several over 20" are reported every year. A freind of mine took a 22 3/16's a couple years ago just 10 miles from where my stand site is.
I haven't been on here in awhile. Since they started having problems with the network. I note that they are still having issues. I certainly hope they are worked out sooner rather than later. 49 pm's and my inbox is full. Come on guys
---
Last edited by sandilands; 03-25-2012 at

07:05 PM

.
03-28-2012, 07:12 AM
---
hopefully stands are not down wind of bait barrels.
Just wondering what you mean by this? Downwind of the barrels?
Just guessing here - so i may be mistaken.
But i think he means maybe -Looks, sounds like that bait would really stink bad & being downwind of it smelling it- it would really stink
~~~~~
Nice bear.
---
Last edited by Knightia; 03-28-2012 at

07:15 AM

.
03-28-2012, 11:42 AM
---
Sorry if I jumped the gun on the reply. The stink pails don't last long. I hang them buy a rope above the bait. Cut or drill a few holes in the lid and leave it. The bait is in the barrels below and the grease is all around the barrels. The theory behind the stink bait is that a bear will be attracted to the smell and pull it down, be covered in stink and grease and then leave. Now it will leave a scent trail for other bears to follow back to the bait site. It just speeds up the whole process of having multiple bears at the bait in a hurry.

The only meat I use in my actual bait is beaver. Black bears love beaver
03-29-2012, 08:00 PM
---
Apparently the PM problem has not been fixed. I tried to send a PM to bchunts clarifying my intent. The site would not allow me to send it.

I would like to post it openly then so that bchunts can get it. Here goes.

I would like to apologize if I came across the wrong way. I thought you were being critical of where I might set up a stand before I set them.

I have been doing this for a few years and set most stands to the south of my barrels because prevailing winds for the time of year are from the north and that is the way I scout for set ups.

I didn't think that you could be posting because of the smell that may longer towards my stand. The stink pails are never there when I hunt..... they have long since been stolen by bears.

Just thought I would clear that up.
03-31-2012, 06:51 PM
---
Well the wife and I were out back today ding some spring cleaning. She was vacuuming the van out and complained of the smell. I said no way, all the lids are locked down with and have rubber O-rings to seal them up. Then I opened one up....
They are ready.
I will post pics of the change in them tomorrow when the wife is out of town