| | |
| --- | --- |
| New York Hunter | 11-07-2011 10:20 PM |
---
Tell us about your big game deer, hogs and black bear size game rifles/carbines?

What rifles/carbines do you use to hunt deer, hogs and black bear size game? Do you have one rifle/carbine for all your big game hunting? Do you use different rifles/carbines for different situations and conditions? Do you use different rifles/carbines just to use them?

I have three rifles/carbines I use to hunt deer, hogs and black bear.

My main big game rifle/carbine in my Remington 7600 Carbine 30-06 Spr. It has a Redfield one piece base and Leupold low rings and a Leupold VX-II 2-7x33mm Scope. I use Fusion 165 gr. factory ammo. It's zeroed at 100 yards and shoots 1 1/2" groups. It's the perfect all round rifle/carbine for my hunting. It carries really nice, is quick and handles great. I use it when my shots will be from 2 to 200 yards, which is about 70% of my big game hunting. Anything from sitting and watching, still hunting and just all round hunting.

My open sight rifle. My Marlin 336C 35 Rem. It has XS Ghost Ring Sights. I use Remington 200 gr. SP Core-Lokt factory ammo. It's zeroed at 75 yards and shoots baseball size groups. I'm not that good with open sights. It carries really nice without having a scope and is quick to aim and shoot fast. I use it for hunting in thick brush, deep thick woods, some still hunting and drives when my shots will be within 75 yards or so.

My long range rifle is my Remington 700 Classic 280 Rem. It has a Leupold one piece base and medium rings and a older Redfield Tracker 3-9x40mm Scope. It will probably be replaced by either a Leupold VX-II 3-9x40mm or VX-II 4-12x40mm Scope. I use Remington 140 gr. PSP Core-Lokt factory ammo. It's zeroed 1 1/2" high at 100 yards and shoots an inch group. It shoots Remington 165 gr. SP Core- Lokt's to the same windage and just about zeroed at 100 yards. So I can use either if I needed to without any adjustment on my scope. I use it for watching fields, clear cuts and power lines or anywhere I think my shots might be over 200 yards. The Remington 700 Classic is my favorite rifle and the 280 Rem. is my favorite cartridge.

Thanks, NYH! :wink:
| | |
| --- | --- |
| Wheatley | 11-08-2011 10:35 AM |
---
I have two rifles and one ML

First rifle I have had since I was 14 years old. It is an old Savage 270. I have shot many mule deer, white tails, and elk with it over many years.

My other rifle is a 7mm STW with a remmington 700 action and a schillen barrel with a 5-20x44 Nikon Monarch scope. Just got this one this year and haven't shot anything with it yet but it is zeroed at 200 with 140 gr Barnes TTSX. Hopefully this weekend will be the first time it sees action on something.

I have a kinght KP1 50 caliber ML that I use as well that I love to shoot.
| | |
| --- | --- |
| Bocajnala | 11-08-2011 11:32 AM |
---
I have two rifles for deer.
My main one is a remington 700 in .30-06. I have a Nikon scope on it. It's one of those rifles that just fits perfectly and hits what I aim it at.
My backup is a Marlin 336 in .30-30. It currently has a Nikon on it too, but the scope comes on and off depending on how I feel year to year. I think this year I'm gonna pull it off and carry it open sight. It's my driving gun when we're pushing deer. Nice to carry in the brush, short and fast.
-Jake
| | |
| --- | --- |
| westtexducks | 11-08-2011 12:27 PM |
---
I have 5 rifles that get used depending on my whim and one TC pistol.

The pistol is a Thompson Center single shot in .308. I am going to get a scope for it this summer, it is currently irons. After I get a scope on it and sighted in, it will be used but until then it is a single shot .22.

My first true hunting rifle is a Marlin 336 .30-30. It is irons at the moment but thinking of putting an aimpoint on it. I feed it 180 gr. winchester softpoints. I use it for brush situations and when I just feel like it needs some lead ran through it.

My second hunting rifle is a Winchester model 70 in .270. I have a nikon scope and nikon rings and bases plus a thumbhole stock on it currently, and feed it factory hornady superformance 140 gr. SST. This is my primary rifle and is used most of the time unless I know I will be hunting brush. This will be the rifle I will bring if I get the opportunity to elk hunt, I will then switch to the superformance 130 gr. GMX for a solid bullet with good expansion, but will hold together for penetration.

My third rifle is a full length mosin-nagant not the carbine version. It is irons and it is purely for hogs and only on a whim will I bring it, because it is long and ungainly but I still like to take it out occasionally. I shoot soft points out of it I don't have the box in front of me so I can't remember the grain. It is cool to be able to shoot that piece of history it is all matching serial numbers and the manufacture date was 1943 if I remember right got it for 100 bucks at a gun show and am very pleased with the purchase.

My fourth rifle is a Henry big boy .44 mag. It is irons and it is purely for brush situations and fast shots. It is also purely on a whim that I bring this rifle I usually flip a coin on whether this rifle or the .30-30 gets the nod.

My fifth rifle is a pig, deer, and varmint gun and many people will disagree with me. It is an AR-15 in .223, yes I know this seems small but it is all about shot placement. You hit a pig in the forehead and he doesn't care if it is 300 RUM or .223. I have killed several pigs with this gun and they were all clean kills, it is all about shot and bullet selection. I have also killed a couple deer with it with noggin shots, but you can also shoot them in the bread basket with a good bullet and they do not run far. AR-15 is also great for eradication purposes you can take out several pigs in a group with quick well placed shots.

Well there are all of my big game guns. Any of the above mentioned would also work for black bear also I think, but I would probably take the .270 because if I get the chance to bear hunt I am going to anchor him and not take any chances, same goes for elk/moose. The mosin-nagant might also get taken on an elk hunt one day also, but it would be for nostalgia purposes only, and to add to the challenge of having to get close but, then the .30-30 might also to.

If I get the chance to go grizzly hunting though I am going to seize the opportunity to get a .375 bolt gun or .45-70 lever gun haha.
| | |
| --- | --- |
| mongo44 | 11-08-2011 02:21 PM |
---
I'll chime in and hope I don't get flamed or laughed at. I am just getting into deer hunting. My rifle/carbine is a SKS. Shooting iron sights. I am currently shooting silver bear 125 grain soft points.

Hopefully next year I will be using an AR15 in 6.8spc shooting 95 grain ttsx.
| | |
| --- | --- |
| npaden | 11-08-2011 02:40 PM |
---
In 2007 I decided to get back into hunting and purchased a Browing A-Bolt Stainless Stalker in 7mm Rem Mag.
Since then I've harvested 4 bull elk, 4 mule deer bucks, 1 pronghorn, and 3 whitetail bucks with it as well as over a dozen feral hogs and several coyotes.
I bought it as my go to gun for pretty much everything I can hunt in North America and so far it has done it's job. Here's a few pictures from the last 4 years.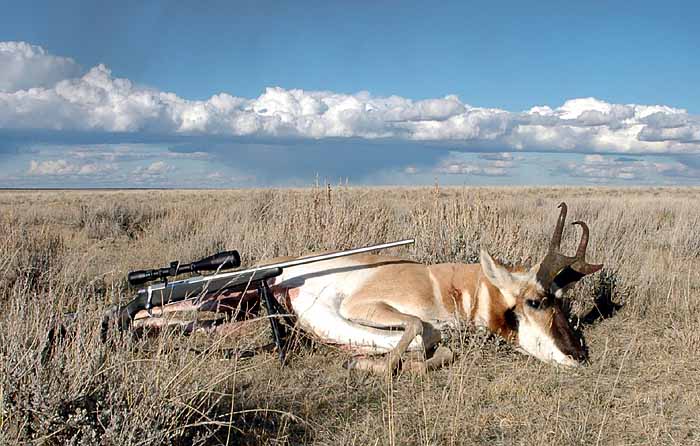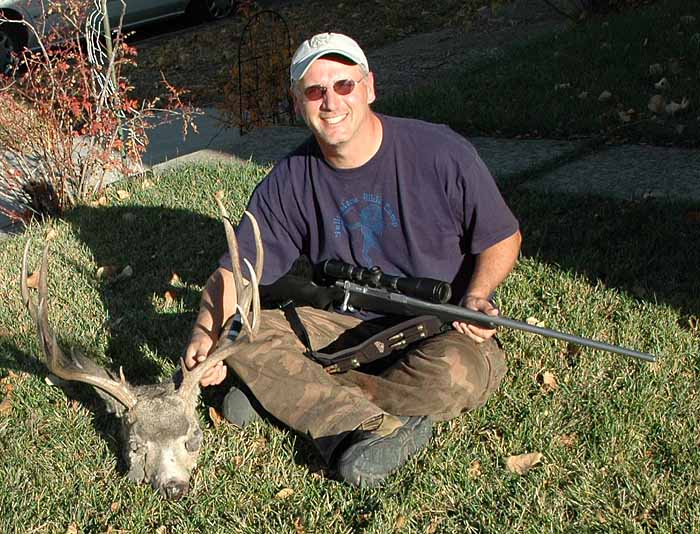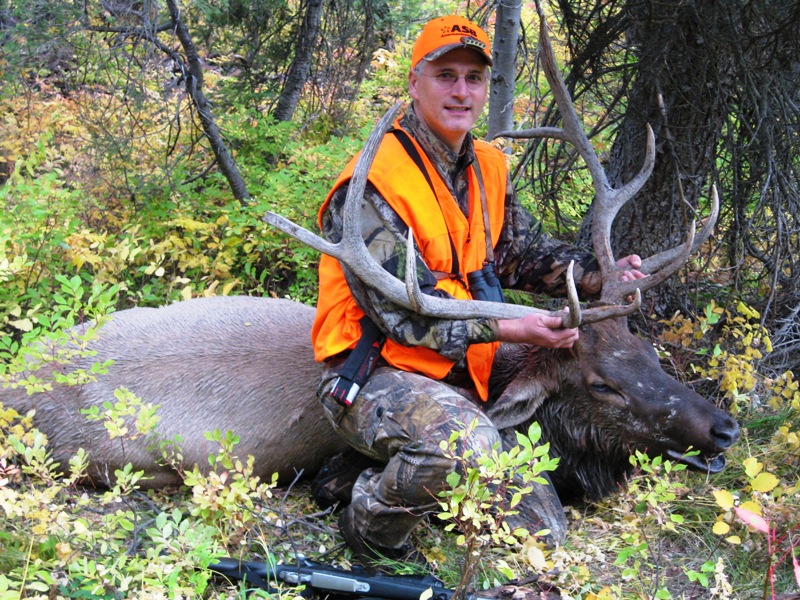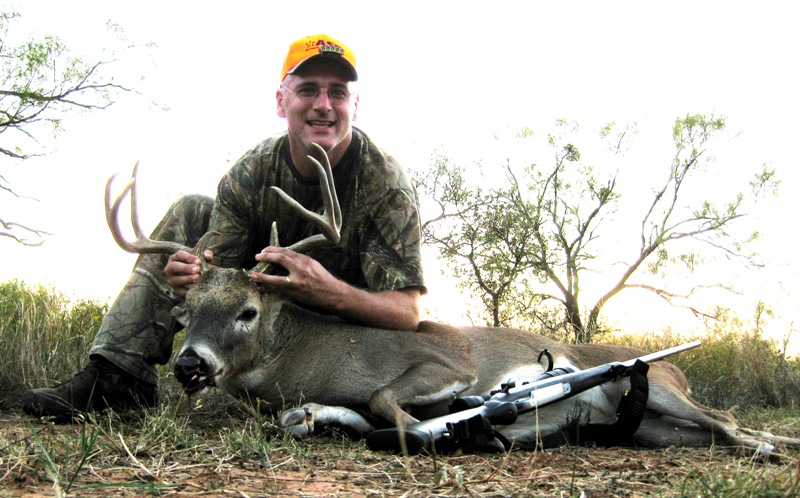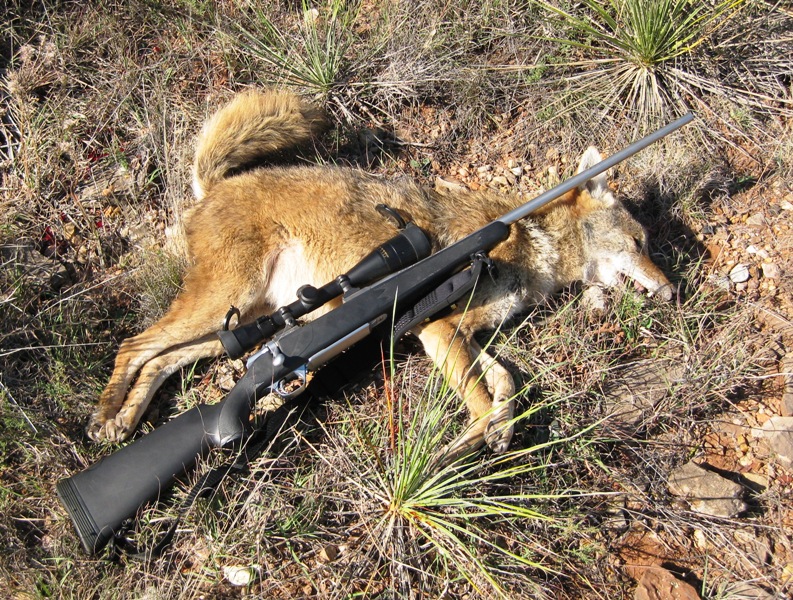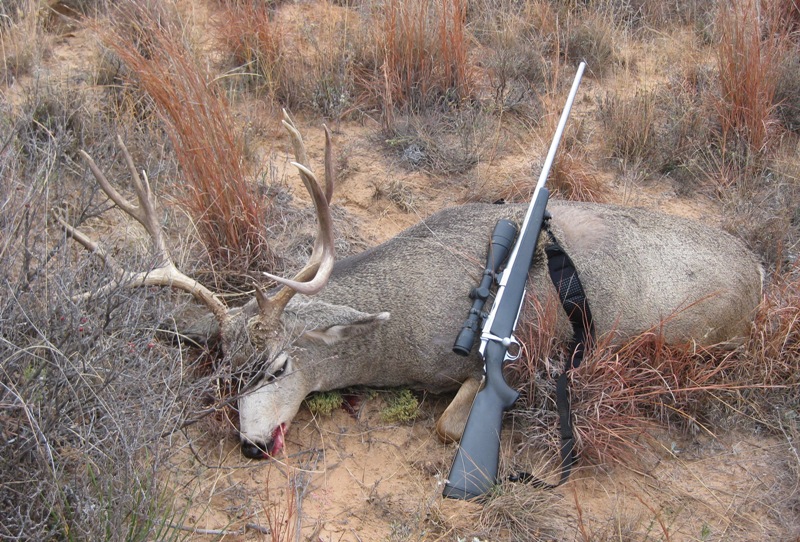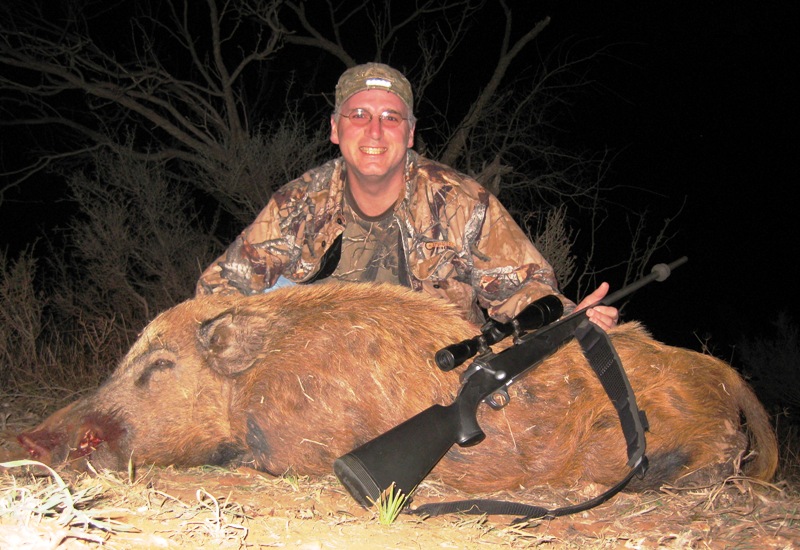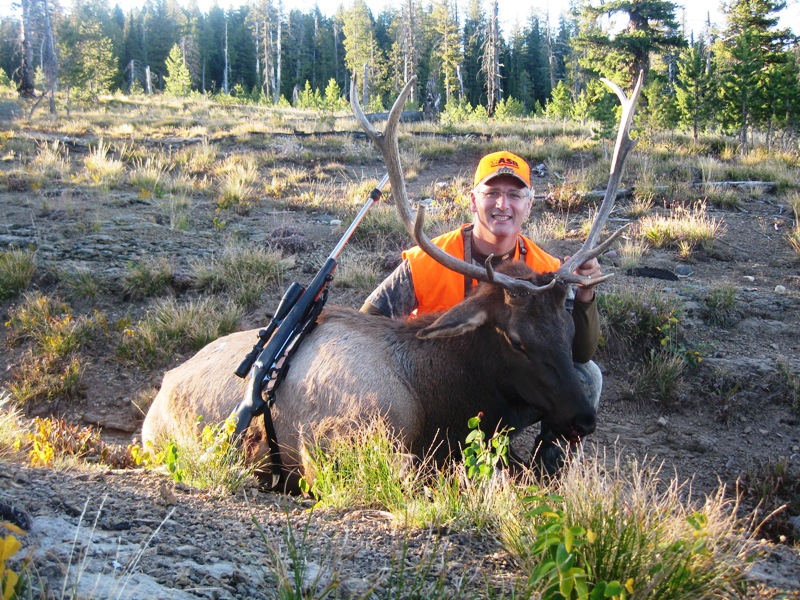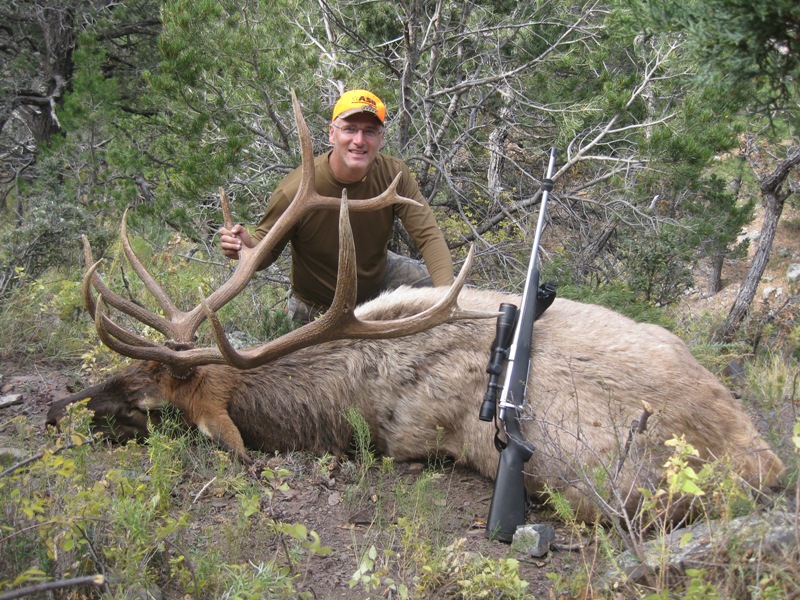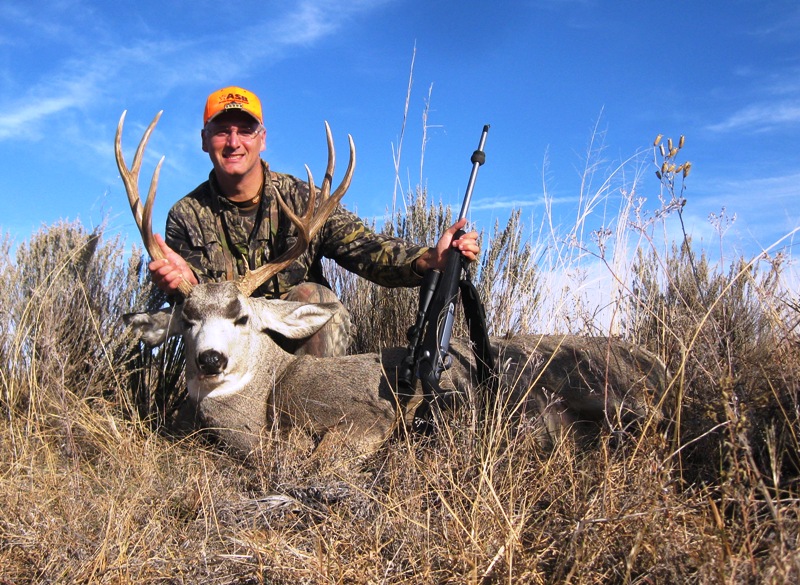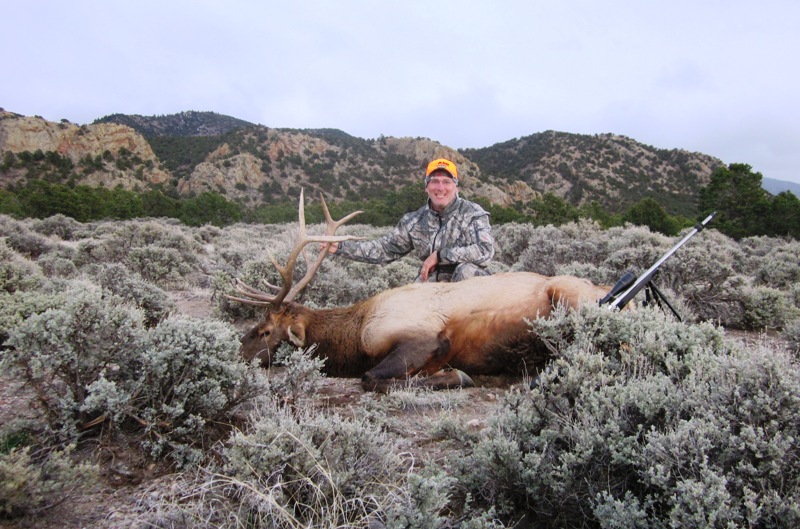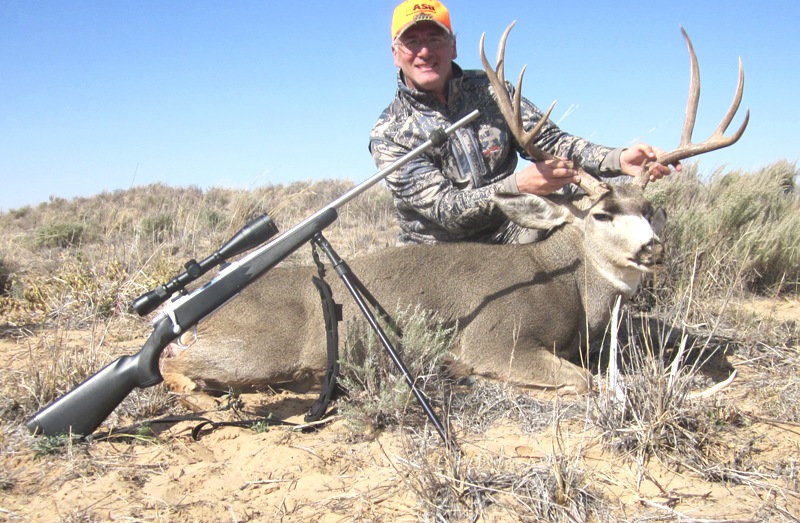 I would say it has been pretty effective over the last 4 years!
I've since bought a Rock River Arms Predator Pursuit AR-15 in .223 and have been using it on feral hogs and coyotes and it has been effective as well.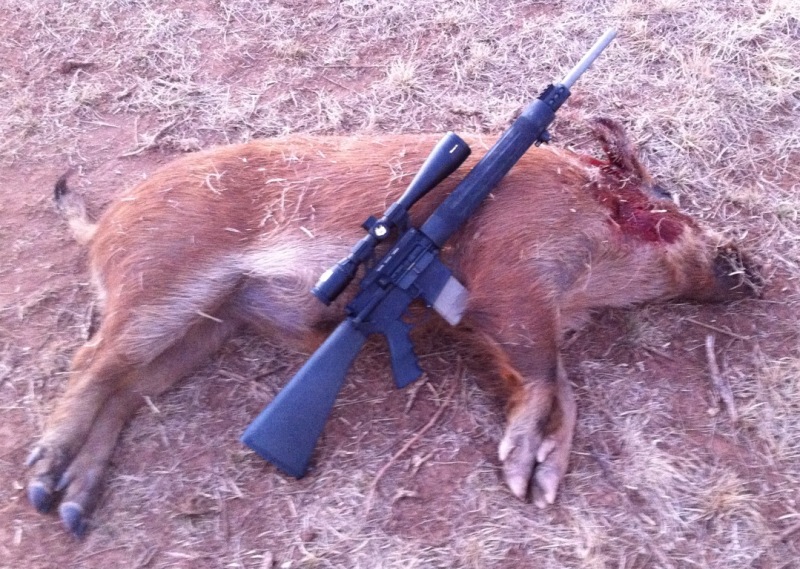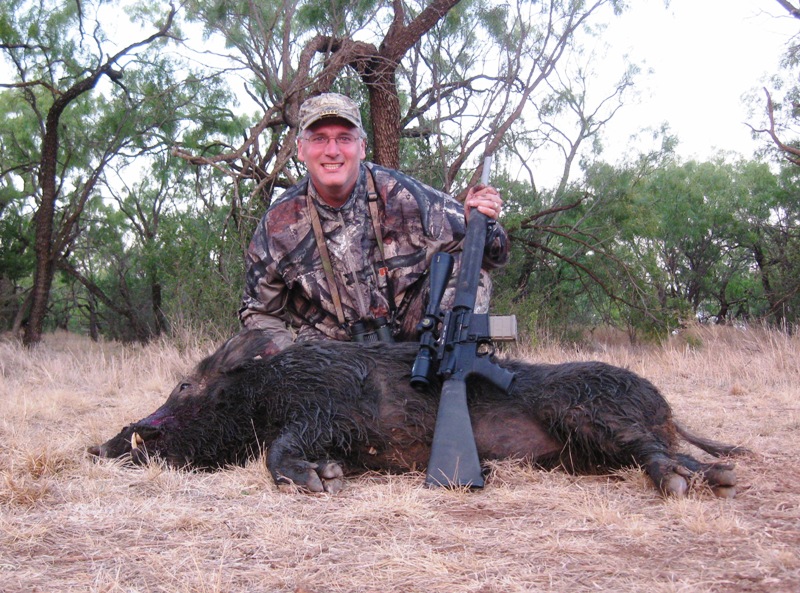 Hard to go wrong with a .300 WSM or a 7mm Rem Mag in my opinion. Great all around guns.
| | |
| --- | --- |
| westtexducks | 11-08-2011 02:41 PM |
---
You aren't going to get laughed at by me. I know of several people who hunt deer with an SKS. It has the power and is accurate enough. Also great for pigs.
| | |
| --- | --- |
| elkdeerbear | 11-17-2011 08:01 AM |
---
I use a 300 RUM for bear, mule deer, bighorn sheep (If I ever draw again). 270 Win. or 30-06 for antelope, and the 338 RUM for elk. All have Leopold bases and rings and Simmons scopes.
| | |
| --- | --- |
| skb2706 | 11-17-2011 11:38 AM |
---
How about just a few

Remington .300 Win Mag Sendero...the bigger thumper
Remington LSS Mtn. Rifle in .260 Remington......easier to carry
Browning BBR in 7mm RM.....
Winchester Model 94 in 30-30 (just sold it today)
Winchester Model 64 in 32 SP.....my dads only real big game gun he left it to me
Savage 110c in .270 Win
| | |
| --- | --- |
| jerry d | 11-17-2011 02:41 PM |
---
Marlin 336 .35 REM with a Bushnell 4x32 scope w/ Weaver base & rings
Remington SPS 700 .243WIN with a Nikon Buckmaster 3-9x40 w/Weaver base & rings
All times are GMT -8. The time now is

12:17 AM

.

Copyright © 2018 MH Sub I, LLC dba Internet Brands. All rights reserved. Use of this site indicates your consent to the Terms of Use.