- -
Wyoming 2011
(
https://www.huntingnet.com/forum/big-game-hunting/351419-wyoming-2011-a.html
)
| | |
| --- | --- |
| rangerboy | 10-12-2011 02:15 PM |
---
Wyoming 2011

Got the hunting season back on the right track this past week! After hitting a big 12 point with split brows on opening night, the season was off to a bad start. That bad luck changed this past week at Seven J Outfitters in Wyoming! My graduation present was a mule deer/antelope hunt with my dad along for the ride and my uncle kevin also hunting. Unfortunately i had two midterms scheduled for the day we were supposed to leave, so i had to get a plane ticket!
October 6, Day One: Set up glassing off a huge vantage point, few smaller bucks spotted a couple miles away. Also saw 3 elk including two 350 class bulls. Mid day went looking for antelope and saw a bunch but no shooters. Missed a coyote 3 times at 100 yds and though how am i going to hit something at 200+ yards! Hunted all timber country.
October 7, Day 2: Once again crappy weather, rain, wind, cold. Blew out one big buck getting to a glassing point early am. Got a break in the weather during midday and the deer started moving. Hunted sage brush and draws. Spotted two good bucks with a smaller buck and some does, put two long stalks on them before my uncle got a shot at 25 yds! Nice 3x4! Later in the day i smoked a good antelope at 235 yds and passed on a 5x4 muley.
October 8, Day 3: Terrible weather once again! 30 mph winds and rain! Spotted a good buck early in the morning in the timber and put a stalk on, and turned up nothing. Spent the majority of the day chasing antelope and mid afternoon my uncle layed out a very big goat! To top off the already successful day we spotted the 5x4 from the day before and i dropped him at 170 yds after a good stalk!
Awesome trip, great people and cannot wait to be back. Seven J Outfitters, Sundance, Wyoming. Out of 6 hunters at the lodge 5 good deer were taken by the fourth day along with 4 antelope(only 4 guys had tags) Biggest buck was taken at the Gilette camp grossing 190"s with a 29+ inch spread!
[IMGhttp://i192.photobucket.com/albums/z206/rangerboy_photos/IMG_16531.jpg[/IMG]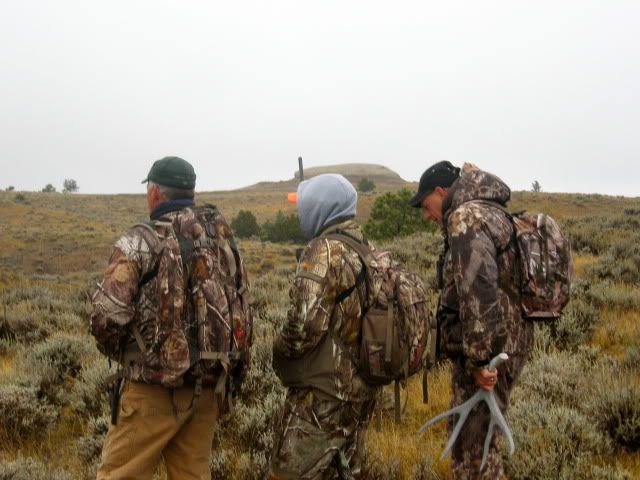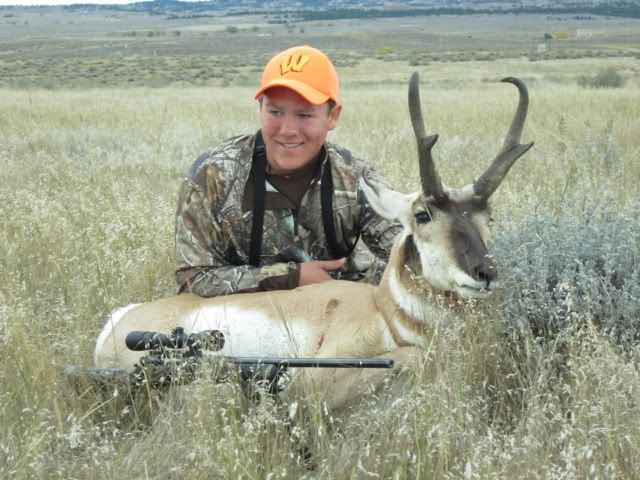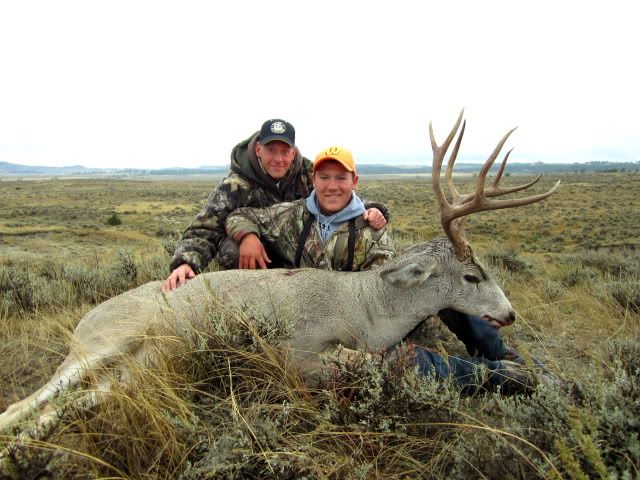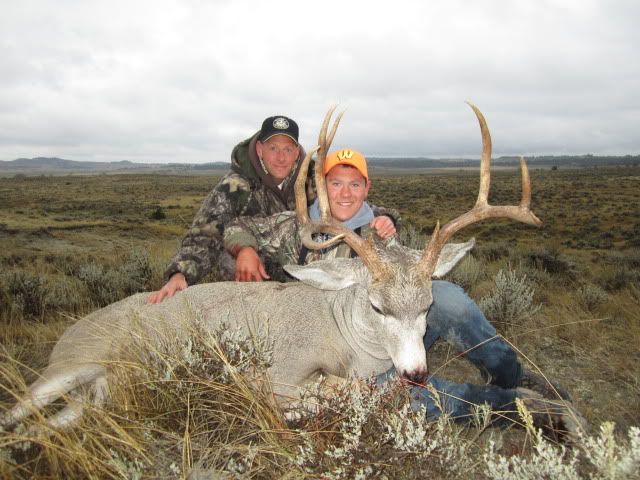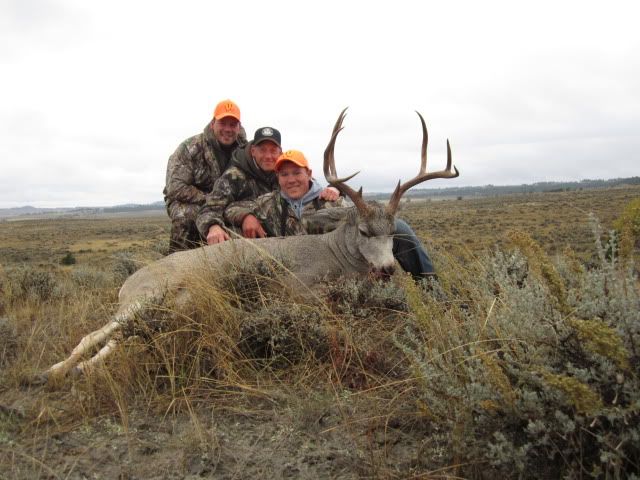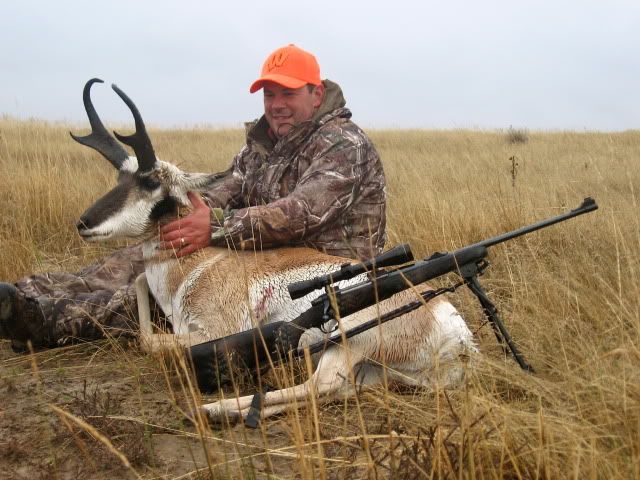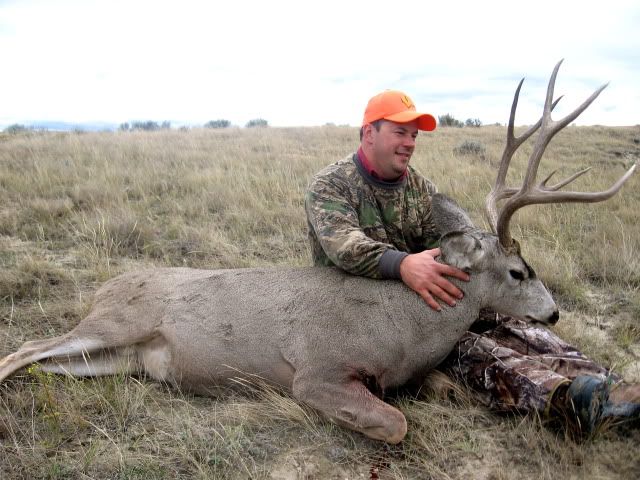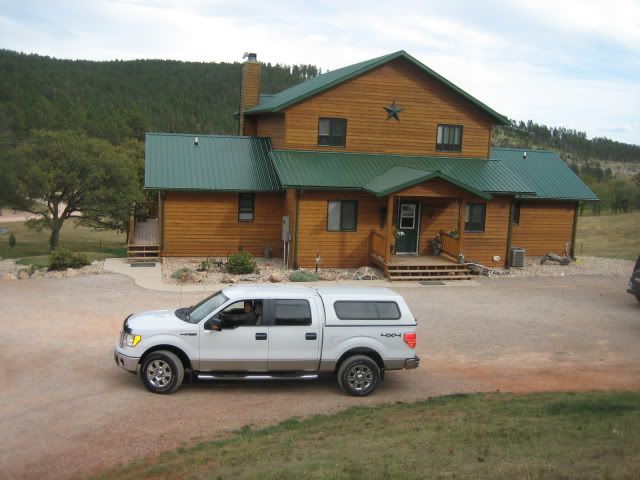 | | |
| --- | --- |
| Bocajnala | 10-12-2011 04:25 PM |
---
Good post, nice pictures. Sounds like you had a good hunt! Too bad you weren't able to whack that 'yote!
-Jake
| | |
| --- | --- |
| okeechobeefishing | 10-13-2011 06:14 AM |
---
sounds like you had i great time. nice pics thanks
| | |
| --- | --- |
| woodsnwater | 10-13-2011 08:21 PM |
---
Congratulations on a great hunt! Bigger Kudos for picking a great hat. On Wisconsin!!
---
Congrats, did you hunt around Sundance? I plan on moving there in 2013.
| | |
| --- | --- |
| rangerboy | 10-15-2011 06:40 AM |
---
We hunted south of sundance near upton. We were with Seven J Outfitters and the lodge is based out of Sundance and then they lease over 200,000 acres.
All times are GMT -8. The time now is

10:14 PM

.

Copyright © 2022 MH Sub I, LLC dba Internet Brands. All rights reserved. Use of this site indicates your consent to the Terms of Use.