man law, antelope doe. What did she weigh
10-31-2008, 09:06 PM
Nontypical Buck
Join Date: Feb 2003
Location: Gleason, TN
Posts: 1,327
man law, antelope doe. What did she weigh
---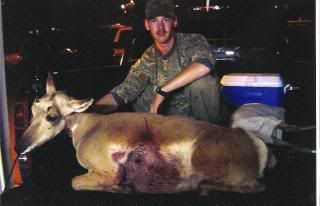 After dragging her half a mile out of the prairie to the truck, our guess was close to 200 pounds. However, after dragging anything that far things tend to feel heavier than they are. What do you all think she weighed?
11-01-2008, 08:50 PM
Nontypical Buck
Join Date: Feb 2003
Location: Gleason, TN
Posts: 1,327
RE: man law, antelope doe. What did she weigh
---
ORIGINAL: unbridled

That's a nice big mature doe!

I've never heard of one going 200 though. Did you weigh her?
We didn't have a scale, we had to process it in my friend's apartment
.
Westarted saying she was 200#because the body size on her was bigger than the mule deer we got the year before. The mulies were a bit "longer" in body length than her, but she was way more wide.
We just calculated the amount of elbow grease it took to get her back to the truckinto the actual weight.
(Actual animal weight) + (amount of effort to getit out) = (final story)[8D]
11-02-2008, 05:54 AM
Join Date: Mar 2008
Location: Western Montana
Posts: 96
RE: man law, antelope doe. What did she weigh
---
She looks like she has a big body, but her horns aren't super mature. Is the person in the picture kind of a little guy? Maybe it's just the kneeling position of theperson that makes her look so large.