Big Game spotter..what size?
07-25-2008, 05:22 PM
Join Date: Oct 2007
Posts: 78
RE: Big Game spotter..what size?
---
Its not every day that I can do this but I must humbly disagree with the salukipv1. Not in terms of brand choice but magnification. Are you sure you aren't overestimating how far of distance you need to cover? In my opinion, if I weren't going to get a 60x or 75x minimum power eyepiece, I would just upgrade my riflescope to one of those variable 5-20x, especially if weight might be a consideration.
As far as IQ (image quality), search for a recent string in the optics forum where I discuss price ranges, and pay note to info about extra low dispersion/flourite/HD glass. I'm not an expert, just my $0.02 after having spent more on glass in the last two years than on firearms.
07-30-2008, 02:21 PM
RE: Big Game spotter..what size?
---
I got a little 20X50 Alpen. I was concerned it would be a cheap scope and not very effective but I have loved it, especially how compact it is for those long hikes. Works great and has a sunshade that slides out. It's powerful enough for me as long as you're good at locating items in high power optics without having to use a zoom.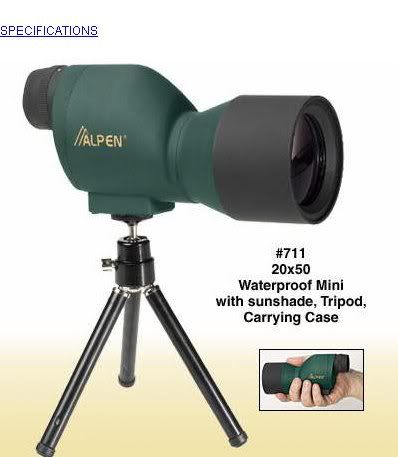 Edit: I just read through all the posts...this probably won't be powerful enough for you. I don't look out past 2 miles but this is good for that distance anyway.
07-30-2008, 04:14 PM
RE: Big Game spotter..what size?
---
Thanks guys.
Rather_be I have the Burris 12x50 compact but I'm looking for alittle more range.but for not far distances I love the burris.

I'm leaning towards the 16-48x60 mm Nikon XL II,it way out preformed the prostaff 20-50 x 80 mm.Also the Burris landmark has been in the running for the ones I looked through.Has anyone have any dealings with Kowa or Yukon optic's
Thanks
BBJ

02-08-2010, 09:22 AM
Spike
Join Date: Jan 2010
Posts: 7
---
Originally Posted by
salukipv1
I spent in the $600-700 range for a Cabelas big sky HD 20-60x66mm, I love it, super clear etc....for the money hard to beat without jumping into that next bracket of thw swaro's etc....

read somewhere else on here guys talking about the higher end nikons.....used on ebay etc....

For the money though the one I bought I felt was the most bang for the buck. They also make a 27-80x or something like that, with a 80mm lens or so, don't think you need that much magn. but the larger lens would be something to consider.
salukipv1, I am interested in your deep analysis of you Cabelas HD scope. I just picked up the same scope and am looking for a second opinion. The glass seems quite clear, but the eye relief is very minimal. Have you compared it to other scopes? Are you still as impressed after owning it for a couple of years now?
02-08-2010, 11:08 AM
Fork Horn
Join Date: Feb 2003
Location: Lamar County, AL
Posts: 122
---
I guess I'll chime in. I just purchased a Minox MD50 (15X30X50) for spotting. It is very compact, lightweight and clear. Camerlandny has them on special for $189 and normall retail for almost $400. I could not be happier with this purchase. They also have the 62mm model on special as well. I keep it set on 15X, but usually dont go above 25X. Just my thoughts.
02-08-2010, 02:09 PM
---
Wow Bozeman,you had realy dig deep toget this almost 2 years old(must not be busy around here
)
I went with the nikon and realy didn't need it I shot a bull the 15th of November of 2008.He was about 200 yds feeding in a herd of about 250,so my binocs worked.LOL
Thanks for the imput though.
BBJ
Posting Rules
You may not post new threads
You may not post replies
You may not post attachments
You may not edit your posts
---
HTML code is Off
---