Wolf Kill Picture
04-25-2008, 01:43 PM
Wolf Kill Picture
---
Here are two of the first five wolves that were taken in the Big Piney/Pinedale area in WY after the delisting. Thought some of you might enjoy this picture. Wolves are a lot bigger than some people think.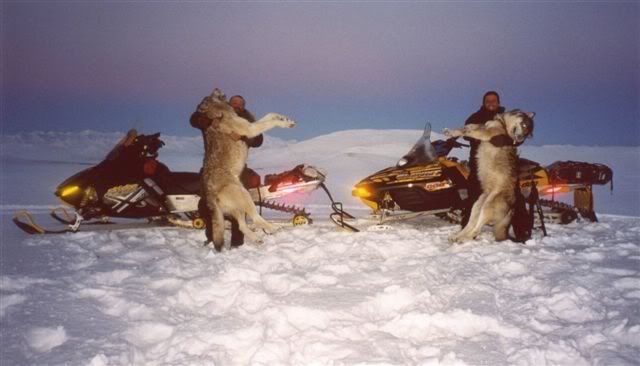 04-25-2008, 02:21 PM
RE: Wolf Kill Picture
---
Wolves are big, now do you see why we were all a little upset in having them dumped in our backyard. Imagine having those roaming around your town and property where your kids play. Those look a little excessive in size, so I don't know if there was some camera play in the photos or not, but wolves are up to 4 times as large as coyotes. Go to youtube and check out the save the wolf videos to see how full of crap all the pro wolf groups are, this video is my favorite
http://www.youtube.com/watch?v=rlysTi0MeKY
titled no wolf kill (for some reason direct link isn't working so type in no wolf kill
http://www.youtube.com/results?searc...p;search_type=
), the wolves are more a threat to this girls dog than hunters, like we would kill peoples pets, most hound hunters in our area have had to quite because wolves were killing their dogs while running bears and lions.
04-25-2008, 02:34 PM
RE: Wolf Kill Picture
---
The first time I saw a wolf while deer hunting in Idaho a few years ago I was awe struck.I was like holy cow (keeping it clean)look at the size of that son of a gun (still keeping it clean).80 to 90 yards away nothing between us but air and mountain meadow.It was every bit of 150 to 160 pounds and did not show one ounce of fear toward me.I was about 20 yards in to the meadow in full camo except hands and face.We stared at one another for 30 seconds or so and it just turned and walked (not trotted or ran) away.Nothing like a big predatory animal not showing a fear response when in proximity to humans!
04-25-2008, 02:52 PM
RE: Wolf Kill Picture
---
Your right about the no fear response. Most I have run across stare you down and size you up before walking off. It raises the hair on the back of your neck to have a large predator not show fear of you and instead take its time to decide whether or not to make a meal of you. This lack of fear will most likely change once hunting starts, and lately I have seen a few wolves take off like a streak of sh%#, so I think some may already been educated. I always wonderd when one stared me down what it would do if I was an unarmed child or small woman?? The other thing to keep in mind is that they hunt in packs of 5 to 10 animals, so when you add up the poundage and number of teeth, you see why they can even kill large bears when hungry.
04-25-2008, 03:52 PM
RE: Wolf Kill Picture
---
A couple of years ago a buddy of mine who now regularly hunts with me out there had an experience where he had a wolf working it's way closer and closer to him where he was sitting while hunting.He was able to quietly get me on a radio,I was probably a mile away,and he was whispering to me "Scot I have a wolf getting closer and closer to me and while initially it was kind of neat,now it is gonna get shot if it gets much closer".I reminded him that they were federally protected and the $100,000 fine might set him back a little bit.The wolf never presented a threat but the pack thing definitely creeps me out a bit.They need not to be so comfortable around people and I can't imagine regulated hunting wouldn't help to create that reality.

04-25-2008, 08:54 PM
Nontypical Buck
Join Date: Feb 2003
Location: MN USA
Posts: 1,392
RE: Wolf Kill Picture
---
For years these any many more things people in Gray Wolf range of northern MN have experience and told any who'd listen (not many cared) about these predators and what they do to both the deer and moose populations, as well as, livestock. Most people who lived in distant areas, including yours would tell us how great the wolves are with no restrictions on their population growth. We pretty well stopped telling anyone, because those who lived elsewhere were all the "experts" and "knew better" what we should and should do with the wolves. Well, untill you lived in their range, seen them and what the results are, you can't get the real picture. Now people in western states are learning the hard way with their Elk herds and in other state Caribou and Moose populations dramatically reduced. Cattle are easy prey for these and Grizzly Bears. Sorry, it took this for more to speak up and say "Enough"!
04-25-2008, 09:00 PM
Fork Horn
Join Date: Feb 2004
Location: Idaho
Posts: 144
RE: Wolf Kill Picture
---
the sad part is it took too long for anything to be done at all, no matter where the problem is everyone is effected. the steps that are in place now, and the steps to follow to help control the wolf problem are too little too late. our forefathers killed the wolves off for a reason and they did a damn fine job of it. now we have to relearn from a mistake we did not commit.

SSS