Montana Non-Resident DIY Public Land Combo Antelope Mule Deer Hunt Results
10-26-2007, 12:49 PM
Montana Non-Resident DIY Public Land Combo Antelope Mule Deer Hunt Results
---
Well, I just got back from my Montana non-resident DIY public land hunt for antelope and mule deer. I think I went in with my expectations a little too high but they were quickly brought down to earth after spending some time out scouting around.
I was hunting all public access land (some block management areas, but both the antelope and the mule deer were actually taken on public land) and there were a LOT of younger bucks but the only mature buck that I saw was the one that I ended up shooting. On antelope I saw several bucks but nothing that would come close to the record books and on the 3rd weekend of the season they were pretty jumpy so I was happy with the one I ended up getting. Both animals were mature bucks, but neither would come close to any record books. I think doing the combo hunt is a great deal to get a chance to harvest decent animals but if you are really wanting to take a trophy you need to either go after one or the other, it is pretty unlikely that you are going to drive 1,000+ miles, scout the area and take 2 record book animals in a week.
The antelope I ended up taking measured 13 1/2" on each horn but it had some decent mass and decent cutters and was a nice looking animal. I ended up walking about 8 miles working around a section of private land that they were hanging out on before they moved off the private land and bedded down for the afternoon. I stalked up on them behind a hill but was still around 400 yards away and so I backed off and went about 3/4 of a mile back around and over another little knob that got me to just over 200 yards away on my final stalk. They were all still laying down except for 2 does that were about 50 yards away from the rest of the herd and everything was perfect except with them laying down and the flat ground and with me laying down I couldn't get a return on my range finder so I just took dead aim as they didn't appear to be very far away and my gun is sighted in for 200 yards. I also didn't get to use my bi-pod because I had the prone length bi-pod with me and the sage brush was too tall so I couldn't use it. There were 3 bucks in the group of about 20 antelope and I spent a while looking through my binoculars to pick out the largest one. While they were all still laying down except the 2 does I just sat up in the sage brush and when the buck I had picked out stood up I dropped it.I ended up shooting from the cross legged sitting position and hit about 5" forward of where I was aiming hitting it right at the front of the shoulder at the base of the neck. It dropped like a rock. I calculated the yardage the old fashioned way by stepping it off and it was 220 steps from the spot were I had taken the shot.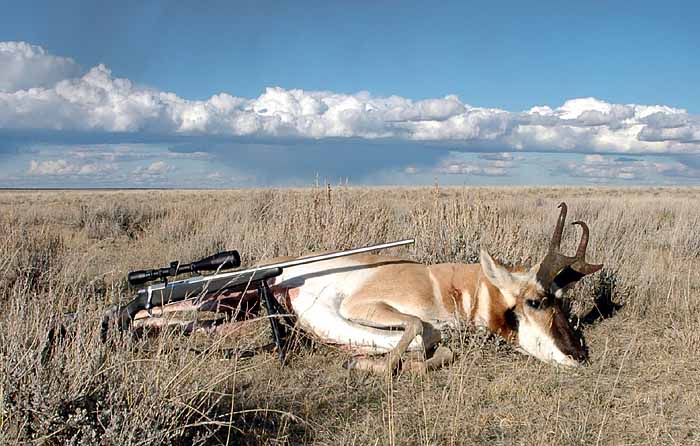 On the mule deer I hunted a few spots that I remembered as a kid and was amazed at how many fork horns there were. The first day out I saw 7 bucks and all of them were fork horns. The 2nd day out I saw 12 bucks, one of them was a decent 3x4 and there were 2 very small 4x4's and the rest were fork horns. I saw plenty of deer each day but nothing even close to what I was looking for. I even thought about taking the decent 3x4 that I saw because the rest of the bucks I had seen were all so young.
On the 3rd day out I didn't see near as many deer as the previous 2 days. There were fewer hunters out so maybe they weren't moving around as much from the pressure but by 10:00 AM I had only seen 6 does. I watched the does for a while to see what they did (I thought they might lead me to some bedding areas) and after a while I stood up to start walking back to the pickup and I saw horns in the ravine below me! I quickly sat back down and moved around to get some cover between us and checked it out. This was by far the largest deer I had seen so far and I knew if I could get in position to take the shot I was going to try. I had already checked the yardage to the bottom of that ravine and it was 175 yards so definetly within range already. I just had to get setup where I had a clear shot at him. I moved farther down on the hill and laid down on the hill with my rifle resting on my thigh. It madea pretty steady rest and about that time he presented me with a perfect broadside shot and I squeezed the trigger. He immediately whirled and started running away down the ravine. I couldn't believe that I'd missed!! I had already chambered another roundand aimed my rifleto where he would have to cross an open spot in the ravine about 75 yards further down. I was trying to steady myself and get ready for what was going to be a difficult shot when I heard him falling down to the bottom of the ravine kicking up some rocks and shale. After that it got quiet. He didn't ever come into the open spot so I moved down to where he had run. He was lying in some brush, I had hit him perfectly behind the shoulder with a double lung shot. The exit wound was barely the size of a quarter with 175 grain Federal Core Lokt ammo so it must have not even hit a rib. When I boned him out I had barely hit the offside shoulder muscle but I don't think the bullet hit any bones.
I checked my gps and it was right at 3/4 of a mile back to the truck with a 400' elevation change. Uphill of course! I boned him out into some plastic garbage bags and hauled them 1 at a time up to the truck in my backpack. 3 miles of roundtrips back and forth to the pickup and my hunting was done.
One other interesting thing was that the deer had warts. Some were larger than a golf ball. I took it to the fish and game department and they said that the meat would be fine and that it was ugly but other than that everything should be fine. The deer had quite a bit of fat on it and the meat looked good so I'm going to go ahead and eat it.
It wasn't a trophy buck by some peoples standards, but it was the largest that I've ever shot so I was pretty happy. It was a little over 21" wide (inside spread) and a little over 21" tall on the rear main beams.
Here's a picture of it back at my mother's house.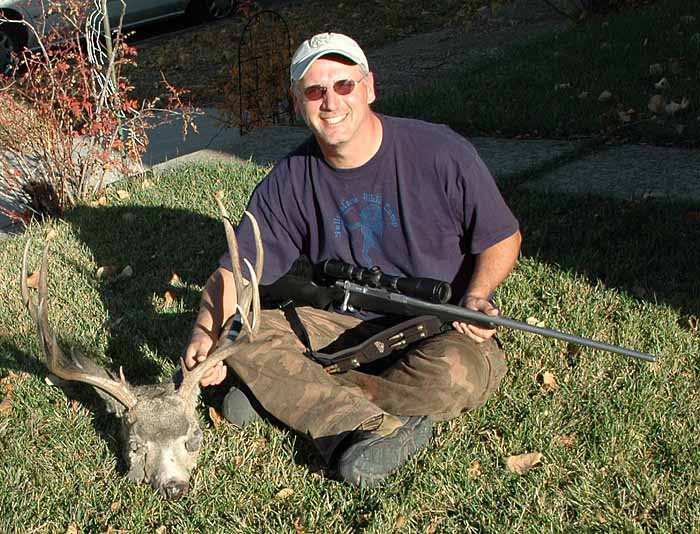 I'm definetly going to do a european style mount on it, I don't think anyone would want to look at those warts on a daily basis!
As far as recommending a public land DIY Deer/Antelope combo hunt I think it all comes down to your expectations. I had an advatange based on the fact that I had hunted that area 20 years ago as a kid and I still was getting worried that I might come home empty handed or have to settle for a doe antelope or a fork horn Muley. When it comes down to it I'm not sure if it takes a good hunter to cash in on a mature animal on public land or if it is just luck or persistence, especially when you can't really scout the area beforehand to know where the big ones live. I put in 10+ miles of walking each day with some of it one some pretty rough terrain and I think that is what helped me this time. It is amazing the number of hunters that were out there just driving back and forth on the trails hoping a deer would cross in front of them. On one day I was within 75 yards of 2 guys hunting on horseback and I was walking a pretty steady pace and they never even saw me with my flourescent orange on!
But when it all comes down to it I think a lot of it still comes down to luck. I was happy to be lucky on this trip!
That's my report. Nathan
10-26-2007, 01:40 PM
Nontypical Buck
Join Date: Jun 2003
Location:
Posts: 2,395
RE: Montana Non-Resident DIY Public Land Combo Antelope Mule Deer Hunt Results
---
Good post Nathan, glad you had a good hunt. You never know what to expect when you travel to old hunting grounds? The areas I hunted 20-years ago, have been bought up & sub-divided.
10-26-2007, 05:02 PM
Nontypical Buck
Join Date: Sep 2004
Location: WV
Posts: 4,485
RE: Montana Non-Resident DIY Public Land Combo Antelope Mule Deer Hunt Results
---
I think you did really well. Two respectable animals. Sounds like you had a great time stomping around. You're right about luck playing a significant part with the limited time frame you have. I'd say though, as seemed to be the case with you, if you work ashard as you can at it, you're going to be rewarded. Good Job.
10-27-2007, 08:35 AM
Fork Horn
Join Date: Jan 2007
Location: North Carolina
Posts: 365
RE: Montana Non-Resident DIY Public Land Combo Antelope Mule Deer Hunt Results
---
Could you give me an idea where in MT you were hunting. I know that you don't want to give away your lucky spots. Some friends and I are looking at heading to the Charles M Russel NWR area in the near future...
10-28-2007, 06:59 PM
Fork Horn
Join Date: Oct 2003
Posts: 220
RE: Montana Non-Resident DIY Public Land Combo Antelope Mule Deer Hunt Results
---
Nathan,
Great hunt. You would be surprised at how many bigger bucks start showing themselves in another 10 days or so when the rut starts to kick in.I have yet to uncase my rifle and the season is starting it's second week. Also you burned more shoe leather then about 90% of the other guys are willing to burn. So your effort was outstanding.

BTW that is one UGLY mule deer with those warts.

Nemont

10-29-2007, 03:12 PM
RE: Montana Non-Resident DIY Public Land Combo Antelope Mule Deer Hunt Results
---
Thanks for the comments. I took the antelope on BLM land southwest of Glasgow and I did take the mule deer on CMR land. On Monday I saw 20 head of elk, 20+ mule deer (all does) and a small herd of about 12 antelope within 5 miles of each other on the CMR refuge.
I didn't go out on the bone trail on Sunday but there were around a dozen hunters hunting one drainage on Monday but I was the only one that actually went down into the bottom and thats were I saw 3 bucks including the decent 3x4. On Tuesday either everyone had already gotten their animals or they were just sleeping in because I only saw 2 vehicles that day out in the same area where I had seen 5 vehicles before sunrise on Monday.
I need to decide whether I need to just adjust my hunting timelines to improve my chances of getting a true trophy animal (hunt antelope the first weekend of the season and hunt deer closer to the rut) or if I need to change my location. I know that area pretty well and if I went to another location I would have to start completely over though. I've thought about hiring a guide, or paying a fee to hunt some of the private land down in Southeastern Montana or Wyoming, but I just feel like you earn it a little more when you do it by yourself on public land. I sure would love to have a 16"+ antelope and a 25"+ mule deer on my wall though!
10-29-2007, 06:41 PM
Fork Horn
Join Date: Jan 2007
Location: North Carolina
Posts: 365
RE: Montana Non-Resident DIY Public Land Combo Antelope Mule Deer Hunt Results
---
Thanks for the info! Either of those would make this eastern boy very proud! I think I would Euro mount that mulie too with those warts! I had heard different things on the amount of hunters at CMR but I bet it's like any public land, if you are willing to work, you probably can have some success!
10-29-2007, 07:05 PM
RE: Montana Non-Resident DIY Public Land Combo Antelope Mule Deer Hunt Results
---
Don't forget what Nemont said about the weather though. It is hard to explain the gumbo mud that is out there. It truly can become impassable depending on the weather. To get out to the CMR refuge you drive out 45 miles of gravel/dirt roads each direction, so it isn't the easiest place to get to and even chains don't help if it gets muddy. I would have a backup plan in place in case of weather.

I wasn't out there on opening day but I don't doubt that it was a zoo. On Monday it was pretty bad but by Tuesday it had quieted down some out hunting but there were still a bunch of tents and campers out there. The weather was close to perfect this year, it may have even been a little bit on the warm side!

10-30-2007, 06:35 AM
RE: Montana Non-Resident DIY Public Land Combo Antelope Mule Deer Hunt Results
---
Congratulations Nathan, Sounds like you had a good hunt and you got theaverage size for that area. Like Nemont said, the difference in the number of big bucks showing up during the rut is amazing. They're out there but hard to find on the early combo hunt with the crowd of road hunters driving all over the place the first few days of the season. Great shots you made. I keep the taller bipod on my rifle because of the sage brush. I've not had any problem with them being too high for a situation yet.