Mule Deer camp success!
10-25-2007, 10:46 AM
Join Date: Apr 2005
Location: Missouri
Posts: 1,429
Mule Deer camp success!
---
Just got back. We had a terrific hunt, 4 for 4.
Home for the week:
Decent view:
Big Bucks Down. This is my 170 incher:
My Deer on left, Pop's 160 incher on right: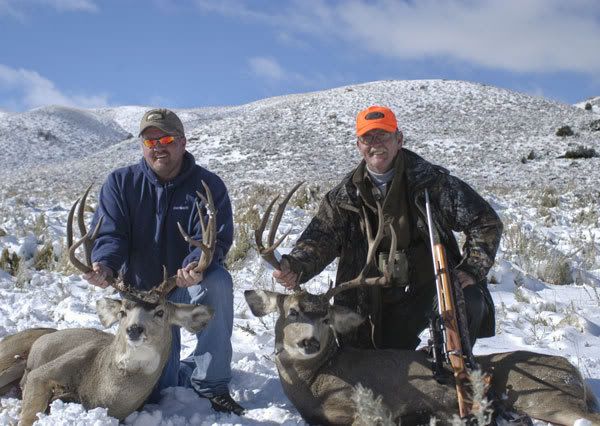 Mark's 180 Incher: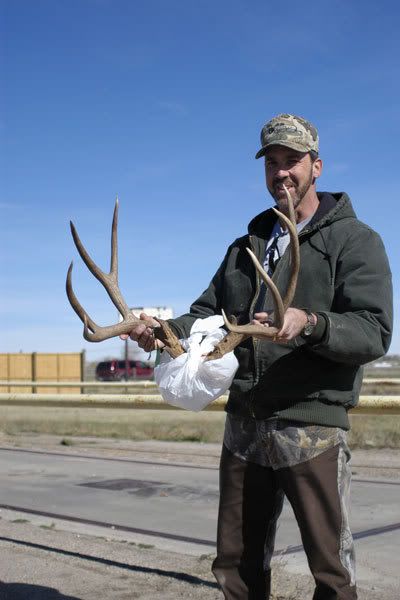 Landon's 160 incher: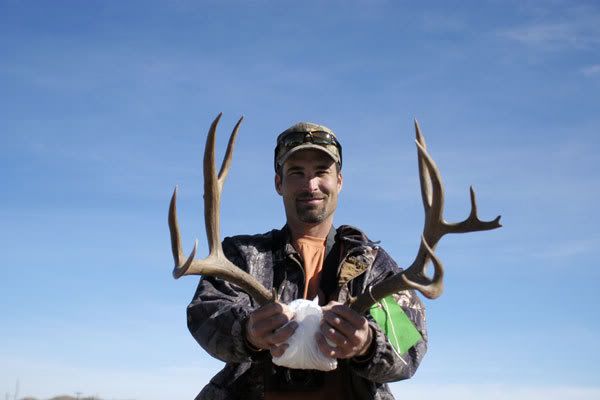 Group shot: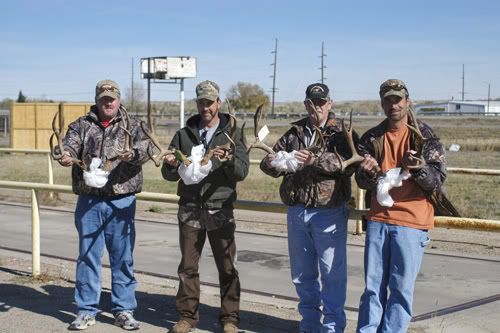 Story to follow Later.
10-29-2007, 08:06 AM
Join Date: Apr 2005
Location: Missouri
Posts: 1,429
RE: Mule Deer camp success!
---
Thanks all!
We had an absolute ball! The state was Wyoming. We met a nice rancher last year while antelope hunting. He said we shoud come back and deer hunt. So we took a chance and went. As you can tell by the smiles we where very pleased.
The scores that I posted are certainly not official. We simply pulled the tapes ourselves and added them up. We counted kicker points and all. We figures its all antler. I'm sure that an official B&C score would be less. But, we don't care about score they are all trophies to us.
We were hunting what I would consider the breaks or foothills. I don't know the proper term, but we where between the true mountains and the flats. We hunted between 7000 and 8000'. The scariest thing is that there are bigger deer around. One guy Had told us about a buck that he called the "elk deer" because the first time he saw it he thought it was a raghorn bull elk. I had dreams of stalking up on that dude, but I had to settle for the little fellar I killed.
Landon and Mark shot their bucks the first morning we where hunting. Landon had said on the trip out that he was hoping for a Non-typical. When he saw the kicker off the left G2 he knew he had his buck. A 254 yard shot later and he was done. Then the hard part started. He had hiked a long ways into a nasty draw. He headed back to camp for reinforcements. At camp he met up with Mark who had one down as well.
Mark had been glassing another buck, and was seriously considering shooting the 160ish buck. When what he referred to as a "hog" stepped out. He said that at first glance he knew it was "the" buck. The shot was 240+/- yards in a stiff crosswind. First shot spined the buck. Mark said he had held high and back expecting drop and drift due to the wind. The bullet hit exactly where he held. I suspect that the high vantage he was caused a steeper angle that what he expected. Regardless, a couple more follow ups where needed the finish the deal. But, in the end he had a terrific 4x4 with nice eye guards. and several stickers around the base. One sticker was over 3 inches long. A terrific buck! Mark, Landon, two other recruits spent the rest of the day until dark quartering and hauling out their deer.
It took till the third day and a fresh 6 inches of snow for Pop and myself to fill our tags. I personally had been putting about 8-10 miles per day on the soles of my boots. I was starting to wear down. I've put on too much weight over the past year, and my knees where screaming at me. I was pretty close to the point that I wasn't enjoying myself. Its a shame to get that out of shape. Then I spotted a nice buck up a draw in a very "stalkable" position. I wondered to myself if it was worth the climb. Then I had a moment of clarity. I thought to myself, this is what I came all this way for. I was going to climb that hill or die trying. Well, I was able to climb the hill and it didn't kill me though I wondered a time or two[8D]. When I got within range I realized how good a buck I had stalked and was disgusted with myself again for considering passing do to the climb. A good 180 yd. shot through the shoulders and I had my deer.
When I got back to camp dad rolled in with his buck. Not much to tell other than he made to long stalk and decided that the biggest buck he had ever killed was good enough.
Four good bucks down in three days. We decided it was time to head to town for a shower and a few ice cold frosty beverages.
Please don't ask for more detailed infoonour location.I think that we've founda honey hole. Iwill be guarding this infofuriously. I've threatened all my fellow hunters not to reveal our spot.
P.S. I'm still working on my journal. When I finish up the details and proofing I'll post it up for everyone to read. I done this for my last elk hunt and everyone gave positive reviews. It will take a few weeks but I'll post it when its done.
Thread
Thread Starter
Forum
Replies
Last Post
Posting Rules
You may not post new threads
You may not post replies
You may not post attachments
You may not edit your posts
---
HTML code is Off
---