elk calls
07-25-2007, 09:49 AM
Join Date: Apr 2005
Location: Missouri
Posts: 1,429
RE: elk calls
---
My experience calling bull elk is limited. I have had success though. I purchased elknuts videos and found them to be a wealth of knowledge. Its nice to get insight into what you are trying to sound like.
I equate it to turkey calling because I have extensive knowledge of that sport being from missouri. I know a ton of people can make better turkey calls than me, but I some how always get my birds to come in. I believe that its because I make the right sound at the right time. I'm not just out there making noise to hear myself. You have to be able to read the birds. Elk are very similar.
My dilema was that I'm not from the part of the country where I could learn the nature of the beast. I was up against it. I purchased the videos and watched them obsessively prior to my hunts. I picked up on some key voices and some "tells" to listem for to key me into what the bull was listening for. It worked on both my trips. Maybe it was luck. Maybe it was the fact that I paid an outfitter to get me into the "back country" where pressure was less. Or maybe it was a slight amount of skill that closed the deal. But, most likely it was a combination of all three.
Learn the language or at least some of the language. Use what skills you have to play the wind, get in close, and try to be higher than your quarry. Try to hunt where the pressure is lightest. And lastly you have to get a bit lucky!
2004 300" 6x6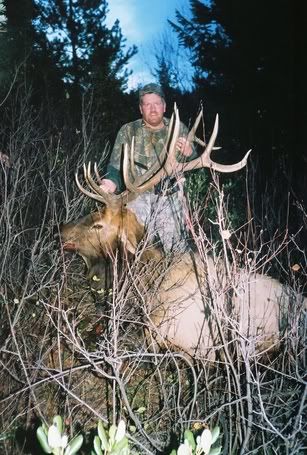 2005 320" 6x6
Dad's 2005 300" 6x5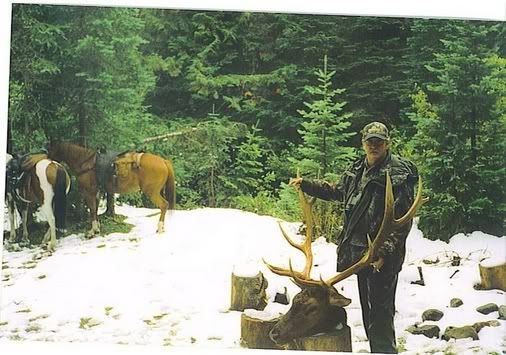 07-25-2007, 02:13 PM
RE: elk calls
---
Mouth reeds my choice Primos or Rocky Jacobson
Bugle Tube Rock Jacobson with tube tammer
Hand calls Wane Carlotons Squeeze Me cow call
Mouth Calls Primos Hyper lip and Carltons fighting cow call
but I pack many more,these are just some of my favorites.
BBJ

07-26-2007, 08:21 PM
Typical Buck
Join Date: Oct 2004
Location: Colorado Springs, CO
Posts: 510
RE: elk calls
---
Diaphragms calls get to be a very personal thing, what works for one won't do well for another. Every body has a different shape to there mouth and not all calls fit well. If it doesn't fit you won't use it well. The number of reeds makes a huge difference also. 1,2,2.5,3,3.5,4. The thickness of each reed makes a difference in the pitch a reed can make, the 2 standards are .003, .004 although some are making .0035. The other issue is how the latex is stretched, they stretch from side to side and front to back. This is known as tinsel strength and plays into pitch and volume. The tighter the reeds the more pitch and volume is possible. But the other things that play into this is air speed and tongue pressure. As Elknut stated[HI Paul] this is an art form and requires great amounts of practice to have great control of the reeds vibration against the tongue. To be good you must be able to control pitch going up and down, also volume. This is no easy trick, time and effort are the key to success. As others have already stated Elknut is the one to teach when and what to say, HE IS VERY GOOD! A small piece of info, there is one call on the market that is not made from latex, High Plains Call, it is made from dental rubber. This call is made by John Sarkisian and comes in doubles and triples and youth reeds. I have watched John bend the frame to fit peoples mouth and have them making sound in less than 3 minutes, pretty good trick.
Back to calls I use, HS 3.5 in .004 reed thickness and a double High Plains call. With these two calls I can cover the gambit of elk calling. I will use and do carry other reeds in my pack of calls, but these are my go to reeds. I also carry external calls one given to me by my friend Wayne Carlton and a couple sent to me from Will Primos. These should not be over looked they are very fine calls and do have a purpose in elk calling. For a field tube I have used a Carlton tube wrapped with polar fleecefor the last 20yrs. But for being big and bad, a 4" wiffle ball bat cut at 24" long.
Gselkhunter

Thread
Thread Starter
Forum
Replies
Last Post
Small Game, Predator and Trapping
Small Game, Predator and Trapping
Posting Rules
You may not post new threads
You may not post replies
You may not post attachments
You may not edit your posts
---
HTML code is Off
---