Billy Goats got any?
02-23-2006, 08:41 PM
Join Date: Jan 2006
Location: NSW AUSTRALIA
Posts: 214
Billy Goats got any?
---
I noticed that nobody seems to have posted much about hunting goats, so I thought that I might post a pic of two of my best and see if it can't stir up some goat fans.
These two were shot out of a mob of about 30 that I managed to stalk up on that were resting by a billabong in the shade of some trees on a scorching 51 degree day (124 degrees Fahrenheit) The rifle was my trusty old M96 in the good old 6.5X55 sweed and this was my last hunt with it.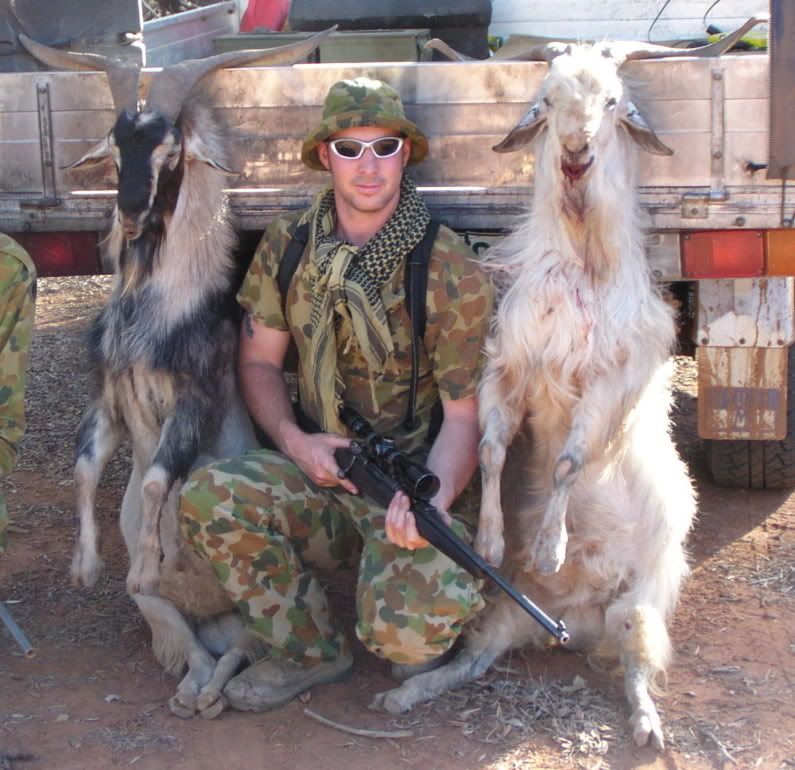 02-24-2006, 05:18 PM
Join Date: Dec 2005
Location: Lubbock, Texas
Posts: 929
RE: Billy Goats got any?
---
Nice! Are those wild or farm raised? (not being sarcastic- i noticed you were from aus. and i don't know anything about hunting there!)

My buddy shot a billy goat in northern california, it's being mounted now. I'll post pics asap.

02-24-2006, 05:46 PM
Join Date: Jan 2006
Location: NSW AUSTRALIA
Posts: 214
RE: Billy Goats got any?
---
There as wild as wild gets lots of them have never seen a human where I hunt, they know no boundaries and move around from 60,000ac properties to 500,000ac properties and where ever else they like. I prefer to hunt them in the mountains down south but there much better trophys on average in the red centre. Australia is a hash land and a lot of early settlements didn't last to long and when the humans left they just let their stock go. That means that some of these herds have been wild for 150yrs or so. That worked out well as we have no native trophy game but thanks to those early settlers we have wild goats, pigs, donkey's, camels and scrub bulls not to mention Water Buffalo and about a dozen species of deer. And as they're classed as being feral there are no tags or seasons imposed on our big game other then on some deer.
Here is another big Billy from the red centre.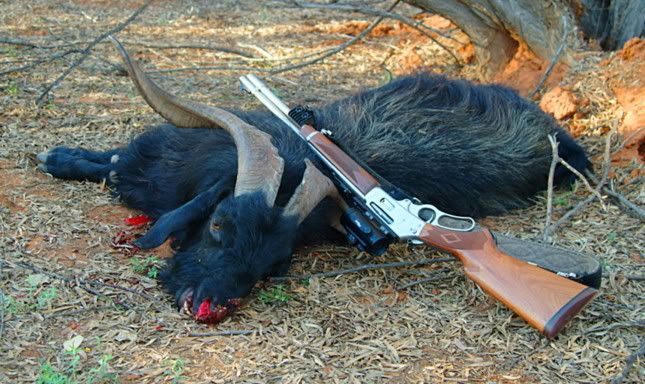 02-25-2006, 10:14 AM
Join Date: Feb 2003
Posts: 801
RE: Billy Goats got any?
---
How do those Billy's eat up? Is goat any good? I'd imagine field care is pretty tough in that kind of heat. You could probably dry cure it at that temp.

Those horns would look good on a wall though. Thanks for sharing.

02-27-2006, 07:06 PM
Join Date: Jan 2006
Location: NSW AUSTRALIA
Posts: 214
RE: Billy Goats got any?
---
Cheers I keep all my good horns (somewhere) but as for eating goat itself well if you can get a kid there similar to lamb, but if smell was any indication then those big buggers would have tasted a little to strong for most peoples taste. I just wish I could have kept that big fella on the lefts cape as it would have been a top mount.
If you ever find yourself hunting in an oven like that take along a pillow case. I hang a butt of goat or pig in one and then hang it on the truck and soak it in water every 15min to ½ hour and the evaporation causes a heat exchange that stops the meat from going off.
Thread
Thread Starter
Forum
Replies
Last Post
Posting Rules
You may not post new threads
You may not post replies
You may not post attachments
You may not edit your posts
---
HTML code is Off
---