Team 13--" Struttin Stuffers "!
04-27-2008, 07:20 PM
RE: Team 13--" Struttin Stuffers "!
---
Strutter, it's hard to say, sometimes they roost in the same area and other times it might take a few days to get back to that spot. If a hunter messes with them it could push them away. Also depends on how many places they have to roost. If there isn't much woods they will most likely be back.
04-28-2008, 08:14 AM
Join Date: Jun 2006
Location: Plum, PA
Posts: 296
RE: Team 13--" Struttin Stuffers "!
---
Hey guys,
I had about the same situation play out for me as most of you did. The turkeys were gobbling in the morning but would not come to the calls. Hopefully next weekend they are more frisky! Saturday is my b-day and I would love to smack one, that would be a great b-day gift!
Good Luck to everyone!
05-02-2008, 06:51 PM
RE: Team 13--" Struttin Stuffers "!
---
Who is still chasing birds out there? I got till the 15th to get it done. I'll be out there this weekend and Monday too. They gotta start cooperating one of these days.
I hope those dang hens are sitting on their nests by now, and leaving those gobblers alone. Maybe I can find a lonely one that way.
05-04-2008, 08:55 AM
Join Date: Feb 2008
Posts: 86
RE: Team 13--" Struttin Stuffers "!
---
Rookiebowhuntr_Pa.... are you hunting any days toward the end of the week? If so keep me posted on what the birds are up to. If you hunt around plum, pa i am about a 45 to an hour drive east of your hunting area. Hope that hour doesn't change the birds too much.
05-10-2008, 06:52 PM
RE: Team 13--" Struttin Stuffers "!
---
Team "Struttin Stuffers" score again. But it won't be enough to win this contest.
I finally got a bird to come within range. This has been the tuffest year turkey hunting I and a lot of guys I know have had. I roosted a couple of birds last night. I heard the most gobbling ever with birds going to roost. They didn't quit till 8:45. So I was pumped for the morning. The closest one I roosted started gobbling at 5:20. He gobbled pretty good on the roost and then flew down the hill (I was on top of the hill, where he likes to strut). I called him back up, but he was one ridge over from me and would not budge. He would gobble every once in a while and then moved off.
I then went after 2 others that were gobbling down the ridge. By the time I got there they had moved off to the neighbors field. I could see them strutting in the field with 2 hens, one hen had a beard too. I watched them until they moved off into the woods.
I then went back up to get my dekes and move to another area. I figured I would give one more call to see if anything was in the area. Before I was was done the birds cut me off, and they were CLOSE, just over the rise of the hill. I sat down next to the closest tree, which was about half as wide as me.
In a couple of seconds three jakes came running over the hill. With the weather supposed to be nasty tomorrow and that being my last day I figured I might as well end it. At 25 yards the lead jake went down in a heap and never even flopped.
He scores 31.625.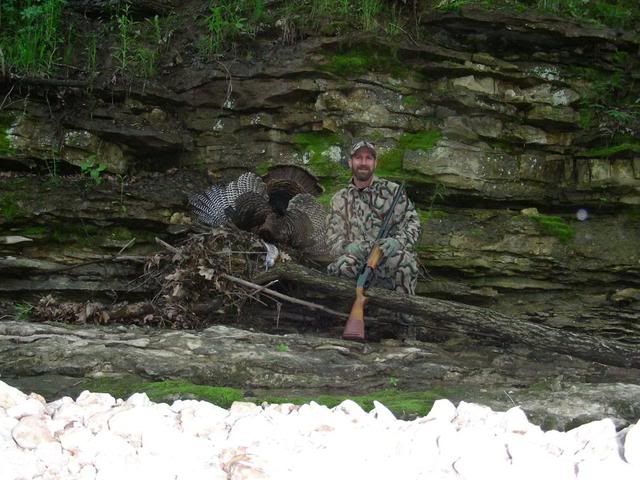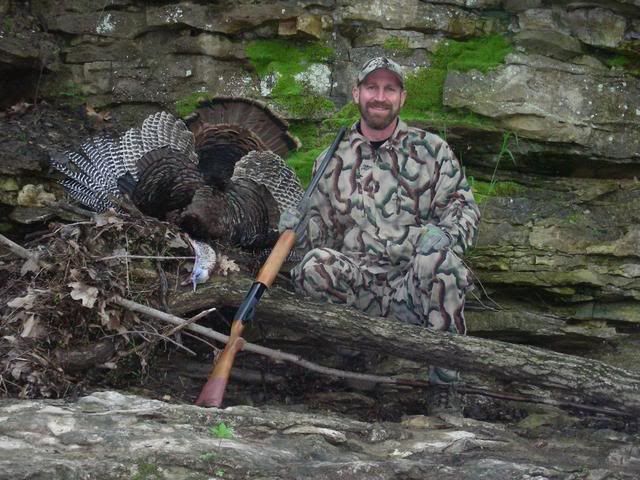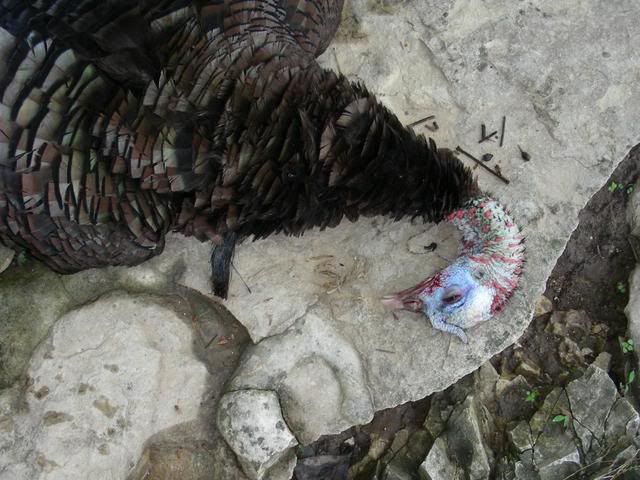 05-11-2008, 01:07 PM
Join Date: Feb 2008
Posts: 86
RE: Team 13--" Struttin Stuffers "!
---
Some points are better than none. I had a jake and hen come into about 40 yds on sat morning. My paps old single shot won't reach out that far or i would have had 'em. I got 2 more weekends to try to get a bird. We went to a new area saturday and had more success there than our other spot. Plus it is closer, so we are probably going to go there again on saturday. That will be the first time we have been there early enough to hear them on the roost. I hope i can get a bird or two to do the same thing that hen and jake did. I did learn my lesson about calling though. I kept on calling and the hen couldn't see a bird from where the sound was coming and she got outta there.