2008 Bowtech Commander 50-60 28.5 29"
07-09-2009, 10:41 AM
Fork Horn
Join Date: Aug 2004
Location:
Posts: 200
2008 Bowtech Commander 50-60 28.5 29"
---
2008 Bowtech Commander 50-60 28.5 29"
Here is a 2008 Commander in perfect condition (except for a small mark where the drew stop was when the bow was set at 29" you can see the mark in the picture)
Included is a pair of 28.5 and 29" modules, blank warranty card (unregistered bow), a limb diver rest with arrow holder launcher, poverty hollow stabilizer, Saunders upgraded cable slide, bow tech hat ( the STS and silver sight block are NOT included)
This bow will cover all draw ranges, but you will have to get other modules from the dealer or here on A.T. for about 20.00 a pair.
The bow has never been in a tree.
The strings on it are the originals and in grate shape as you can see. The bow is tuned and cams are in sync.
The bow is currently set at 28.5" draw.
Weight range is 50 to 60 lbs
this is one of the best shooting bows out there.
I'm asking 475$ or would trade the bow for a Hoyt 737 with the same specs as this bow.
If you have questions or would like to see any additional pictures just pm me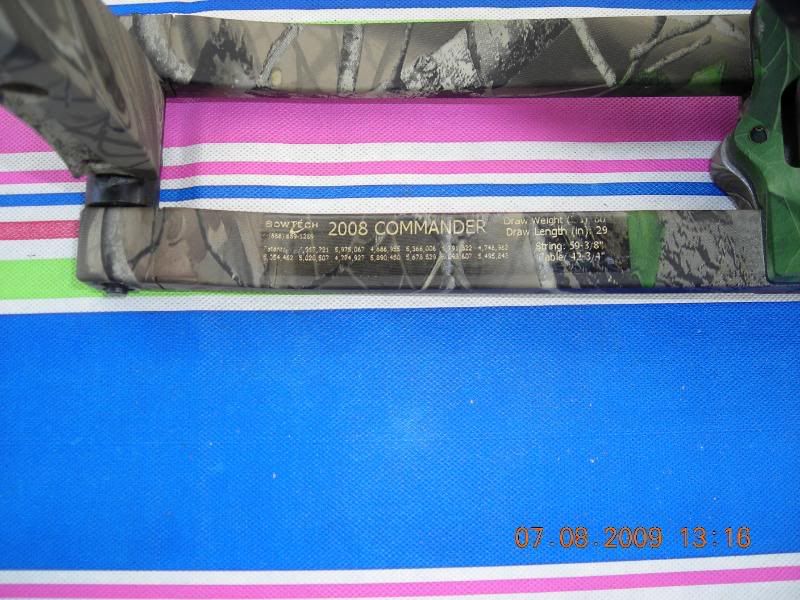 Posting Rules
You may not post new threads
You may not post replies
You may not post attachments
You may not edit your posts
---
HTML code is Off
---