Team 2
09-12-2015, 02:56 PM
---
That's a nice looking deer Golfpro! Hope you get him!

I really wanted to be in the mountains this weekend, but I have to work tomorrow. I hate working Sundays, but a man has to do what a man has to do! I will be back up there next weekend.
09-23-2015, 07:27 PM
---
There are tons of coyotes at my place. Get them in 3-5 packs on camera too. One of them is running around on 3 legs as well.
I had an idea and I think it's going to work. I found 2 downed trees on my woods and put them in 3 spots in this field. One is at 25 yards to my stand straight out and the other 2 are off to each side at 35 yards. I took an inch wood bit and drilled some holes in them and put some of the branches from the downed tree in the holes and screwed it in. You can see the one small buck checking one out in the background. Got times of buck activity on this plot of oats/rye and honey hole by antler King. I hope they check this field all times of day come rut.
Here is that buck out of velvet.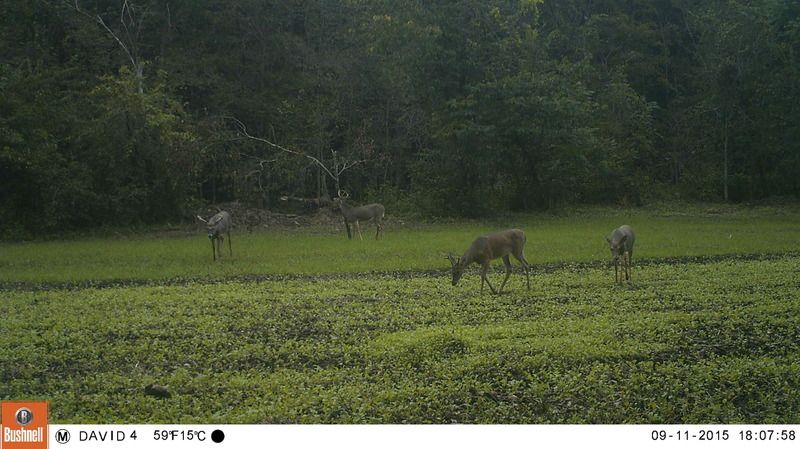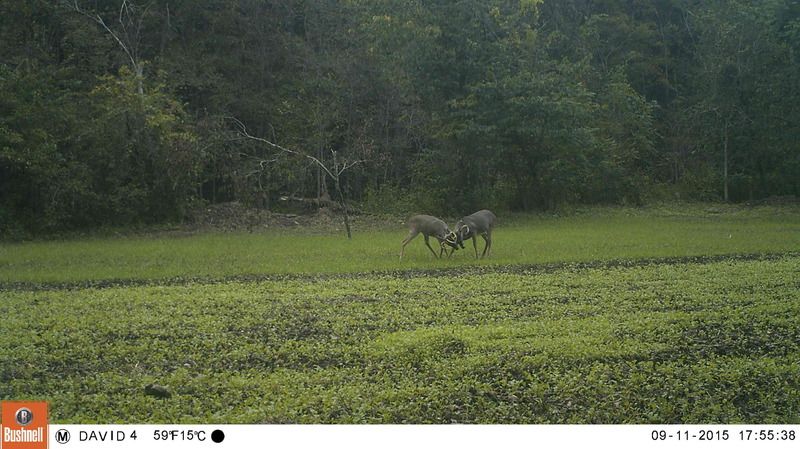 ---
Last edited by golfpro261; 09-23-2015 at

07:30 PM

.
09-25-2015, 06:24 PM
---
Bad news.

Monday I injuried my right draw back shoulder. Not sure what's exactly wrong with it but I have a friend or 2 I can reach out to about using a cross bow if this is serious. It's still not getting better but I'm hoping for the best.

I hope I can contribute to the team still!
10-02-2015, 01:06 PM
---
Best of luck! Congrats on the kid!! My 2 hunting buddies that take a week with me at my land, one of them just had his second son last week. So he will not have quite as much time to hunt.
I found out that I have a torn labrum in my right shoulder. Looking into the crossbow plans now.