Team 3 - Dead Deer Walking
10-12-2015, 07:00 AM
---
Okay. I suppose I'm the captain. I'll make sure I check in regularly and see how things are going. Hopefully our new teammate shows up soon.
As far as team names go, we have the following suggestions:
Death From Above
Silent Stalkers
Camo Commandos
Dead Deer Walking
White-Tailed Whackers
Stick it were it hurts.
Splitting hairs
Straight shooters.
Silent death.
Venision collectors.
I'll put my vote on "Straight Shooters".
How about we go with the first team name above that gets three votes?
I really like our team name on another forum. It's "Hooves Up, Don't Shoot".
---
Last edited by LittleChief; 10-12-2015 at

07:02 AM

.
10-19-2015, 04:54 AM
---
Some good names out there. I wasnt able to get out there this past weekend. I did though slip in to check cameras and move a stand and the sign has exploded on my property. I counted over 25 scrapes and numerous rubs. I'm gonna put some time in the stand this weekend. Temps are suppose to drop into the 30's at night. No big ones back on the property but the they're getting bigger . I stuck a camera behind my house to test it out and to my surprise there was a giant thats been cruising around. The pics real fuzzy but I repositioned it and hopefully I'll have a better one to post here for you guys. Good luck everyone and stay safe.
10-20-2015, 08:30 AM
---
MA opened very cool and crisp yesterday AM. No action in AM. Afternoon brought a doe in feeding and a buck on her tail... grunting etc... great show... except for the missed shot right over his back at point blank... no idea what I did... not very happy right now...
10-21-2015, 11:17 AM
Typical Buck
Join Date: Feb 2003
Location: Grand Forks BC Canada
Posts: 760
---
Rough luck, Western MA Hunter. I hope you get another chance at him.
After watching over a dozen deer wander past one of my blinds out of range yesterday, I switched to that spot this morning. Even more showed up today, but I took the first one that offered me a shot. 15 yards, double lunger, ran less than 50 before keeling over. Hanging and all skinned now, to be butchered in the next couple of days. Here she is.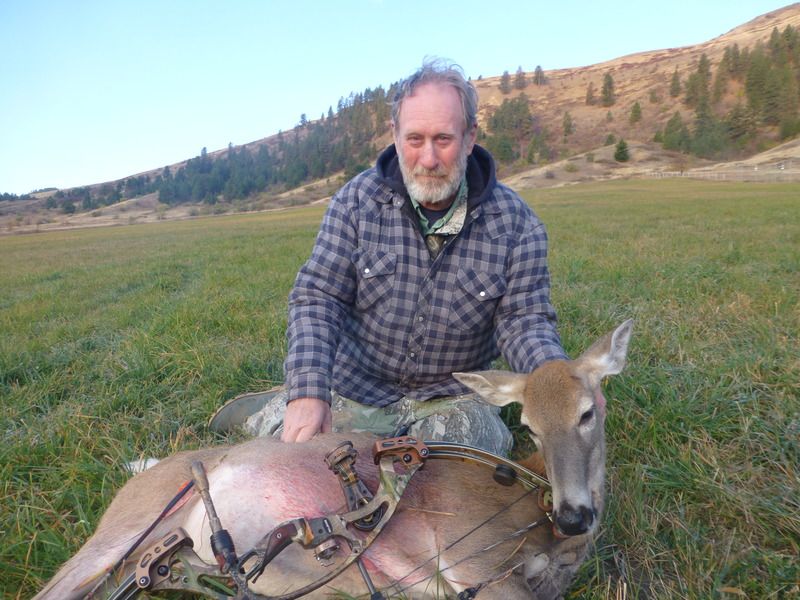 10-21-2015, 02:12 PM
---
Congrats on the mature doe. Always cool to see some deer and put a plan in motion and see it succeed.
Headed out sat morn seem to be getting way more activity in the mornings. Wish you guys the best of luck.