Team 4- Locked & Knocked
10-16-2015, 12:35 PM
---
Nice looking Bucks! I am heading out in about 5 minutes, just wanted to check on how the team was doing and it appears everyone is getting some decent movement so that's a good deal! Temps here in the 20's for lows and 4o's for highs light NNW wind for the next couple days, going to do mornings & evenings...gotta hit the tree!! G/L!!
10-16-2015, 12:44 PM
---
Checked a couple cameras today, had 1 shooter. Still have 6 more to check this weekend. Plan on spending some time on a known scrape line tomorrow. 1st frost of the year is expected in SW MO. Hope the big boys are cruising in the morning.
10-17-2015, 07:37 AM
---
I had 2 more little bucks within bow range yesterday. Neither one had more than 70" of bone on their heads. The little bucks are out cruising but the big boys are still nocturnal.
I did get some sparring on one of my cameras but I haven't seen any ground scrapes yet.
Another shooter showed up but of course, at night.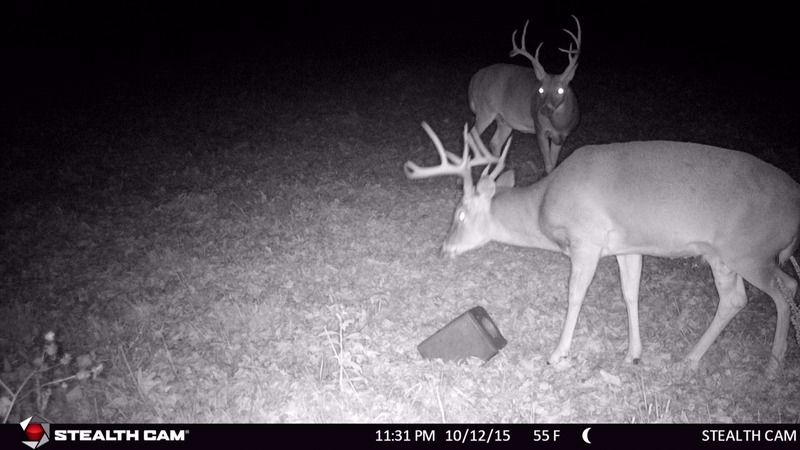 10-18-2015, 09:56 PM
---
This week it looks mostly like evening hunts. Monday, Tuesday, Thursday, Friday, and Saturday evenings. I might be able to slip in a Tuesday morning and possibly Thursday morning hunts. I will keep you posted.
10-19-2015, 12:01 PM
---
Deer movement was good this weekend. I saw 7 slick heads Saturday morning but passed on those on that farm looking
for a couple shooters. Sunday morning started out good as a
group of turkeys were roosted close. I managed to get drawn and make a 22 yard shot. The bird fell within in site. About an hour later
I had 4 slick heads come through and they were being chased by a small buck. I decided to shoot a doe for the freezer. Sunday night I saw 6 more slick heads on a different farm and had a bonus buck
show up just before dark. I am guessing he was a 120-125" 10 pt. He stayed in the brush before walking down the edge of the field making scrapes. Looking forward to next weekend.