Team 3* ~ Red Dawn Raiders
05-11-2014, 07:46 AM
---
Well, my 2014 season is over. I hunted 7 days this spring in OK, IL, and WI. OK and IL were new properties that I have never hunted or stepped foot on. The WI property is the only one that I have hunted before. I filled 5 tags this spring and should have gone 6 for 6. The only tag I didn't fill was an IL tag on a 2 day hunt. I came really close though the last day 10 min. before our 1:00 deadline. I finally patterned the birds and knew that they were really henned up still. Only gobbles I heard on the ground both days were after 12:30. I did have their route figured out though and if I had 1 more day I'm sure I would have connected. Still can't complain though and can't wait to hit that property again next year. I'll also be guiding in OK, and possibly in IL and again so I'm hoping to extend my time in the woods and help get a few more turkeys killed. This season went by too fast imo. Here's the last bird of my season - a nice 3 yr old with a lot of red in his feathers - common to the turkeys in this area. Called him in from about a 1/4 mile for some excitement. His beard was only 9-5/8" but very thick - probably the thickest I've ever taken.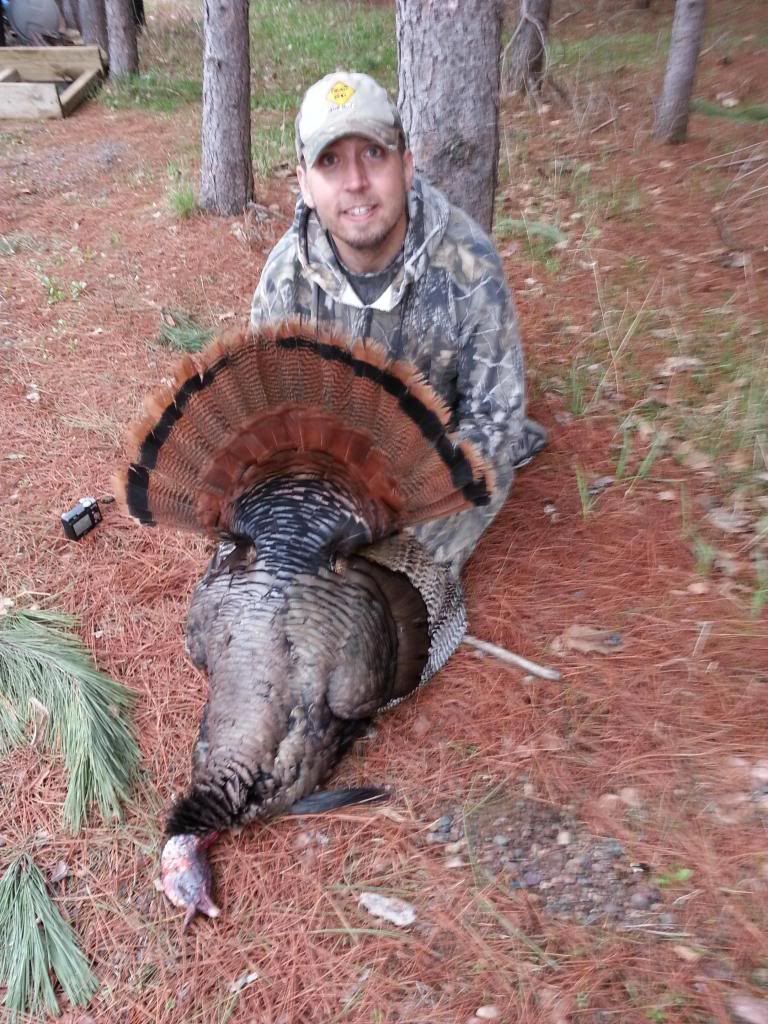 05-15-2014, 04:22 PM
---
Hunters Name: jmedenf
State the bird was harvested: OH
Date of Kill: 5/15/14
Time: 5:18 PM
Method of Take" Shotgun (Marlin Model 55 Goosegun 36")
Species: Eastern
Sex: Male
Lbs 14 Oz: 8
Rt Spur Length 1/4"
Lft Spur length 1/4"
No of Beards: 1
Length 4 7/8"

Your score is 14.5 + 2.5 + 2.5 + 9.75 = 29.25
05-16-2014, 01:40 AM
---
Hey congratulations JM and congratulations to all those I have missed. Probably wondering where the heck I am.....well I have been hunting and hunting very hard. I have little to show for but worn out ole body. The weather has been horrendous.
But I do have one more and I need to get the other pictures loaded. I have 2 weeks left to hunt.
After a long 2 days - 22 lbs 10 0z pulled him back at me from 317 yards away. He entered this field I was sitting. I am glad I moved and I only moved as I was stone cold - the weather is nasty and I am wearing 4 layers and still cold. So I moved my setup to warm up.
Spurs 3/4 and 11/16 beard 9.5. Once I got him turned around it was a slow stroll until he saw the decoys. The wind was high and blowing. It did snow, hail, sleet, least it didn't thunder but then again lightning would have meant warm weather.
For the 1st time I did not get a bird at Fort McCoy nor a season 3 or 4 in zone 1 of WI. And here in zone 5 -man all I have been seeing or get to come in is jakes. I do hunt more than the averge guy so I do pass on them. I am retired! But certainly feelmy age today! Think this might be a run and gun day as it is just above freezing. It is mid month of May isn't it?

Out the door I go.
JW
05-18-2014, 09:06 AM
---
Today is the last day here in Ohio. Already filled my tags, but may go out and try to call one in one last time this evening for a friend still trying for his first. Called one in for my younger brother Friday but he started putting at about 45 yards in thick brush and walked away. This was his first year turkey hunting.

Hunted the same spot Thursday when I shot the jake. He was my first afternoon bird. I walked in and sat down for less than ten minutes and he gobbled about 70 yards or so away. He came right to me. I should have waited another minute or so for him to come closer. Got a few pellets in the breast.

Anyone else on the team still hunting?
05-19-2014, 08:04 AM
---
Didn't see or hear a single bird yesterday. Season done.

I did manage to call in a nice sized coyote to within about 20 yards and my friend I was calling for dropped her. Will post a pic later.
05-19-2014, 09:55 AM
---
Nothing wrong with that JM... I have been out sporadically the last 2 weeks with very little luck. I have been crazy busy with work and coaching my 2 daughters different softball teams along with my older one's all star team.
we did manage to take a jake Sunday am with both of my daughters with me... That was a first... never have I had them both with me.
This bird and another gobbled very sporadically on roost... never made a peep when they hit the ground... waited with 2 inpatient kids for about half an hour and called everyone once and a while with no answer... trying to tell them we had to be patient to see if they would give away their location so we could adjust the set up from there... also told them that sometimes they come in silent. I thought for sure they were toms based upon the sound of gobbles and the silent treatment.
well about the time I said that I looked over to right and I see a red head coming up over the knob where I least expected them to.
we couldn't tell if a tom or jake at first. When he went behind a big tree we spun the gun to the right and got on him when he stepped out at about 20 yards... Jake... oh well, hunting with a 7 & 9 year old girl and having the poor weather and bad luck we have had this year, we let him have it... the girls had a blast.
16lb 6 oz
3.5" beard
1/4" spurs
" />
---
Last edited by Western MA Hunter; 05-29-2014 at

07:07 AM

.