Team 3 Thread "The Team"
11-12-2014, 02:11 PM
---
Both awesome looking deer! Getting ready to pack up and head out again tonight, will be able to bow hunt Thur & Fri before rifle season starts on Sat. Hope to knock down 2 bucks in the next 6 days, one each season.

Good luck this weekend everyone!
11-15-2014, 08:19 PM
---
I will have to catch up on the rest of the thread tomorrow. I have spent nearly the last week at the lease but it has worked out. Before the cold front I shoe a decent 8 point and after the cold front I shot a doe and a emu...yes an emu. The damned things are running free range all over Texas and they will run deer off like crazy. Anyway I will try to post pictures and score this thing tomorrow.

-john
11-16-2014, 05:20 AM
---
Went out again Friday and yesterday and didn't see any deer. Had to leave at noon yesterday to come home for my granddaughter's birthday party and there were three of the bucks from my trailcams chasing does through a cornfield a half mile from my place. Just my luck.
11-16-2014, 06:31 AM
---
Here is my buck.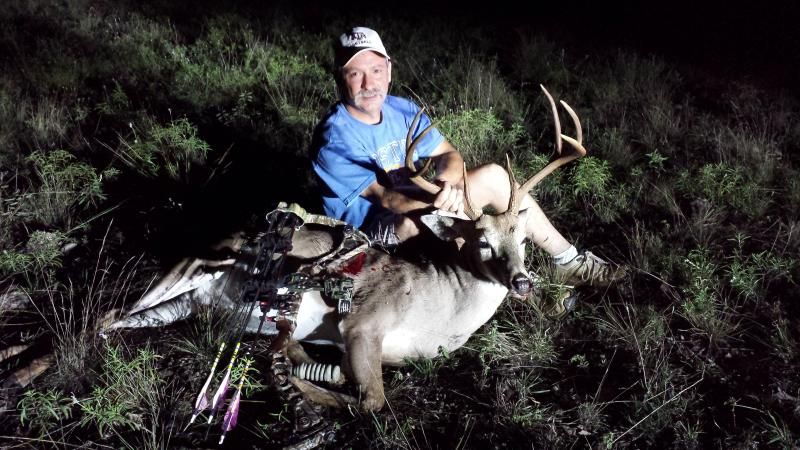 Here is my doe. I almost forgot to take pictures.
Here is the blasted emu....To bad we don't get points for this. I am pretty sure I will be the only one in the competition with an emu...LOL.
One of the things that I enjoy is that all of my daughters also hunt. This is my 21 years old. She has 2 more semeseters n college with a double major of early childhood development and business. She spent her younger years following me in the woods. She shot her first deer by herself at age 12. At 13 she told me that the next deer she took would be with her bow. She has not picked up a rifle since. She killed her first with a bow at 14. Since then she has taken several wth her bow including one really good 9 point. She was able to drive down to the lease and do a little hunting with me.
When I went to walk in on Saturday this is what her arrow looked like.
I should not have been surprised...It is almost always what her arrows look like...LOL
She had taken another doe.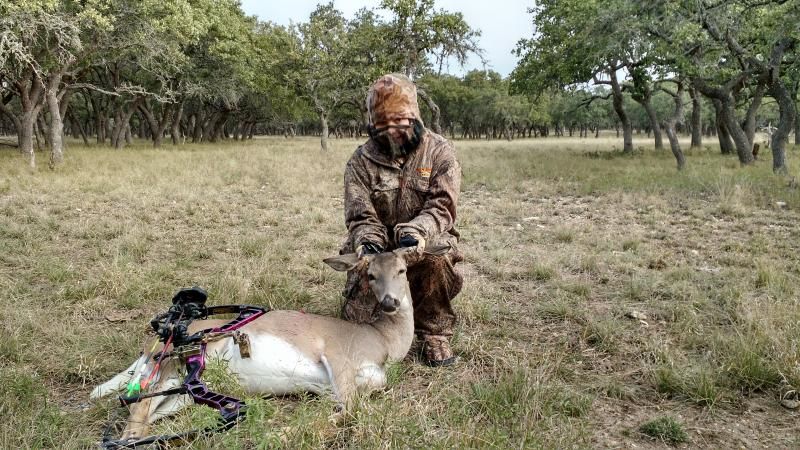 And the picture that I am the most proad of...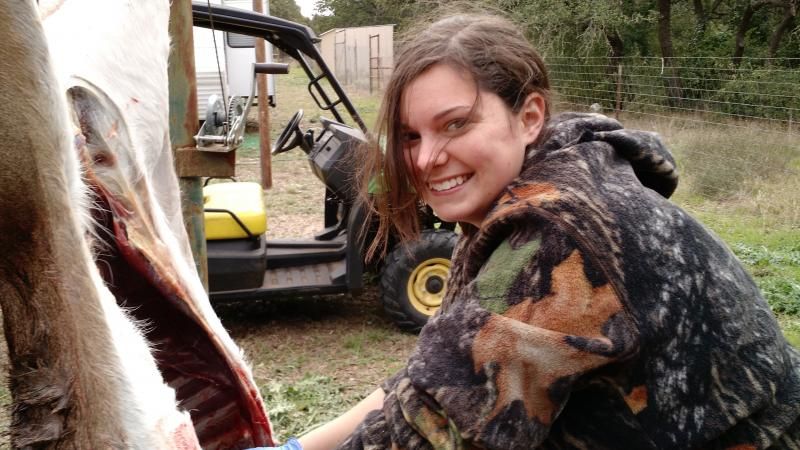 LOL...My girls know how to clean their own deer....
I will try to get my deer scored today. We did a real rough score at the lease and it should be a mid 20's deer, but my wife did inform me that I had a long list of honey do's after being gone hunting this long....LOL....
-john
11-19-2014, 08:52 AM
---
Congrats TX - can't see the pics though.....

I missed a decent 8 on Thurs morning, hit a branch and the arrow dropped 8ft in front of him. Got another nocked, but no shot. Thursday night I had a nice tall 8 coming right at me. He stopped 10 yds out and turned his backside to me - How easy, right?? As I was drawing back I tripped the release somehow and the arrow just arched right thru the trees landing about 6ft away. He jumped a bit but stayed in the area, just never offered another shot.

On Friday I saw 15 deer by 10:45 am, but no decent bucks. IT was still a productive trip however, as Rifle Season opened Sat morning and this guy went down at about 8:15 am.
11-19-2014, 01:04 PM
---
Congrats on your deer. In Texas we are lucky we can still use archery equipment in rifle season. My pics are showing up for me. They also got them entered in the scoring thread so not sure why you can't see them..
-john
12-01-2014, 05:50 AM
---
Hey guys looks like you've been doing pretty well, I have been away from the computer a while. I have hunted quite a bit and only seen deer on one sit and everything has disappeared from my trail cams.

The one day I did see deer I had a stud of a 4x4 come through hot on a doe but I couldn't get him to stop no matter what I tried. I still have a month here in NE so hopefully I can put something down even if its just a doe.
12-03-2014, 04:08 PM
---
MRI results show there is no cartilage in my right shoulder left in tact and doctor says I need to hang up my bow. Gun season starts Saturday and I have Friday off so I am not going to get the doctor's message about no more bow hunting until Friday night (if you catch my drift).