Team 8
11-12-2013, 01:57 PM
---
Congrats! Can't wait to get back out on Thursday. Just watched a huge 8pt run a doe outside my office. He bedded down next to the tall grass she laid down in and was letting people walk up and take pics.
---
Last edited by wallhangr; 11-12-2013 at

02:00 PM

.
11-12-2013, 05:17 PM
Fork Horn
Join Date: Oct 2005
Location: Central Missouri
Posts: 360
---
Have not had a legal buck within range all year
We've got rifle season coming up starting Saturday, not sure I'll get to bowhunt before then. Congrats on the does and nice bucks, hopefully I'll be able to get a deer late season.
11-15-2013, 07:54 AM
---
congrats wall and cory
nice bucks.
I had my chance in Western NY... gave a 20" wide 120 class 8 pt a hair cut.. i was so high in tree and shot him at 20 yards... didn't aim low to compensate for height and just blew the hair off of his back.
I'm sick
had a great hunt though... passed on some border line 115" or so bucks and saw some true studs out of range. Great hunt... watched rut in it's full glory.. chasing, fighting, breeding, etc. Had at least 20 bucks in bow range in 4 days.. probably 50 does in range as well. Had a beautiful shooter 8 at 60 yards... just wouldn't come in before getting pulled away by a doe.
Had a blast.
came home to my pathetic local hunting spots for today... last day of NY bow before rifle starts tomorrow.
I shot a small buck for the freezer this am. Nothing big. 1.5 year old but I'll take him here any day. I'll put the tape to this monster later on. Sorry for not putting a big one down for the team.
top of my head cut off by the old guy who took the pic that let's me hunt his land.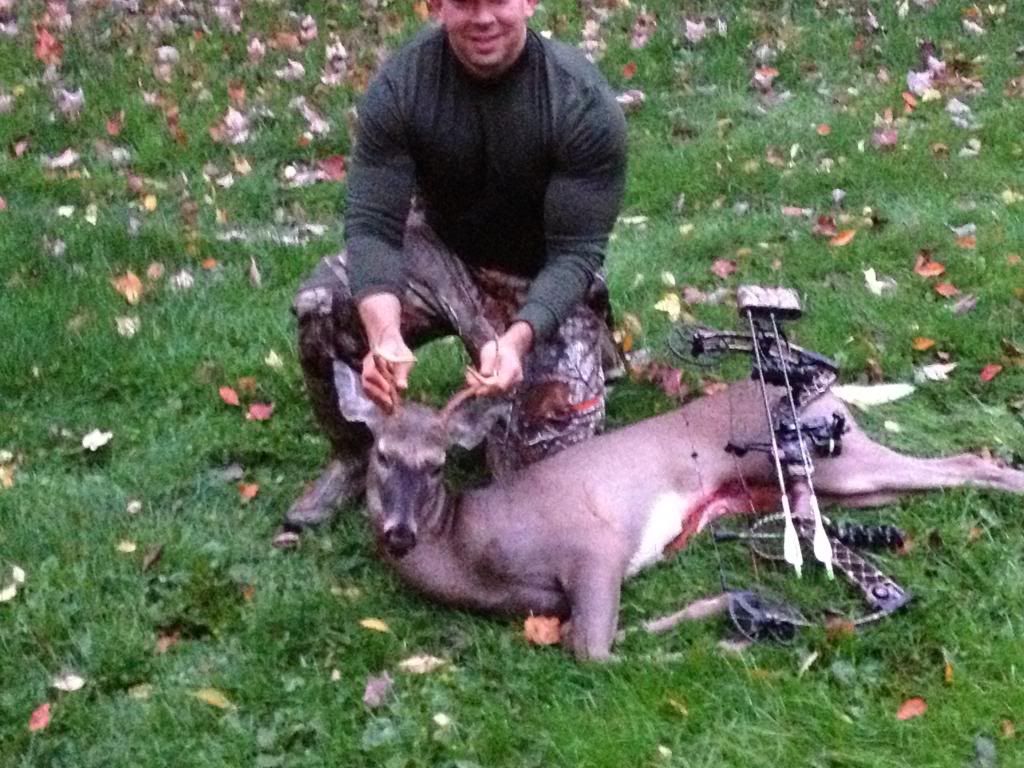 " />
11-18-2013, 04:59 AM
---
bow over here... just rifle for the rest of the season... guys pushing and driving all over the place.... gets tough now just luck from here on out.. can only hunt weekends for rest of year.