2012 HNI Spring Turkey Contest Champions Team 4 Beard Bandits
03-08-2012, 06:09 AM
---
What's up bald9eagle! Got some buddy's that hunt Oakmulgee, and do pretty good...lots of birds! Went out this morning before work on a friends place to listen. Heard one gobble once. It was later on and think he had already pitched down. We know the birds are there, it's lots of young pines and a few hardwood patches, their in there just spread out far enough you can only listen to one hardwood area at a time. Going to start out in Fayette then go from there. 7 days!!!!!!!!! Can't wait! Let's go get em!!!!!
03-10-2012, 07:35 PM
---
Ok we need a name. I will check in as Captain if thats ok with everyone. Right now Waddle Busters in tops for a team name. how about an avatar. Anyone good at doing avatars? Throw out some team names
03-10-2012, 08:29 PM
Youth hunt success
---
Sure wish I could count this one for the team. I called this one in for my wife's 13 year old cousin Jackson Saturday morning using a couple of my own handmade Southern Strut calls, a double sided glass over slate and the most perfect sounding diaphragm call I named the Beard Bandit. Today was opening day of the youth weekend and also Jackson and his dad's first turkey hunt ever. At 22 lbs with a 10.5" beard and 1" spurs, this nice mature gobbler scores 63. He only gobbled 5 times total, 3 times early and 2 times after he closed in on us at about 100 yds. After an hour of silence from the time he flew down, I backed us up the hill a little bit and hit some excited yelps and cuts on the mouth call. He hammered from down in the creek bottom. I hit it once more and he gave us another strong gobble. We backed up even further, about 40 more yds, and I gave him a few more series of yelps aimed in the direct opposite direction from the bird. With no response that time I still knew he was coming, so I purred and scratched a little bit in the leaves, and a few minutes later he walked right up into our lap to a Browning Burial. His dad and I sure were excited for him, but I do think I spoiled our new little turkey hunter a little bit by making it so easy for him
. I was just happy to get out of the office and into the woods for a great opening morning. I'm ready to get after 'em for myself starting Thursday! Good luck to everybody else and STAY SAFE!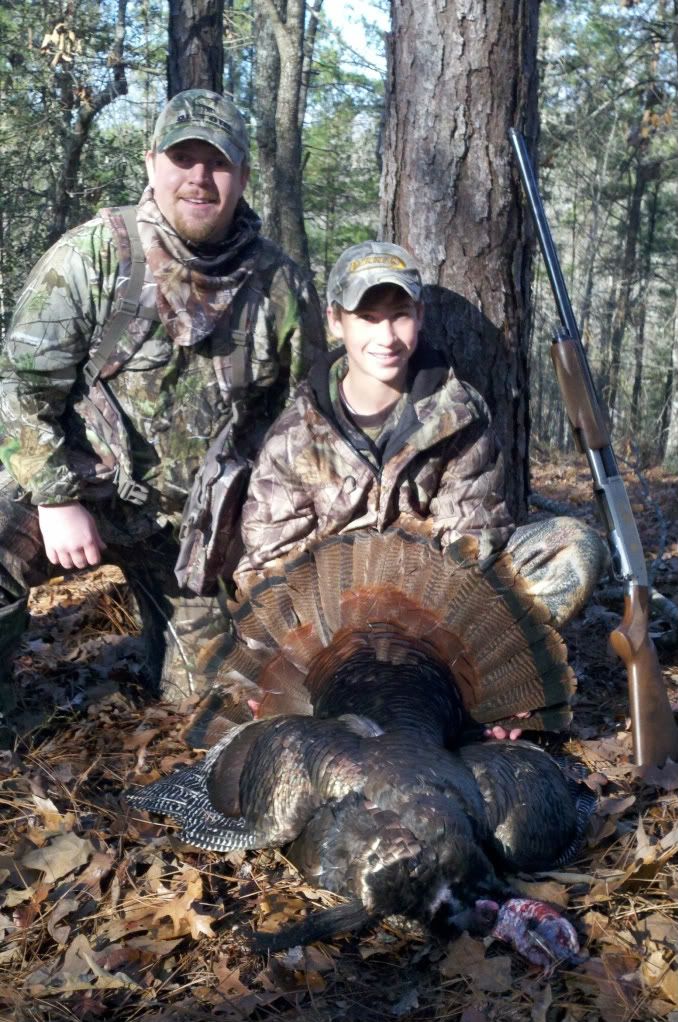 The Tools of Persuasion
---
Last edited by SouthernStrut56; 03-10-2012 at

08:32 PM

.