Team 2 Sunrise Shooters
04-30-2012, 04:08 AM
---
Good deal Snapper. Now if we can just get Adrians Bird on here, you want to PM him or should i? Was just reading around on here and seen that Turkey Goddess is in Wisconsin right now hunting with JW. So she should have a good shot at nailin one.
Kinda a bummer you got to search thru and read practically this entire website to find out who's doing what and where on your own team, but oh well, i know people get busy i guess.
04-30-2012, 05:32 AM
---
Headed out Sunday with my bow. Had 2 Jakes come in to the DSD hens and TBD jake. They were within 7-8 yards, necks stretched out, full draw, thinking full decap here we come. BAM, bottom blade of the bullhead caught the mesh of the blind...not enough clearance. I felt like an idiot, but it happens with those big heads. Wouldn't have been an upgrade, but when I have my bow, I don't get too picky.
04-30-2012, 02:16 PM
---
Ok heres Turkey Goddess limb hanger. 21.2lbs 1 7/16 spurs 9 7/8 beard I didnt post in scoring thread. Make sure it gets posted there.
Your score is 21.125 + 14.375 + 14.375 + 19.75 = 69.625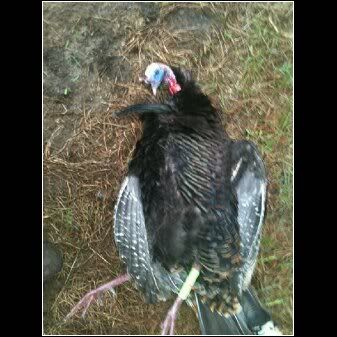 ---
Last edited by Arrowmaster; 04-30-2012 at

06:22 PM

.
05-01-2012, 08:56 AM
---
Nice work team, you all are hammering them now!!! You guys are making me wish I still had a tag. It's a long time until March so we can start again. I told one of my hunting buddys that when I pulled the trigger on my 2nd MO bird I was thinking about bow season already.lol