Team 2 Sunrise Shooters
04-22-2012, 08:49 AM
---
04-22-2012, 11:42 AM
Banned
Join Date: Mar 2011
Location: ohio
Posts: 637
---
took a kid and his father out for youth season. both are rookies. bad weather but we made a few set ups on several different birds. finally we went back to the blind to check some birds that were henned up. i called and no answer. so we zipped the blind up and decided to head out. we got about 50 yds from the blind and a bird gobbles about 200 yds away. we couldnt set in the blind because it is in some briars and you couldnt shoot in his direction so i put them on a big cherry and i dropped back to float. he was answering every call. then i heard a second bird gobble straight right of us about 100 yds.the other one came in to about 80 yds right over the hill and hung up. so i slipped up to the guys andtold them we might slip out to get a better set up. then the bird gobbled again and he was only about 50 yds. but a little right. the boy started to panic and was moving trying to get so he could shoot right. i told him to stop moving.i look up and out stepped a big tom at 30 yds. glanced down and i saw hunter moving. thought he was just settling in for the shot. bird took off running. i said there he goes. they both said they didnt see him. hunter was still trying to move around the tree after i told him not to and never saw the bird. classic case of murphys law... lol.. next time hopefully.
04-22-2012, 05:22 PM
---
Crazy day of scouting!!! Seen a lot of things ive never had happen befor. Went out tonite to put em to bed, just got out of the cow pasture into the creek bottom and had em light up practically just where i'd walked in at! They were supposed to be 600 yards out in front of me. Sucked myself up as tight to a tree as i could and wound up with 2 toms 15 yards in front of me and a hen 20 behind me. I was sweatin bullets!!!! Can't beleive i got out of there without screwin every thing up.
They started the morn roosted with 4 hens and when i left tonite at 800 all there was is the 2 toms and they are fired up!! Gobblin their butts off. Gonna get out super early in the am and be set up about 150 yards in front of them. Fixin to be a wild mornin! Can't wait!!! Good luck to all!
04-22-2012, 05:50 PM
---
Good luck J76. How's everyone else doing? We have some catching up to do. I'll probably head back out Thursday morning and next weekend. Since I've already got 3 under my belt, I will be toting just the bow along. Good Luck everyone.
04-23-2012, 07:43 AM
---
Well, 2 months of hype, a month of scouting, and 6:30 am opening morning the seasons over!!!
Got to the blind as early as i could, 5:30 they start gobblin on the roost. Gets light enough to see em good in the binos and looks like it's just the 2 toms. Decide as soon as they hit the ground to start callin, and immediately i hear a hen (still in the tree) start yelpin back at me. I play with her for a min or two, toms 150 yrds out lookin at both of us gobblin away. Then i hear a hen cackle and fly down but shes no where to be seen. Then i see another hen leave the trees and fly directly back into the woods. Not sure what that was all about but with the hens gone and 2 horny toms on the ground it didn't take much to get em to b-line it right for me. I picked the one that looked like it had the longest beard and smoked him at 26 yrds.
Was a pretty cool hunt, but also a bummer in a couple ways. My uncle has hunted opening day for years with me but this yr decided to try downstate by his home, My dad, whos never shot a turkey or had a chance to hunt the opener was supposed to be with me this morn. Yesterday he call and said he was sick, felt like crap and wasn't gonna make it so i went at it alone this morn. Was a shame too cause it was a gimme and we could have easily doubled up.
The other thing that was a bit dissapointing was the size of the bird. Thought the longer bearded one would be bigger but now wonder if i should have took the other one. The other was the dominant bird and did all the strutting but had eaven a shorter beard than this one, wondering if maybe ha didn't have beard rot. But oh well, was a fun morning and he'll sure taste good. It's a few more points for the team!
eastern
7 3/8 beard
17 lbs 4 oz
r spur 3/4
l spur 7/8
Your score is 17.25 + 7.5 + 8.75 + 14.75 = 48.25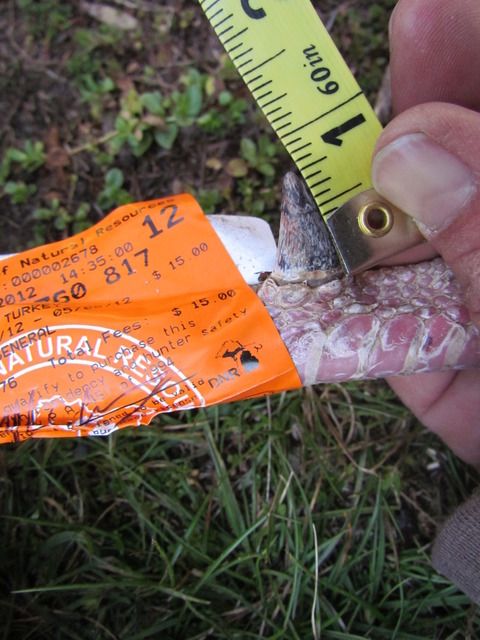 ---
Last edited by j76; 04-23-2012 at

07:48 AM

.
04-23-2012, 08:18 AM
---
Thanks Zubba, thats it for me. Only one here in Mich. Thats why the size of it bumms me out a bit.