Team 1 Spurminators Defending 2011 Champs
04-26-2012, 02:30 PM
---
Oh yeah forgot to report to took a boy out last weekend and we scored on a jake for him during youth season. He was super pumped it was his first turkey and will try to post a pic sometime. Also took a buddy from church opening day and called in a 19 pd long beard and he smoked it at about 20 yds. Been a good week so far hopefully it keeps up.
04-28-2012, 10:47 AM
---
Well pretty quiet opening morning today. Heard a few birds on roost but it was below freezing and they werent very vocal, never heard them again after i closed the distant. Went to game lands today since i had the whole morning to hunt. Will hunt by my house next week with the bow when i only have a little time before work and definitely should have chances at a few of the big boys around.

Good job everyone with birds! keep it up
04-28-2012, 11:38 PM
---
Well we are back at it again today, it is a struggle here in Kentucky as it appears the birds might have breed starting in March. Hens are flying down and going right to nest, toms will not come to decoys or anything. Any tips would be great cause we only have one more weekend to hunt them.
04-29-2012, 05:24 PM
Spike
Join Date: Mar 2012
Location: Clermont County, Ohio
Posts: 12
---
Originally Posted by
RJPOUTDOORS
Well we are back at it again today, it is a struggle here in Kentucky as it appears the birds might have breed starting in March. Hens are flying down and going right to nest, toms will not come to decoys or anything. Any tips would be great cause we only have one more weekend to hunt them.
Hi RJP,
I am a newb so I may not be able to help. But I will tell you my experiences last weekend. I am in Southern Ohio. The hens were nesting already when I started last weekend.
Last Saturday was youth day in Ohio. I took my boy to a hunting lease where we set up decoys and did some calling. Our decoys were 2 jakes and 2 hens. One hen per jake. My method was to do some "slight" box calling every fifteen minutes. It brought in 5 jakes in the morning but my son bypassed those. After lunch it brought in two huge toms. Oh yes he got one. The Toms came in 100% silent. That is why the 15 minute breaks between box calling.
Last Monday was the first day of adult hunting. I went to another lease I bought where there hasn't been any turkey hunting for 10 years according to the landowner (they only hunt deer). I did the exact same box calling every fifteen minutes. I had two huge toms come in loud. It took them about 30-45 minutes to reach me. My method was the same. I did the 15 minute space in between box calling and then when I finally got a return gobble I stopped all calling. I figured the toms had a "fix" on my location. They took their sweet time to reach me but I figured patience is the most important thing I need to use against them. They had to fly across a creek to get to me and my decoys.
All of this is to say, I spaced out my box calling every 15 minutes. I didn't try to overdo it. Once I got the return gobble on my adult hunting trip I stopped once I knew they had a fix on my call location. Staying silent I believe helped bring the toms to me because they were gobbling so much I think they wanted my hens to fly to them.
Maybe this will help you. Not sure. I am a newb so take this for what it is worth.
Good luck.
Scott
04-29-2012, 07:35 PM
---
RJP, sometimes if a gobbler won't come to me, I go to them. That is if you have enough cover between you and the gobbler. I hunted a gobbler a few years ago that absolutely would not come regardless of what I did. Soft calling, aggressive calling, very little calling, it didn't matter. My next move was to go to him. As usual, he was gobbling next to a clearcut. I called and he gobbled as usual, but didn't budge. I crept to within 100 yards of him. When I got closer, I purred and scratched leaves. He gobbled like crazy. I then backed off about 30 yards yelping softly. I kept backing up a little while yelping. He couldn't stand it that this hen was actually leaving him and here he came. A few minutes later he was 30 yards away for an easy shot. You may try circling around and cutting him off, that is if you pretty much know which way he usually heads. If you know his pattern, you can intercept him coming to roost. You can tag team him. Have someone call like you usually do and you set up where he usually heads. Of course this will probably be the time he decides to go to the calls. Just don't give up on them. A turkey can change moods in a heartbeat. If you are not having luck off the roost, try hunting around noon. This is a great time to kill gobblers. You probably already know this though. I have hunted many times where I heard no gobbling or got no response in the morning only to go back around noon and score on a longbeard.
04-30-2012, 07:56 AM
---
Had three gobblers gobbling first light before 6 AM Saturday but a hen came between us and scooped them up and headed off away from me. After an hour I figured they weren't coming my way and they kept gobbling on and off so I had a good idea of their location. My plan was to climb up to the ridge and drop over the other side, move closer to the tom and then climb back to the ridge top and call him uphill to me. The problem was the "ridge" turned into a bowl.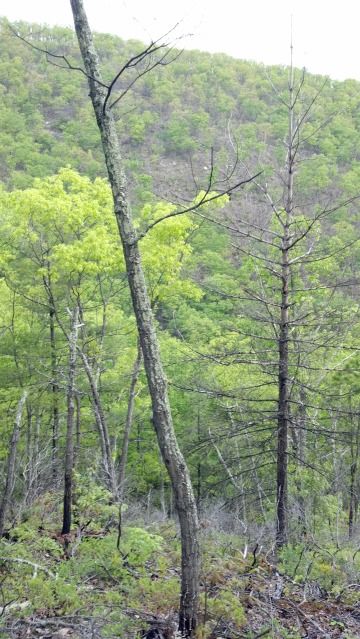 The upper portion of the bowl had been burned a few years back in a wildfire and was pretty open. I sat down in the middle and waited silently for him to gobble again so I could get a better bead on his location. He obliged me and I felt I had a good idea of where he was. I followed the bowl around and dropped down into the treeline not burned. I crossed a stream and was sidehilling some steep terrain. None of it looked like good turkey terrain as it was fairly steep and barren. Visibility was only about 50 yards due to washes forming rises and drains. I kept expecting the next rise would reveal a shelf or bench the turkey were on and I would slowly approach the top and peak over. My mind kept telling me to slow down but I was "sure" the turkey weren't in this type of setup. I had just peaked over the second rise and didn't think I saw any suitable situation so I climbed up the rest of the way. When I reached the top three things happened. A hen moved uphill to my left, the tom gobbled just as I came into sight, and 4 birds took to flight 30 yards downhill from me. The hen flew a few moments later in a slow level flight 15 yards in front of me, an easy shot if she had been legal. I followed her with my shotgun just for fun. The area they were in was a small opening. Not exactly what I'd figure for turkey terrain but I obviously don't know what I'm talking about. I should have slowed down once I crossed the creek and waited for another gobble to locate where they were. It just didn't look like they'd be there. After that I followed the stream downhill to the road. I had hiked about a mile and probably gained 600 feet elevation. I bumped the hen off a tree over the stream further down. I called it a day after that as rain was coming in. It started raining soon after I got home. This hunt and the last two have been on National Forest land which is why the hunters were walking around. The upside is I've got a better feel for where these turkeys are hanging out this year and afternoon hunting starts tomorrow. I have some unpressured private land with lots of good turkeys on it about 3 hours away but it doesn't look like my schedule is going to let me get there this season.
04-30-2012, 06:14 PM
---
Got out this morning before work after a few nice birds that have been hanging out near my house. Set up in the blind in an area they often pass through early after flying down. Only heard them gobble twice on roost, and shortly after fly down i had one hen come walking by scratching for some food and i figured that was all i would see since i had to leave for work by 645. ten minutes later i hear walking and here comes more birds, i gave a few calls and see two toms start strutting around. There were around 6 hens with them and they worked right by the blind, not paying too much attention to my calls. The toms went right to the decoy and I hammered one with the bow at only 8 yards. Great morning and now gotta try to get a bigger one with the second tag. This bird weighed 18 lbs 6 oz, had a 9 3/4 inch beard, one spur just over an inch and one an inch.
Your score is 18.375 + 11.25 + 10 + 19.5 = 59.125
My new lab pup liked the bird and would just lay next to it if i walked away.