Team 8 Rubliners
09-30-2012, 05:42 PM
---
well guys i moved things around and was able to get out tonight. i had the big six at 30 yards but wasn't able to get a shot. but I checked my camera on the way out and was glad i wasn't able to get him. im guessing this guy right around 110ish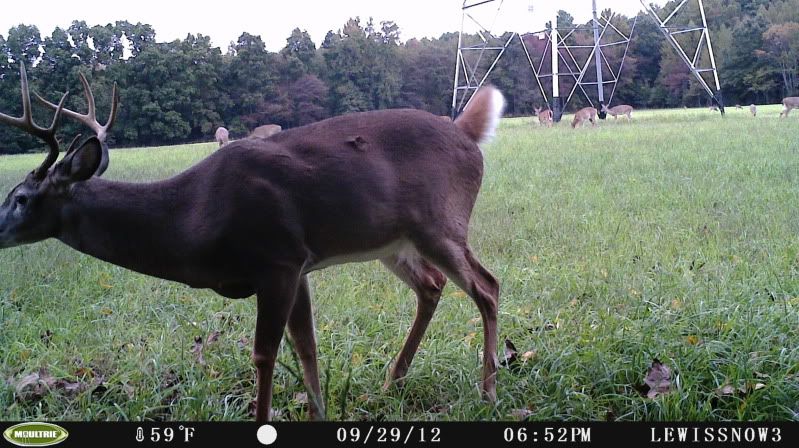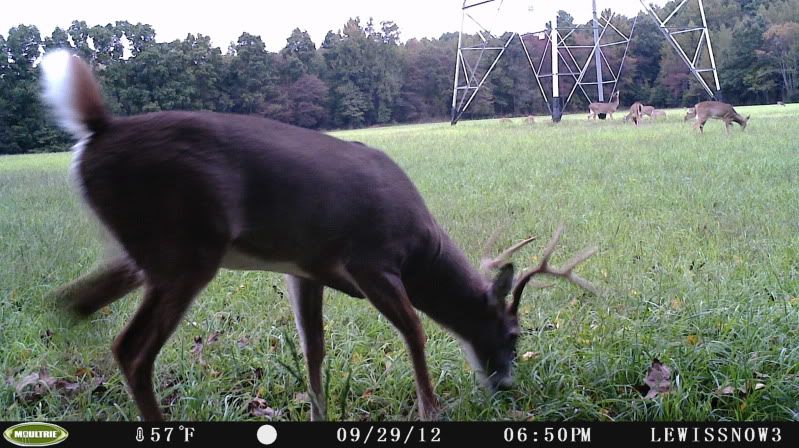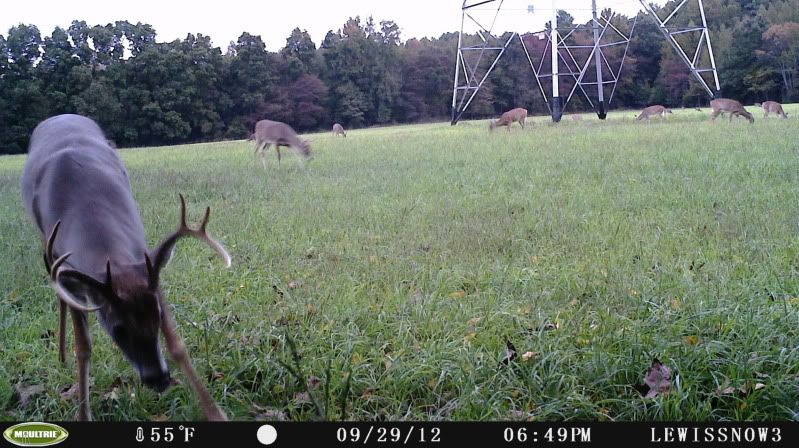 http://www.youtube.com/watch?v=z77wF...&feature=g-upl
10-04-2012, 04:28 PM
---
Every time I have been out so far it has been 65-70 degrees at daybreak or pouring down raining. An 80 plus during the day time.

This weekend they are calling for rain again Saturday but temps are suppose to be in the 50's for the highs Saturday an low 60's for Sunday. So things should be better this weekend if Saturday is not a wash out.
10-05-2012, 08:46 AM
---
I hunted Tuesday evening from 4 pm until dark down by a river bottom.. Didnt see a single deer.. Seen 2 squirrels, 30 turkeys, birds, etc lol.. Seen a few deer while driving home seems the huge moon had them coming out late..

I seen alot of deer around 7 or so yesterday while coming back home from fishing..

Going to hit the same stand this evening and probably tomorrow evening as well.. Might hunt tomorrow morning but not sure yet.. Hunting a different stand sunday for the first time since the wind will finally be right and a few days next week it'll be huntable as well..

Good Luck to everyone that is hunting this weekend !!
10-05-2012, 08:07 PM
---
Hunted This Evening.. Only seen 5 does and they were to far away for a shot... Alittle more movement but not much.. Alot of the crops are comin out so I think its put a damper on the deer movement but its all almost done so they should get back to normal soon.. Seen more scrapes and rubs showing up different places so the bucks are gettin alittle more active as of late..

Might hunt tomorrow evening, not sure yet.. Definitly huntin the other stand sunday as the wind will finally be right.. Alot of activity in there the past few days on the game cam..
10-08-2012, 04:55 PM
---
Ive been out a few times, seeing some does but none close enough. Havent seen any bucks but thats pretty typical for early season. Still learning the area Im hunting but dont want to explore too much and run the deer off.
10-08-2012, 05:04 PM
---
I hunted Most of the day Saturday except for about two hours. I manage to see three bucks. An eight that was about sixteen inches wide, small seven an a spike. Could not get on the eight. He look to be in the 118 area or so.
10-08-2012, 06:12 PM
---
Well I have been soooo busy lately. It is wedding season in my family apparently when it should be deer season. Also working on my masters degree and planning my elk hunt. I leave for CO in a few days!!!!

Here is my WI opening day buck.
I will get the number up this week!

Good luck hunting all!
10-08-2012, 06:22 PM
---
Congrats on the kills guys, I haven't had any encounters with the big buck yet. I've seen 55 deer in 6 set but nothing in range until tonight when I missed a doe at 45 yards. Clean miss, rather have that than an injured deer, so I'll be back at it tomorrow and hopefully slow down a little next time as I kind of rushed through my shot tonight.
10-11-2012, 04:32 PM
---
Congrats on the Buck !!

Im going hunting tomorrow evening before the big front and rain move in all day saturday. Probably will get out in the deer woods on sunday too.. I'll check trail cams when im out there ..

Hope everyone is doing good !!