Team 15 "Bone Zone"
10-26-2011, 12:10 PM
---
Well isnt that a stupid ****in rule.
One entry per year would make more sense. I guess I didnt read it as well as I should have.
Thanks for pointing that out.
---
Last edited by On_Point; 10-26-2011 at

12:22 PM

.
10-26-2011, 12:24 PM
---
I agree, that rule is completely useless. Does your deer qualify as a doe in the state of Illinois? because that would be a potential argument if that was the case. If not at least you got your bow in the picture with the deer so it sucks but at least its a few inches instead of a big ol goose egg.
10-27-2011, 10:27 AM
---
Well fellas, I had to enter my cull buck for the contest.
Rules are rules. Which I obviously didn't read well enough.
Sorry folks.
Cant I get a mulligan on this one?
---
Last edited by On_Point; 10-27-2011 at

10:30 AM

.
10-27-2011, 12:11 PM
---
hey guys sorry i've been out here in Ohio hunting and don't have internet unless i swing down to the local Mcy Ds. that rule is stupid, i also didn't read the rules all the way and didn't know about the one deer thing but oh well. here is my second bow buck of the year. 120 1/8 inch 8 point i shot on the 24th at 8 am. he came into 12 yards! weighed 179 pounds so he is my heaviest buck to date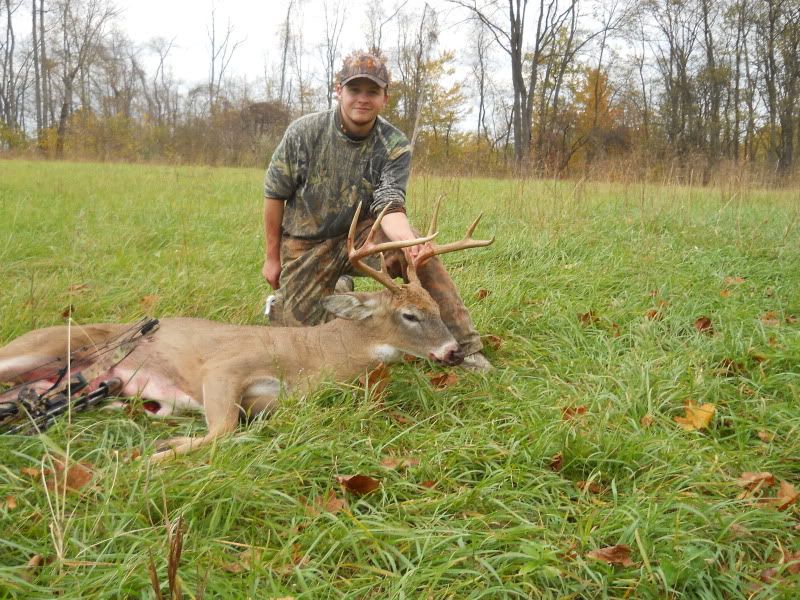 10-27-2011, 12:31 PM
---
hard to get a good idea one the score because of the picture but i would say somewhere between 125 and 135 like i had hard to tell for sure could be bigger, but i would say he is atleast 4.5 deff a mature buck, i wouldn't be passing him up thats for sure. good luck taking him down!